6th October 2016
 Interview

,

  Nigel Short on British part songs
In many people's eyes (and ears), Tenebrae are the finest choral ensemble active in the UK today, and surely one of the most well-regarded in the whole world. A succession of rapturously-received recordings of music both mainstream and obscure have established their reputation as the sine qua non of chamber choirs.
Their latest album - released at the end of September - showcases the spectacular variety in the British part-song repertoire, with favourites by Stanford and Vaughan Williams juxtaposed with works by Murrill, Walker, Bridge and others that have been almost totally neglected.
I spoke to Tenebrae's conductor (and founder) Nigel Short about this new album, and the difficult choice of whittling down the repertoire to just one disc's worth…
A number of the songs on this album have a Shakespearean connection; was this a deliberate choice to coincide with the anniversary celebrations, or just a happy coincidence?
I think it was really by coincidence. There are so many dedications and things going on with Shakespeare that I thought to have another one would be kind of superfluous. I also think inevitably when you have a collection of works by one composer or one author, you nearly always have something on the disc that isn't really of the finest quality.
So I put the Shakespeare things on that I really think stand out from our repertoire, and then I thought there are other gems here, some known and some not known, that we just can't miss out. If I were going to do maybe two or three discs of part songs then maybe I'd have chosen them differently, but you have to assume that this is going to be the one disc that you do. So I moved away from an all-Shakespeare approach and decided to mix it up.
An awful lot of the part song music is quite lush and slow and Romantic, so I was thinking "gosh, a whole album of this?". So we needed to include a few of the contemporary things, and that's why we included Bob Chilcott's setting of Walt Whitman's poems The Modern Man. Whitman is obviously not British but Bob most certainly is so it made it on to the disc. They've got great energy and some humour too which provides a good contrast on the disc from the more romantic pieces by Elgar for example. There's also a little known work by Jonathan Harvey that is really fantastic called Song of June. This too really provides some rhythmic energy and a more contemporary harmonic language.
Why part songs, particularly? Where did the idea come from to focus on this genre?
It stems really from my days as a singer – not just with the King's Singers, although they did an awful lot of part songs including quite a lot of obscure ones which weren't known. There were some composers who we sang in the King's Singers, and that made me look at other works by these composers that we couldn't do – works that went into eight parts, for example.
I realised there was actually quite a lot of repertoire here that wasn't particularly well-known – I was chatting to one of the Tenebrae patrons, Richard Baker, who was a chorister and a choral scholar at King's Cambridge about this, and we'd thought about doing a folksongs disc but I don't really want to take Tenebrae down that, for want of a better word, "cheesy" route. I like it and I enjoy it, but I think it wasn't worth us doing a whole disc of those kinds of arrangements, because there's plenty of other stuff we need to cover.
Whereas with the part song repertoire, there are quite a lot of serious settings – Elgar, Bridge and so forth – that really does warrant us doing it.
Do you try to use a different team of singers for Romantic repertoire such as this, compared to earlier music – or do you just rely on your singers' versatility?
I tend to use the same singers. There's a real core of Tenebrae singers who do whatever repertoire we do, and they adapt their sound to the music. We don't just make one sound and use it for everything (as you sometimes get for early music) – I think that would be rather dull, and I think there are some choirs where the same sound comes out whatever the repertoire is, and that's a shame, because they're then not really getting the best out of the music or performing it as the composers wanted it. This definitely needs a different technique and approach from early music, and from some of the more hard-edged contemporary stuff that we do, and indeed from Brahms and Bruckner.
Some of the numbers on this album – part songs by Murrill, Bridge etc – are relatively poorly-known. How did you come across these?
Some of the pieces were suggested by Richard Baker, and our producer Adrian Peacock also came up with one – the piece by Ernest Walker, which I hadn't heard of. He told me it was a little gem, and as far as we're all aware it hasn't been recorded (or at least not often). So I had a whole pile of music that I went through and it was a case of "how much can we cram onto one disc?" – without compromising the quality, given the time we had to record. Some things have been recorded lots and lots of times, but we decided to do them anyway – such as The Blue Bird. But that's partly because Judith Bingham came up with this concept of the poem of The Drowned Lovers, which is kind of inspired by Stanford's The Blue Bird, so we had to add that on the end of it. It's funny – now that we do The Drowned Lovers before The Blue Bird, it makes Stanford's piece all the more poignant and to be cherished for having gone through Judith's piece, which is so dark in its emotion. It's a sensational piece, and it actually brings out the best of the Stanford when you put the two together.
But with the Murrill, and some of the other pieces, it was literally a question of playing through them and then thinking wow, these pieces really should be better known. There's a balance with some of the more well-known pieces like the Vaughan Williams Three Shakespeare Songs, but I wanted to do this with Tenebrae and see how far we could push the boundaries of passion and precision – really going for the style and what's best for the music. They're deceptively tricky in terms of the ensemble skills that are required – really singing with good intonation but still being led by the text. That, ultimately, is the only important thing that matters; when you listen to the songs, you should be unaware of the technical difficulty that's gone into putting it together.
You mentioned that some of your own personal favourites had to be shelved from this recording for reasons of space on the album; might there be enough material for a second volume?
Undoubtedly! It was such a nice time in post-production for this album that I thought if even a few people like this as much as I do, and as much as the singers did as we were recording it, then I'd be very surprised if we didn't do another disc. There are some more unknown gems which deserve to be well known and some other pieces – some of the Vaughan Williams pieces I'd love to do, like Ca' the Yowes, and Brigg Fair, and the Delius To be Sung of a Summer Night on the Water, pieces like that that a lot of people will know, and there are lots of very good recordings around. But I think it would easily be three discs, without any doubt.
There's a vast amount of this stuff. Pearsall's Lay a Garland would have been a very easy choice, but it's so well-known, so that went out in favour of the Ernest Walker piece, Soft Music. People who sing in churches and cathedrals tend to know one or two of his very sleepy pieces of church music, but this piece has got all sorts of interesting harmonic shifts and turns, like the Murrill – it's an eye-opener. And it's great to find these works where the composers are letting their hair down a bit and experimenting with their harmonic language.
Indeed, can you tell us anything about your (other) future plans?
Well, we're in the middle of something at completely the opposite end of the scale – a big psalms disc, which is Stravinsky's Symphony of Psalms, Bernstein's Chichester Psalms, Zemlinsky's Psalm 23, all with the BBC Symphony Orchestra. It's a really big project. We've done half the disc – we've done Schoenberg's Friede auf Erden and the Bernstein, and we're due to record the Stravinsky and Zemlinsky in the New Year. It's a very exciting project, and it's at the other end of the scale from the British part-songs. And I think it shows Tenebrae's versatility. Of course, we're not doing it to highlight our versatility, we're doing it because it's fabulous music! Zemlinsky was Schoenberg's only teacher (and I think actually his brother-in-law), and I didn't know any music by him until I started looking around for other orchestral settings of psalms and found that he had done several. And Psalm 23 is just gorgeous – very interesting harmonically, at times just beautiful, relatively straightforward but with very Romantic orchestration, and a really large orchestra – something like 95 players. There are harmonic moments that make us think of Strauss and Mahler – just really sensational stuff, so it's going to be a very interesting balance on the disc, with the Stravinsky and the Bernstein, and then the Zemlinsky and the Schoenberg.
Friede auf Erden is an extraordinary piece. Again, it's very hard technically but musically it's so brilliantly conceived, and the text has to be the most important thing and the sentiment behind it – you should be unaware of the technical difficulties. So we spent a long time working on it and preparing with a German coach (the same coach we had for our Brahms and Bruckner disc, Gerhard Gall). He's fabulous – when English singers come across a German text, for years you're told you've got to spit out everything, but he made it clear that this isn't right. You need to be expressive – clear, yes, but expressive as well. And it's great to suddenly get a man from there telling us that we need to have a less rigid approach to it. It was a very enjoyable day working on it – exhausting for the singers, as technically it is difficult, but it's a case of just putting all that to one side and letting the text and the music speak for itself. It's a great work.
On separate note, I am also delighted to be reviving our first major commission, Joby Talbot's Path of Miracles, as part of a big touring project to mark our 15th anniversary this season. Alongside this we have commissioned a young rising composer, Owain Park, to write a piece which allows choirs local to our performance venues to perform with Tenebrae in concert. It's a an ambitious project which I am really looking forward to. The world premiere of Path of Miracles had been due to take place at the beautiful church St Bartholomew-the-Great on the fateful day of the London bombings 7th July, 2005 as part of the City of London Festival. For obvious reasons the premiere was postponed and this extraordinary work has since had added poignancy for me and the choir.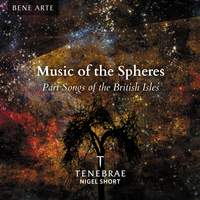 'Music of the Spheres' was released on Signum at the end of September.
Available Formats: CD, MP3, FLAC, Hi-Res FLAC
Other recent albums from Tenebrae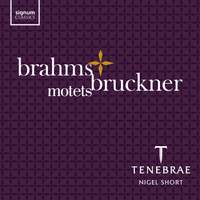 A benchmark recording of the motets of Brahms and Bruckner - from the perfect simplicity of Locus iste to the stark Ecce sacerdos magnus and Brahms' soaring Geistliches Lied.
Available Formats: CD, MP3, FLAC, Hi-Res FLAC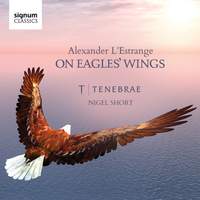 A major focus for Tenebrae is on recording and popularising newly-composed music from contemporary and emerging composers. This collection comprises sacred choral music by Alexander L'Estrange, ranging from the contemplative to the upbeat and jazzy.
Available Formats: CD, MP3, FLAC, Hi-Res FLAC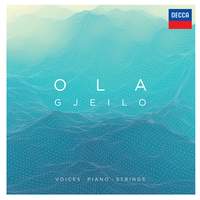 The luminous Nordic sound of Ola Gjeilo has reached a wide audience, including many people who would not consider themselves 'classical' fans. Tenebrae, Voces8, the Chamber Orchestra of London and the composer himself collaborate on this collection of Gjeilo's choral works.
Available Formats: CD, MP3, FLAC, Hi-Res FLAC