UPDATE: Royal Mail have now resumed shipments on ALL International services but delays should be expected, please choose FEDEX if your order is urgent.
4th May 2016
Interview

,

Jonathan Harvey – 'Deo'
The choir of St John's College, Cambridge, have a long and impressive history of recording choral music from the evergreen favourites to less-heard repertoire. Their latest disc opens up a new chapter in the choir's musical story, as they move onto their own label.
They've chosen to record a collection of works by the British composer Jonathan Harvey, and the music included definitely breaks the mould of what one might expect of a dyed-in-the-wool mainstay of the Anglican choral tradition.
I caught up with the Director of Music at St John's, Andrew Nethsingha, to talk about this new disc and Jonathan's music.
Much of this music, while unmistakably modern in its tonal language, is nevertheless very accessible; why do you think Harvey hasn't gained the level of popularity of some other 21st-century and contemporary composers?
As you say, much of the music on the disc is highly accessible. In the world of contemporary music specialists Jonathan Harvey is a hugely-admired figure. But he was never interested in self-publicity in the way that some composers and performers are. He was a composer of immense integrity and, whilst I don't know all his compositions, I can't think of a single one that has ever aimed to be populist for populism's sake. Having said all that, throughout his life Harvey was profoundly interested in spirituality and the deep, inner qualities of music. He practised meditation every day. The sense of elevating the listener to a higher plane of thinking is central to his work - transporting the listener away from his or her day-to-day concerns. In our ever busier world, with smart phones being consulted every few seconds, this is profoundly important for us all. For believers, of whatever faith, Harvey's music can bringer us closer in our relationship to the divine; but a sense of numinosity and transcendence is equally important for non-believers. Over the past few years I have included one piece of Harvey's music in each of four Far East and USA tours, as well as in various European concerts. It has been striking to me that wherever we are, often with non-specialist audiences, the Harvey gained at least as many positive comments from listeners as main-stream works by Mozart, Bach, Bruckner etc. I am certain that even in two hundred years' time, Harvey will have his place in the great canon of European master-composers.
Some of Harvey's other works reflect his move away from an exclusively Christian spirituality towards a more pluralistic one – and have even caused some controversy for juxtaposing Christian with non-Christian texts. Was it always the plan to focus this album solely on his Anglican compositions, or is that just how it turned out?
That's just how it turned out! I didn't know that his juxtaposition of Christian and non-Christian texts had caused controversy. I'd love to perform some pieces of that nature in the future (although some of them are more geared towards sopranos than trebles, and may need more singers than we have.) What is the difference between Christian spirituality and a more pluralistic one - isn't it perhaps the same thing in essence? A great lesson the world needs to learn is for people of different faiths and no faith to coexist and understand one another. I hope that over time Harvey's music will help a little with that; indeed his final great work, Welethos, for the Berlin Philharmonic was all about the major World Faiths. Now that Jonathan is no longer with us, I'd love to explore these multi-faith ideas with other composers.
Did you find Harvey's extended techniques (eg in the Gloria of the Missa Brevis) were outside the choir's comfort zone? His musical demands are surely unusual ones for church musicians to face – how did they react?
They were certainly outside my own comfort zone initially - but it is terribly important for me to keep stretching myself and learning new things. Staleness would be a danger for people like me who are involved in daily choral worship for decades on end. We need to keep making things new. That's true for me and also for the singers. We are an educational establishment, after all. We all enjoyed the unusual techniques and I created, with the composer's approval, a fair bit of choreography and movement to help articulate the music. We first learnt the Magnificat and Nunc Dimittis for a celebration of Jonathan's 70th birthday in 2009. (Jonathan was a student here and was later an Honorary Fellow of the College.) It was Christopher Robinson's suggestion that we should sing the Evening Canticles. I asked him why he had never done them when he ran the choir here - 'too difficult' was his laconic reply!!! That didn't exactly fill me with confidence, given that I revere Christopher's choir-training more than anyone's! I remember taking the score on holiday to Truro the previous Easter and thinking 'I have no idea what some of this notation means!!' So it's been a huge learning curve for me, but I'm so pleased to have done it. I regard these Canticles as one of the two greatest settings to have been composed since Tippett's in 1961, and yet - as far as I know - no other choir performs them at present.
You mention Anglicanism's musical conservatism – but I notice you're diplomatically silent on whether you approve of it! Can I tempt you off the fence for a moment? Do you think the English choral tradition ought to embrace (and produce) more works with Harvey's brand of overt, unapologetic modernity?
I am not going to say what others ought to do. Moving to St John's after 13 years of running wonderful Cathedral Choirs (in Truro and Gloucester) I was conscious of the comparatively generous rehearsal time we have in Cambridge. Compared to the great London choral foundations I also feel fortunate that we have exactly the same singers every day, without a system of deputies. For these reasons I feel able to be more adventurous with repertoire and commissioning than I was in my previous roles. We are fortunate to have these opportunities and I don't want to squander them. But the danger in doing a demanding special project is that other aspects of one's day-to-day choral services slip. I would never want to let that happen. Another difference between St John's and a Cathedral is that I have full autonomy to choose the repertoire that I want to, and I never have a Dean and Chapter saying 'I don't think that music is appropriate.' My colleagues at St John's are pushing the boundaries of Nano-science, Cancer research etc etc; I like to try to do my bit in my own field. You ask about overt, unapologetic modernity. I would not want a composer to be 'modern' just for the sake of it. However let's remember that the psalmist said: 'Praise him with the lute and harp; praise him in the cymbals and dances; praise him with the strings and pipe…Let everything that hath breath praise the Lord.' I'd be sorry if liturgical musicians were to consider that certain musical techniques used, say, in orchestral commissions at the Proms were inappropriate for worship.
This is the first release on the College's new in-house record label – why did you take the decision to set up your own label?
My first discs with St John's were for Chandos. I will be eternally grateful to Ralph Couzens and his colleagues for giving us a chance to record on their great label and to be a part of their extraordinary catalogue. I was thrilled that our most recent release with them, "The Call" , was Editor's Choice in Gramophone magazine. The new label, in partnership with Signum, now gives us a chance to explore an even greater breadth of repertoire. It also enables the College as a whole to feel more ownership of recording projects. Although the primary aim of the new label is to promote St John's College Choir, our plan is also to record certain very outstanding student instrumentalists and some of our world-class alumni. I'm also keen that St John's discs should have a distinctive visual design, so they are instantly recognisable and collectable. It is the start of an exciting new journey and I hope people will share my enthusiasm and join us on the journey.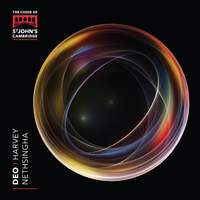 Deo is released on May 20th, on Signum.
Available Formats: CD, MP3, FLAC
Other recordings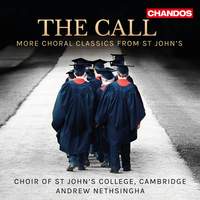 'The Call', featuring choral favourites performed by the choir of St John's College Cambridge under Andrew Nethsingha, was released last August on Chandos.
Available Formats: CD, MP3, FLAC, Hi-Res FLAC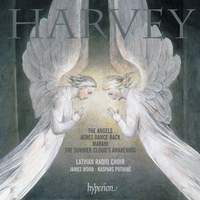 James Wood conducts the Latvian Radio Choir in some of Jonathan Harvey's other works, combining choral writing and electronic music.
Available Formats: CD, MP3, FLAC