UPDATE: Royal Mail have now resumed shipments on ALL International services but delays should be expected, please choose FEDEX if your order is urgent.
2nd May 2016
 Interview

,

  John Wilson on Gershwin in Hollywood
Following their fabulous 'Cole Porter at the movies' disc back in autumn 2014, the John Wilson Orchestra continue their '...in Hollywood' series with a survey of the cinematic career of George Gershwin, recorded live in concert at the Royal Albert Hall at the end of a national tour in November and due for release this coming Friday on Warner Classics.
I was lucky enough to attend the concert, along with my Presto colleague Chris who was experiencing the JWO live for the first time (I'm something of a veteran...), and it'll be a good while before I forget the look of sheer joy and amazement on his face when their Glorious Technicolour Sound hit us at full throttle as they launched into the Overture to Rhapsody in Blue!
I spoke to John over the phone last week to find out a little more about what makes Gershwin's film-music so special, and how they went about restoring the material here to its original glory…
What is it about George Gershwin's music that you think marks him out from other song-writers of the 1930s?
I suppose he's one of the six that are really special – not to say that others aren't significant, but George Gershwin, Harold Arlen, Richard Rodgers, Jerome Kern, Cole Porter, Irving Berlin, each one of them brought something completely different to song-writing, and the level of accomplishment was uniformly high, excellent, miraculous really, pretty much across their entire output. You've got significant song-writers like Vincent Youmans and Arthur Schwartz who had completely defined musical personalities, but those top six I mentioned are really worth exploring and looking at in depth.
It's not only because of their brilliance but because their material was exploited across such a wide range of genres, over such a comparatively long time: you might argue that Gershwin's music actually reached its widest audience after his death. Once you get into the 40s and 50s, with all the advantages of radio and gramophone, the sophistication of the playing, the orchestration, and all the performers really was of the highest level. That's why in a lot of our concerts and recordings we use the movie orchestrations, because they're kind of the definitive versions of a lot of these songs, and they reached their widest audience in these settings. And they were done by people who knew Gershwin – Conrad Salinger, for example was a friend of George Gershwin's – so there's a lot of authenticity in these settings, I think.
The programme-note from the Albert Hall concert describes a lot of the very famous, later interpretations of these songs as being 'styled around the singer' – are these influences something that you've consciously tried to resist here?
I suppose so: if you're looking at doing something like an Ella Fitzgerald tribute, then there's a certain validity in shining the spotlight on an influential singer. With people like her and Frank Sinatra and Fred Astaire, who had enough songs that were written for them, and prepared what became definitive versions, that was how they reached their widest audience…But in this instance our focus is on how the songs were exploited in the movies, and I think there's a certain composer-authenticity in bringing the focus to the music-departments of the studios, in as much as there was a certain reverence and respect for the spirit of the composer at the heart of the recordings that they did.
A lot of the best-known songs here are from shows that have pretty much disappeared from the repertoire: do you think it's fair to say that some of them were essentially one-hit wonders?
There are two distinct points here. Before Oklahoma!, musicals were essentially plotless (and often witless!) - but after Oklahoma! in 1943, that genre of plotless musical comedy was kind of made redundant overnight. Suddenly people were interested in drama and not just attractive tunes, so I think that's why these tunes (which were obviously the best bit, or even the other credible thing, about those early musicals) have rightly survived and the musicals themselves haven't. The other thing, of course, is that before the War, and before broadcasting and television took hold, the number of shows that were presented on Broadway in a season was vast, but most only ran for a year – sometimes there'd over 200 shows opening in a single year! And that's why so many of them didn't survive.
How much input would Gershwin have had into the orchestrations we hear here?
When he was in Hollywood in the 30s, I think he would certainly have had some degree of input. But he would've been working under such time constraints that it's often the case that he wouldn't have had the time to [do his own orchestrations] even if he'd wanted to! And I'm pretty sure that he presented more lucid material to the orchestrators than some composers would have done, because he was really the only song-writer that was a composer – we had to wait until Leonard Bernstein to find the next one…
With previous projects, you've often had to work from short scores, reconstructing the orchestration by transcribing it directly from the films themselves: how much work did you have to do on this front for this disc?
Oh, if it's MGM then it [the full score] doesn't exist! With the other studios, maybe, but it's just one of those boring things you have to do… I have some guys helping me with this now, though, so I don't have do so much transcribing - I just haven't got the time!
I think this repertoire is the most important, the most significant new area of musical scholarship: we've done Mozart, Beethoven, Haydn, collected editions of Brahms and all of that. And now there's a critical edition of George Gershwin being started at Michigan University – that would've been unthinkable twenty years ago!
So what are you planning next? (We've had requests for Ivor Novello, The Sherman Brothers, a Christmas album…)
Well, I don't think it's going to be Ivor Novello – I find that a little Ivor Novello goes an enormously long way! And with all due respect to him, you just can't put him in the same bracket as the composers we were talking about earlier. But Noel Coward is a much more interesting proposition…
Where we go from here is a very good question, because I think performances of complete pieces is always interesting – we've done a couple of complete musicals (we did Kiss Me Kate at the Proms a couple of years ago, and we did My Fair Lady two years before that), and we're going to try and do another one somewhere (whether it'll be the Proms or not, I don't know..!). At the end of the day, I just want to be looking at the really, really interesting music – and Harold Arlen is really interesting! He's probably the best songwriter of the twentieth century – but would it make a whole evening's listening…? And the other thing I'm looking at is lyricists: there are some lyricists who worked with everybody, and they were these geniuses who changed the way composers wrote, so that's something else that interests me.
Was all of the music on this disc already well known to you, or did you make any new discoveries?
Yes! The Second Rhapsody (it's called the New York Rhapsody in the film), which sadly it didn't make the disc but will be available as a download. That was a marvellous discovery!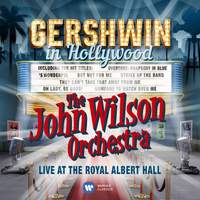 Gershwin in Hollywood is released on 6th May on Warner Classics.
Available Formats: CD, MP3, FLAC, Hi-Res FLAC