6th April 2016
 Interview

,

  I Fagiolini's Amuse-Bouche
Robert Hollingworth's early-music group I Fagiolini are well-known among lovers of this repertoire for their intelligently-programmed and immaculately-performed collections of Monteverdi, Byrd, Croce and more, as well as for their highly successful premiere of Alessandro Striggio's newly-rediscovered 40-part Mass.
For their 30th anniversary celebrations, though, they've turned to something very different - a celebration of 20th-century French choral writing featuring Milhaud, Poulenc and the first-ever recording of Jean Françaix's witty Ode à la gastronomie.
I spoke to Robert about this dramatic departure from the group's normal territory...
This is, as the accompanying notes make very clear, an album concerned with pleasure in its various forms; plenty of references to culinary and romantic delights, for instance. It's maybe a little strange that drinking doesn't get much of a look in – are there no comparable drinking-songs in praise of, say, fine French wines?
The trouble with most music on the subject of eating and drinking is that it's often of questionable quality. The thing about Françaix's Ode to Gastronomy on this album is that it's such a thumping good piece. Amazing that it has lain practically unsung since the 1950s. The Ode absolutely deals with wine, and goes into detail about its health benefits too so I think we're covered!
Sensibilities on at least some of these pleasures of the flesh have changed since the 1930s – do you think you're courting controversy with sentiments like Poulenc's "je veux fumer"?
I hope so. I don't smoke but the song is a wonderful museum piece and utterly languorous. If anyone takes a political stance on our including it, they probably need to get out more.
The first track… not wanting to spoil the surprise for anyone but it's an interesting choice – what's its function within the album?
If that isn't apparent from listening to it, then it hasn't worked… I'll leave listeners to work it out for themselves but the reason we start with a 45 second sound effect is just to get the listener in the right mood.
With all the emphasis on love and food, how does "Un soir de neige" – a decidedly unsettling miniature cantata that strays rather into Sylvia Plath territory with its imagery – fit into the programme?
This CD also functions as a collection of the French 20th century works that I Fagiolini has long performed in concert. In the recording world, we're known for our 16th and 17th century work but in our concert life, we have always sung 20th century music and commissioned nearly 40 pieces. So the pieces by Poulenc and Milhaud are ones we have loved for over 20 years (we're 30 years old this year) and we all really wanted to record these.
Do you think there's scope for a successor album focused on a different country? Surely the French don't have a monopoly on the love of good food etc…?
Well, there's no doubt that they do the best food. Italian food – there is a madrigal comedy from 1600 called 'Il zabaione musicale' – musical egg-nog but as always with themes, it's about constantly ensuring that you're not following an idea for its own sake but because the music is so good. With 'Amuse-Bouche' I can absolutely say that it is.
By the way, Françaix's Ode à la gastronomie is the most extraordinary thing and we thoughts we'd make a short film of the piece to give listeners a helping hand. It will shortly be available (free) at www.ifagiolini.com/amusebouche.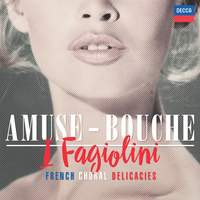 Amuse-Bouche was released on Friday on Decca.
Available Formats: MP3, FLAC, Hi-Res FLAC
Other recent recordings by I Fagiolini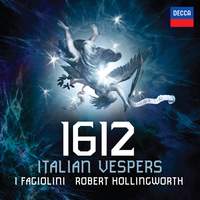 A recreation of the thanksgiving Vespers held in Venice in 1571 after victory over the Ottoman empire at the Battle of Lepanto, featuring works by Viadana, Palestrina, Monteverdi and of course the glorious polychoral music of Gabrieli.
Available Formats: MP3, FLAC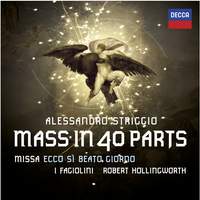 Tallis's massive 40-voice motet Spem in alium is relatively well-known, but until recently Striggio's 40-part Missa Ecco si Beato Giorno (thought to have inspired Tallis's composition) was believed to be lost. The vocal parts were rediscovered in Paris, and I Fagiolini recorded the work for the first time - a huge sonic experience that is without parallel before or since.
Available Formats: MP3, FLAC