20th May 2015
 Interview

,

  Graham Ross on Shostakovich's chamber symphonies
Graham Ross's Dmitri Ensemble - a group of ever-shifting size and composition as the repertoire demands - have spent the past few years producing a succession of award-winning and critically-acclaimed recordings of new music - world premieres of new works by living composers, as well as forgotten masterpieces by Vaughan Williams and Imogen Holst that have never before been heard on disc.
For their latest album, they've turned to the chamber symphonies of Dmitri Shostakovich - originally string quartets, but orchestrated with the composer's enthusiastic blessing by Rudolph Barshai for chamber orchestra. The first volume - Nos. 1, 8 and 10 - are scored for string orchestra.
I asked Graham about this new project, and how he feels Barshai's work relates to Shostakovich's originals.
How much do you think Barshai's own personal "voice" comes through in these arrangements? Shostakovich enthusiastically endorsed them, but Dr Frolova-Walker's notes quite rightly point out that Barshai exercised a considerable degree of licence when arranging, so how far do you think they could be considered collaborative works between the two musicians?
Barshai's arrangements are ingenious in that they preserve almost everything that Shostakovich wrote in the original quartets, whilst at the same time adding a personal interpretation in transforming them for works for string orchestra. There are obvious differences in the addition of a double bass part and a simple increase in the body of sound by the nature of having larger forces at his disposal, but Barshai deftly scores the quartets taking decisions to offer solo, divisi and tutti writing, often reinforcing Shostakovich's favourite juxtapositions of bleak, desolate solo lines with violent, furious tutti writing, often in his scherzos.  The weighting of the Shostakovich's individual lines is so carefully managed in Barshai's orchestral texture, allowing him to intensify the sound and the colour - at one point in the Op. 49a he brilliantly scores just a few bars for optional solo celesta, which we included on our recording.  Barshai and Shostakovich were close friends throughout their lives, and it was Shostakovich who allowed the arrangements to have their own Opus numbers.  He greatly approved of the Op. 110a, going so far as to say that Barshai's arrangement was better than his original.  In that sense the works could be considered a collaboration, in that Shostakovich was well aware of their composition, and publicly approved of them, but I think that Barshai's interpretation of the material is very much his own.
Given Shostakovich's personal circumstances when he wrote it, do you think the introspective Op. 110a (with the almost obsessive use of the DSCH motif) is a kind of attempt to reassert himself through music after being forced to make various pragmatic compromises?
Yes, I think that's certainly possible.  Much has been written about Shostakovich's 8th quartet (easily the best-known of all his fifteen quartets) and people draw their own conclusions about the work, in much the same way that the Fifth Symphony has divided commentators since it joined the canon.  It's true, I think, that the combination of the self-quotations in the Op. 110 quartet with the work's morbid symbolism suggest that Shostakovich is deliberately asking us to draw similarities with his personal life at the time.  But in this quartet and in much of his other output I hear a fervent voice that believes in his own art and, often, lets it triumph through, however seemingly introverted it may seem on the surface.
Shostakovich's symphonies and string quartets are sometimes seen as the public and private faces of his musical personality; do you think the string quartets lose something of their intimacy and immediacy by the transformation into chamber symphonies?
They may lose something of their intimacy, yes, but certainly not their immediacy.  But Barshai knows how to play this card right in his arrangements.  He strips down the forces of his string orchestra at times to the tender intimacy of the original quartet, and at other times lights the touch-paper (often to thrilling effect) at precisely the right moment to bridge the gap between quartet and symphony, creating exactly what he described these works as - chamber symphonies.
Despite your ensemble's name, this is the first Shostakovich you've recorded – can you give any hints as to your future plans? Some of his orchestrations like the Tahiti Trot, perhaps?
That's a good idea!  We're certainly keen to record some more Shostakovich with The Dmitri Ensemble - we gave our first concert in 2004 when we performed the Op. 110a, and this latest recording was made in our tenth year, so it seemed fitting to return to the piece from which we took our name.  In recent years we've been recording a wide variety of other repertoire in a number of discs alongside the Choir of Clare College, Cambridge, one of my other performing groups, and we've always followed our founding principles of trying to discover new or lesser-performed works alongside those of the established canon, which has led us to record works by an eclectic mix of composers including Schoenberg, Webern, Vaughan Williams, Giles Swayne, Judith Bingham, Patrick Gowers, and many others.  For the immediate future, I'd be keen to record the other Barshai/Shostakovich arrangements of the third and fourth quartets, which expand the string palette further with some wind, brass and percussion too.  Watch this space!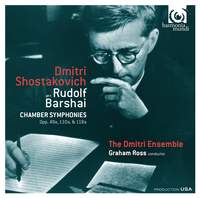 The Dmitri Ensemble's disc of Shostakovich Chamber Symphonies was released on Harmonia Mundi on Monday.
Available Formats: CD, MP3, FLAC, Hi-Res FLAC
Other recordings by the Dmitri Ensemble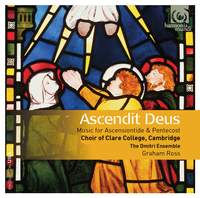 A collaboration between Ross's two main groups, the Dmitri Ensemble and the choir of Clare College, Cambridge, this uplifting choral album features some of the finest music for the season between Ascension (which fell last Thursday) and Pentecost. Gowers's spellbinding Viri Galilaei, arranged by Ross to add brass and percussion to the texture, sits alongside Finzi's ever-popular God is gone up, as well as works by Vaughan Williams, Judith Weir, Nico Muhly and a composition of Ross's own.
Available Formats: CD, MP3, FLAC, Hi-Res FLAC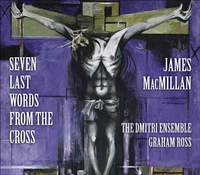 A powerfull recording of MacMillan's acerbic Seven Last Words from the Cross shows another side to the Dmitri Ensemble - a fitting fiftieth birthday present for the highly successful Scottish composer.
Available Formats: CD, MP3, FLAC
Imogen Holst, Gustav's daughter, has long languished in relative obscurity - particularly in her father's shadow. The author of an influential, if today a little dated, book on the running of choirs, she was also a composer of great talent herself, and indeed her works are mostly of a choral nature. Here Ross - combining the Dmitri Ensemble with Clare choir once again - brings some of these neglected works into the spotlight, including a Mass setting and several delightful sacred and secular works on a smaller scale.
Available Formats: CD, MP3, FLAC, Hi-Res FLAC