13th December 2014
 Interview

,

  Contemporary Song Round-Up
Young British singers Claire Booth and Nicky Spence, together with pianist Andrew Matthews-Owen, have been busy bees of late – with not one but three recent releases of contemporary and late-twentieth-century vocal works by British composers.
Jonathan Dove's All You Who Sleep Tonight brought the total of Naxos's highly successful English Song Series to 23 volumes last July, while October saw British composer Charlotte Bray's debut disc, At The Speed of Stillness. Finally, at the beginning of December, it was the turn of Welsh composer Alun Hoddinott, whose evocative poetry settings often pick up themes tied closely to his native country.
I caught up with Andrew to talk about these discs, and about British vocal writing in the twenty-first century.
There does seem to be something of a flurry of British (mostly English) composers writing for the voice at present: not only Jonathan Dove and Charlotte Bray, but also the likes of Ian Venables, Cheryl Frances-Hoad, Alec Roth… the list is quite extensive. What do you think is behind this sudden explosion of musical output?
>I think it has a lot to do with the more positive perceptions of singers towards new music today. After all, it is up to us as performers to commission, and champion, the music of composers whose writing we enjoy, want to explore and share with listeners in concert halls or on recordings. This involves seeking out opportunities to try to ensure that a piece is performed again, not just at its premiere.
>Working primarily with singers as I do, from college students to established professionals, there is a growing interest in new repertoire, whereas ten or twelve years ago when I was a postgraduate, contemporary song was often avoided. I recall one colleague learning a Tippett song for a contemporary platform (in 2003!) I was playing for when we were students. A very evocative song, sung beautifully, but hardly contemporary.
Alun Hoddinott is perhaps the "odd man out" here, a lone Welshman in otherwise English company. His musical style owes little to the wistful lyricism of Butterworth, Gurney and the like, yet also steers mercifully clear of pseudo-Celtic affectations. Do you feel it's possible to identify anything distinctively Welsh in his musical voice, in parallel with his choices of texts?
>I think Alun Hoddinott is a very European composer, who happens to have been born in Wales. His music is international in outlook and very original. Of course he loved his homeland, basing himself there for his working life despite many offers from abroad, but the stimuli for much of what he would deem his serious catalogue of works, came from a plethora of sources including foreign landscapes, literature and modern art, of which he was an avid collector. Like Peter Maxwell Davies and Malcolm Arnold, Hoddinott could turn his hand to lighter entertainment music which often paid homage to his roots, but these works, charming as they are - various sets of Welsh Dances or the Investiture Dances for the Prince of Wales etc - do not define the composer. He would be horrified at the thought of that!
>Like his friend and colleague Benjamin Britten, Hoddinott studied with Arthur Benjamin, who was a kind, yet rigorous mentor. Both young composers shared a lifelong fascination with texture and colour, and they drew upon whatever sources inspired them. For Hoddinott, these ranged from a cow bell in Switzerland which inspired a symphony to ritualistic death lanterns in the Dordogne, where the composer was holidaying, and which became the inspiration for one of his most compelling scores Lanternes des Morts.
>Hoddinott's choice of texts are highly unpredictable, and reflect how astonishingly well read he was. Literature often inspired his instrumental works. Many orchestral works (symphonies and concerti) have titles such as his recently recorded Euphonium Concerto The Sunne Rising - The King Will Ride (John Donne), his impressionistic tone poem for violin and orchestra The Heaventree of Stars (James Joyce) and his cello concerto for Rostropovich Noctis Equi (Christopher Marlowe), to name a few.
>His choice of texts for song cycles, choral and vocal works is equally varied. On our recent CD alone we have WB Yeats, Christina Rossetti, Emily Dickinson, Ursula Vaughan Williams, John Dyer and the deeply serious observer of Welsh life Emyr Humphreys, along with settings of well known Welsh folk melodies.
>So, whilst Hoddinott had a deep respect and affection for the various traditions of Wales, he was more personally concerned with expanding his own sources of interest, and inspiration. If sometimes this collided with his roots, such as in the stunning orchestral canvas Landscapes for Orchestra (where his sound world perfectly conjures up the epic scale and stunning starkness of Snowdonia), then good, but otherwise, his mind was restless for new sights and sounds (and words) which were far beyond the principality.
Hoddinott was not primarily a pianist; Geraint Lewis's notes accompanying Landscapes suggest that this leads the piano to assume a much more subsidiary role in his music than in other composers of his time (for example Britten, in his comparable folksong settings). As a pianist, did you find it difficult to strike the balance between the performers – and how equal did the partnership turn out to be?
>Hoddinott was a prodigiously gifted violinist as a boy. However, performing terrified him, and it was stage fright which led him to a career as a composer. By his own admission, he was no pianist, insisting that at the keyboard his hands were like "pigs' feet".
>I think Geraint was referring specifically to the folk song arrangements and The Silver Hound. The other cycles (specifically Landscapes and Towy Landscape) have pretty demanding piano parts which are certainly not a subsidiary role for the pianist.
>Hoddinott's writing is deeply rooted in his experience as an opera composer - he wrote six, three in collaboration with librettist Myfanwy Piper - so there is a natural energy and direction to his music, which makes balancing very clear to the performer.
>For example in the opening cycle Landscapes - Ynys Môn, Hoddinott conjures up the topography of the Isle of Anglesey with contradictory broad gestures and subtle motifs which illuminate the singer's reflections, and bring the vista to life. His scores are always very well crafted, so, as with all good music, it is a question of doing what it says on the page, allowing one's imagination to go with it, and, most importantly as performers, listening to each other and reacting.
One of Charlotte Bray's works, Yellow Leaves, is a setting of a selection of "condensed" versions of Shakespeare's sonnets, re-cast in the form of haiku, cutting fourteen lines down to just three. What would you say to those who would claim this is little short of literary sacrilege – or at the least gilding the lily?
>I would agree with them, had these not been done so beautifully. The very nature of a haiku makes it something quite exquisite. This is what the writer, Caroline Cowie, has sought to do: to distill the essence of Shakespeare's words.
>Why? Well, Caroline is now a lawyer who sells aeroplanes for billions of pounds, but she thinks still like the literature scholar she was, as a student, at both Oxford and Harvard; her passion for her subject remains alive and curious. Nobody else I know has the ability to say in a few words what it would take me to say in paragraphs - as this interview proves!
>Caroline once described hearing Alina Ibragimova playing solo Bach as "like seeing calligraphy come from a violin". Perfect! She set herself the joy (it would be no "task" for her) of writing these arrangements as she travelled on the underground to work, and did so in complete secrecy, until her husband told me about them. Around this time, I was curating, and performing in, a Southbank recital. We wanted to end the recital with something new and interesting, so invited some composers, including Charlotte Bray and Laurence Crane, to take a look at the haiku and see what they made of them. They were a big success at the concert.
>Charlotte really fell for them, so we (Claire Booth and me) invited her to expand them into a cycle of songs, which we premiered last year at the Purcell Room. The response to them has been universally popular. In fact we are working on a very exciting project with them for the Shakespeare anniversary, with the very enthusiastic support of the Shakespeare birthplace trust.
>Like any modern day response to an established text, be it musical or literary (think of the endless discussion of playing Bach on a modern piano!), as long as we advocates seek to introduce it with intelligence and a genuine belief that it is not being damaged, then surely it must only be the greatest compliment to Shakespeare, or Bach, that their work is still being explored with fresh, and still curious, minds 500 years on?
Perhaps the most striking thing about All You Who Sleep Tonight is the inclusion of the song-cycle Ariel, which removes the accompaniment entirely and is set simply for unaccompanied soprano. Perhaps a pianist is the wrong person to ask… but do you think there's a payoff to be gained here in terms of a closer or more intimate connection with the audience (as is arguably the case with unaccompanied instrumental works)?
>If it works for the nature of the subject, yes. The character Ariel is magical, elusive and unpredictable, so I can understand why Jonathan would set this work in this way. In the case of this Ariel, it allows the performer even more freedom to explore the mysteries of the character involved.
>From a programming perspective, it was important to me, that listeners buying our CD would have as a good an overview of this composer's song writing as 70 minutes can provide. I thought that breaking up the conventional voice-and-piano sound world for a moment, much as I love it, would add something else to the listener's experience.
>Ariel is like a mini opera really, so it seemed appropriate to allow the world of the theatre onto our CD, especially when it is a CD of music by a composer whose mind is never far from it.
Together with Claire Booth you seem to be making something of a speciality of championing this kind of repertoire on disc. Do you have any further plans in this area – there must surely be Scottish and Northern Irish song composers out there waiting to be brought to a wider audience, for example!
>For Claire and me, we have just introduced each other to music by composers who we enjoy and had some great composers offer to write songs for us, which it has been our privilege and pleasure to explore.
>Claire introduced me to Oliver Knussen, whose Whitman Settings is one of the finest collection of songs I have ever performed. For us, it has never been consciously Welsh, French, American or English.
>I grew up in Wales, worked as an Associate Producer in my gap year making Hoddinott at 70 for the BBC, which meant following the composer around various festivals, concert hall and the Proms during this birthday year. I fell in love with his music. I believe in it, which is why I introduced it to my regular collaborators, including Claire and Nicky on this CD.
>In fact, Nicky and I performed The Silver Hound at the Southbank Centre a few weeks ago as part of a programme remembering those who have fallen in conflict. There can be no greater compliment to the quality of this music by a Welsh composer, when a busy Scottish singer is still only too happy to perform it.
>As for the future, we would like to record some more Dove (plans are afoot) there are also some very fine Hoddinott cycles I would like to commit to disc, we are developing the Shakespeare haikus further, then there is all the other repertoire of Schumann, Finzi and, my favourite, Faure, to explore.
>I feel it all informs eachother. Sometimes, I can be playing Debussy (particularly something like his Five Baudelaire songs) and it is contemporary music - it is original, beautiful and shocking. The more I play, the less I define music as Baroque, Classical, Romantic or Contemporary. There is good music and bad music, and it is our job to perform what we believe to be good. Not everyone will agree with our choices, but we can only perform what fascinates us. This profession is difficult enough without slogging away at that which we don't enjoy, and as we all enjoy different sounds, hopefully we will all have the good music covered between us.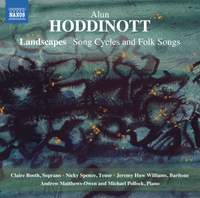 Alun Hoddinott's Landscapes was released on 1st December on Naxos.
Available Formats: CD, MP3, FLAC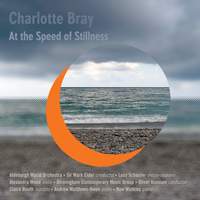 Charlotte Bray's At The Speed Of Stillness was released on 20th October on NMC.
Available Formats: CD, MP3, FLAC, Hi-Res FLAC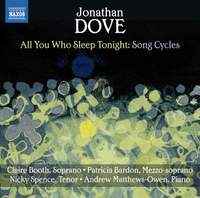 Jonathan Dove's All You Who Sleep Tonight was released on 28th July on Naxos.
Available Formats: CD, MP3, FLAC, Hi-Res FLAC