21st July 2014
 Recording of the Week

,

  Dussek Piano Concertos and Romantic Violin Concertos on Hyperion
One of the more interesting recording projects recently has been Hyperion's series entitled The Romantic Piano Concerto, currently on its 63rd volume. Next week sees the launch of the first volume in a new companion series, The Classical Piano Concerto.
Howard Shelley
As its name suggests, the series will focus on the period that saw the beginning of the genre of the piano concerto itself, roughly between 1770 and 1820. This first release contains three concertos by the Czech composer, Jan Ladislav Dussek. Known as a virtuoso pianist himself, Dussek composed several piano concertos, eighteen of which survive. This disc picks three of them, from various stages of his career, and each one in its way shows how Dussek was attempting to play with the conventions of the genre.
The earliest of these is the G major concerto, opus 1/3, and was probably written while Dussek was in his early twenties. It's a very attractive work, clearly indebted to Mozart, although it departs from the usual Classical model in that it has no slow movement but instead goes straight from the initial Allegro movement to a closing Rondo.
The second concerto presented here (C major, op. 29), is even more unusual in that, rather than launching straight into an opening Allegro, it starts instead with a 22-bar Larghetto in which the piano does not play at all (in fact it's almost three minutes into the concerto before we first hear the piano!), perhaps modelling itself on late Haydn symphonies, which similarly tend to begin with a slow introduction.
The final concerto dates from 1810 (op. 70 in E flat major), and is perhaps the most Beethovenian of the three - indeed it dates from around the same time as Beethoven's Emperor concerto, and is in the same key. It's a delightful work that deserves to be heard more often than it is, especially its graceful slow movement.
The soloist for all three concertos is Howard Shelley, who also conducts the Ulster Orchestra from the piano. Shelley has been a stalwart of the Romantic series of concertos, and so it seems fitting that he has been chosen to do the honours here. He brings his customary elegance to every bar, and it's a delight to listen to him, with immaculate passagework and tender playing in the slow movements. I look forward to hearing further volumes in this series!
Tanja Becker-Bender
Another ongoing series on Hyperion is that of The Romantic Violin Concerto, and next week also sees the release of its sixteenth instalment, featuring violin concertos by close contemporaries Richard Strauss and Ferruccio Busoni.
Strauss's concerto, written when he was seventeen, is by no means his most familiar work, and indeed I would not have guessed it was by Strauss at all, as it sounds to me reminiscent of Brahms. However, it contains much pleasing music, and this performance by German violinist Tanja Becker-Bender (supported by the BBC Scottish Symphony Orchestra under Garry Walker) is very persuasive indeed. The end of the second movement is extremely expressive, with Becker-Bender's beautiful tone fading to nothing, after which she treats us to some impressively nimble playing in the final Rondo.
The real discovery of the disc for me, however, was definitely the Busoni concerto. This piece was completely new to me, but it's full of fantastic music and such imaginative touches of orchestration that I was instantly hooked. The slow movement is just sublime, with some very beautiful moments, especially the very end, with some heavenly passages aided in no small measure by Becker-Bender's impassioned playing.
Much like the Strauss, the last movement requires virtuoso playing from the soloist, and Becker-Bender never disappoints. It's a wonderful performance, and has definitely converted me to the Busoni cause!
Howard Shelley (piano & conductor), Ulster Orchestra
Available Formats: CD, MP3, FLAC, Hi-Res FLAC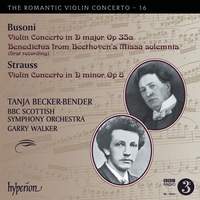 Tanja Becker-Bender (violin), BBC Scottish Symphony Orchestra, Garry Walker
Available Formats: CD, MP3, FLAC, Hi-Res FLAC