21st December 2022
Interview

,

Nazrin Rashidova on Émile Sauret
(Photo by Omur Black)
In collaboration with Edition Peters, Azerbaijani-British violin virtuoso Nazrin Rashidova has recently published a new edition of Émile Sauret's 24 Études Caprices, Op. 64.
Nazrin was kind enough to answer our questions regarding the composer Émile Sauret and her experience with studying and performing the etudes.
You can also find links to the new publication from Edition Peters, as well as recordings mentioned in the article here.
Émile Sauret isn't a composer I often come across, but after listening to your recordings of his Études Caprices, Op. 64, I can tell he is well worth getting to know. Where did you discover Sauret, and where did your personal interest in his life and work come from?
Perhaps like almost all violinists, I knew Émile Sauret's name through his infamous cadenza for Niccolo Paganini's First Violin Concerto. My interest in exploring the world from which this cadenza came was triggered during the programming of my second album for Naxos, which comprised works for violin and piano by the nineteenth-century pianist and composer, Moritz Moszkowski. I decided to open the first five tracks on this album with Sauret's arrangement of one of Moszkowski's most renowned works, the Five Spanish Dances, op. 12 . The virtuosic detail and effective technical embellishments in these arrangements were an inspiration to look further into Sauret's work.
My first encounter with the Études Caprices, op. 64 was through the second volume of the Simrock publication (which was the first copy I saw and skimmed through without the instrument) and its length initially deterred me. This volume comprised 74 pages, which is almost twice the length of the full set of Niccolo Paganini's 24 Caprices. Who would have the patience to learn these, let alone perform or record them?
When I started to search for the first volume, it seemed impossible to locate a copy in the UK and the mystery of its absence was one of the first factors to awaken an investigative approach to a project which began as a recording venture, seamlessly flowed into a research project, culminating with the recent launch of a new edition. Upon receiving a scanned copy of the first volume from the Nederlands Muziek Instituut, I was doubly surprised to discover two intriguing inscriptions on the front cover. The first, stated that the Études Caprices are to be used in the 'Principal Violin Class' at the Royal Academy of Music, and the second, was its dedication to his student and friend, Marjorie Hayward...
The connection of the Études Caprices, op. 64, let alone his professorial connection with the institution [the Royal Academy of Music] seemed to have been entirely lost. Working on these pieces I began to feel the necessity of understanding more about Émile Sauret as a musician, and to share my findings beyond the recording itself.
How do these 24 Études Caprices compare to Paganini's 24 Caprices for solo violin? Do you think Sauret was consciously influenced by them at all?
Sauret was influenced by a diverse range of technical repertoire as his own editions of etudes and caprices by Ferdinand David, Hubert Léonard, Henryk Wieniawski, Pierre Gaviniès, Niccolò Paganini, Henri Vieuxtemps and Pietro Rovelli indicate his intimate knowledge of the process of acquiring and mastering an exceptional demand of the violin, which is in turn reflected in his pedagogical output.
In terms of how Sauret's 24 Etudes compare to Paganini's 24 Caprices, they span all twenty-four keys. Each Étude Caprice ranges from 3-8 pages and lasts three to four times the length of the Caprices of Locatelli, Paganini and Rode. It is interesting to note Sauret's special fondness for 'moderation': the majority of these pieces have a moderato indication in one form or another. The 24 Caprices of Niccolo Paganini use this marking sparingly (it appears only twice in the set). Owing to the significance of the details laid out in the melodic and polyphonic lines, the technical features paint a different picture when approached with an expressive frame of mind, underlining character over speed.
How did you find the process of making the first recording of the entirety of the Sauret 24 Études Caprices, Op. 64?
My recording of the set of the 24 Études Caprices, op. 64 on Naxos comprises nearly four and a half hours of music, making it an unprecedented journey and experience in this genre. When I began work at the instrument in summer 2015 and put the notes into action, I started to realise a paradox: the length of the caprices was a means for focusing on musical details. Inundated with specific expressive, dynamic, fingering, bowing and phrased indications, the Études were infused with a transcendental virtuosity of detail. In my experience, I had not come across such a density and variety of variation material within any individual Etude or Caprice.
The making of a first recording carries with it a heavy responsibility. When it comprises the works of a violin phenomenon of such calibre as Émile Sauret, coupled with a general lack of knowledge of his music, this adds further weight.
What was it like getting to play on a rare collection of violins by Stradivari? In particular, what was it like recording on the 'Sauret' Stradivari violin, that must have been exciting!
Throughout my career, I feel very privileged to have had the chance to play on a valuable and diverse collection of violins, including those of Antonio Stradivari and Guarneri del Gesù. Each of them have individually shone a different light on my understanding and approach of the repertoire I have covered on them. I find it particularly revealing how so many different eminent violinists have played standard repertoire on these instruments, developing their tonal capacity throughout the centuries. After all, wood has a memory...
From the second volume onwards, having the opportunity to record on Sauret's own c.1685 Stradivari violin, kindly loaned by the late John Ludlow, was a dream come true and I feel incredibly lucky to have had the chance to experience it in different settings! Its carrying power stood out in concerto repertoire and its sensitive tonal qualities shined in various duo settings. During a practice session ahead of my appearance in Gloucester Cathedral in September 2018, I paired the violin with Sir Edward Elgar's own violin bow by James Tubbs (commissioned by the Worcester Amateur Orchestra Society in 1878 to present to its leader, Sir Edward Elgar on the occasion of his 21st birthday) kindly loaned by Benjamin Hebbert. I could not resist putting Elgar's La Capricieuse, op. 17 to the test. Written in the same year that Sauret commenced his tenure at the Royal Academy of Music in 1891, it seemed a fitting piece to acquaint the masters' instruments together.
When I first picked up the 'Sauret Strad'... it was indeed the flawless quality of the instrument (there were no 'wolf notes'), the clarity, the compactness, the accessibility and above all, the carrying sweetness of the quietest notes that captured my attention. This Stradivari embodies a different kind of a quality and refinement – though not itself lacking power and reserve – and having spent time with it making this recording it is abundantly clear why Sauret could not part with it. If the c.1743 Guarneri del Gesu is the instrument we might associate with Paganini and the notorious Sauret cadenza for the First Concerto then it seems clear to me that it is the Stradivari that belongs to the intricate filigree and expressive detail in the Études Caprices, op. 64.
Sauret wrote so many violin works, why do you think that the cadenza he wrote for Paganini's violin concerto is the most well-known today? Do you think that his virtuosic writing has been somewhat detrimental to his works being remembered and performed today?
The type of legacy Sauret has left with his infamous cadenza to Paganini's First Violin Concerto has indeed caused some violinists to perceive and judge a 'book by its cover' and it is curious to see how until recent times this perception has carried through amongst pedagogues, performers and academics. There are two sides to the coin. The cadenza is of fiendish difficulty, inevitably deterring violinists (to this day). It also proved a calling card for those brave enough to approach it.
To date, there have been more than 59 recordings made of the Concerto with Sauret's cadenza. Yehudi Menuhin presented a première recording of the complete Concerto (with orchestra) with Sauret's cadenza released in 1934. The multiple recordings of Leonid Kogan and Ruggiero Ricci paved the way for many more. However, it is not widely known that the cadenza was recorded during Sauret's lifetime. The Czech violinist, Jan Kubelík recorded an abridged version of the cadenza in 1903 for the Gramophone & Typewriter Ltd, making it the very first recording of the cadenza.
After collating a vast amount of material on Sauret, it is staggering that he is so little known in the present day, especially when his career has unfolded on the same level as his peers. His importance has faded, predominantly owing to a lack of knowledge around his life and career. The absence of a biography, the inaccuracy of entries in major dictionaries, the absence of recordings and of any kind of performance tradition for his works, have all contributed to what might at best be described as a 'broad-brush' understanding of Sauret's musical personality. The Études Caprices, op. 64 have not only challenged my perception of virtuosity and changed my relationship to it, but it has also changed my perception of Émile Sauret as a musician. The latter statement seems to be shared among violin professors, academics and critics now.
What advice can you give for violinists interested in learning the etudes - why should violinists learn the etudes, what techniques or skills in particular do they help you to develop?
The technical and expressive journey one gains and experiences through working on Sauret's 24 Études Caprices, op. 64 is like no other.
Left hand - modern practice, specifically in the etude or caprice genre, has seen a gradual marginalisation of portamento as an expressive practice. Players are often encouraged to mitigate any obvious signs of portamenti-led fingerings and aim for 'clean' position changes, thus putting speed at the forefront of expression. My journey and experience of 'living-through' Sauret's fingerings, bowings, phrasing in these specific pieces radically changed my views on getting around the fingerboard. The closer I came to understand his approach the more I began to associate all passages with a quote Ysaÿe recalled of his lessons with Vieuxtemps (Sauret was a student of the latter): 'Pas des trait pour le trait - chantez, chantez!'. Working on the Études Caprices, I began to discover that it was the journey, and the specific timing of that journey from one note to the other, that was of aesthetic importance to Sauret. Bringing this aspect into my teaching with students, I have seen them overcome any psychologically programmed technical barriers in their practice and performances.
Right hand - in highlighting the use, challenges and varied importance of the bowing arm through complex double stopped and contrapuntal material in quieter dynamics (a decrescendo on the up-bow similarly seems to be a distinctive feature), the extraordinary density and proximity of bowing variations and expressive detail challenges and develops the control, management, fluidity and adaptability of the bowing arm. Mind and body - their length alone tests and improves mental power, stamina and endurance, as much as physical stamina.
These works outline a different kind of virtuosity. A type of virtuosity which is highlighted by the intentional absence of metronome marks and through the delicacy and density of filigree detail and variation in nuance, dynamic, fingering, bowing and phrases, compels a special kind of expression. This transcendental virtuosity of detail evidently suggests an endpoint in a 'journey' which concludes in emphasizing the significance of tonal clarity, grace and elegance as a means to accomplish expression.
Tell me more about your edition of the etudes in collaboration with Edition Peters - what can students and musicians expect from the edition?
The extensive Preface in this edition published by Edition Peters provides the first publication of a biographical portrait of Émile Sauret, revealing the reception history of the 24 Études Caprices, Op.64 and a performance approach to them in the present day. Sauret's extensive activities as a performer are depicted, with a secondary focus on his encounters with fellow musicians, which reveal interesting information around his collaborative work.
It also presents a picture of his pedagogical activities, including some first-hand accounts of Sauret's approach to teaching, drawn from recollections of his students. Based on the original Simrock engraving; Sauret's fingerings and bowings from the original edition are included. My own editorial suggestions offer insights into the ways in which I have explored and responded to the extraordinary virtuosity of detail and subtle expressive qualities embodied in these works.
In 2008 you founded the all-female chamber ensemble FeMusa Orchestra - I was wondering, what are your thoughts and feelings about gender equality in the music industry today?
I founded FeMusa Orchestra as a 20 year-old, in the last year of my Masters at the Royal Academy of Music, primarily as a way to bridge the gap between conservatoire and professional life. Inspired by Elgar's Serenade for Strings, which was premiered in 1892, in a private performance given by the Worcester Ladies Orchestral Class, with the composer conducting - I went on to discover that the last female orchestra in England, the British Women's Orchestra, folded after the Second World War. I wanted to recreate and bring back a tradition where women could find a platform to work together, share ideas and bring eclectic programmes to wider audiences. Some of our tours abroad in Oman and in Azerbaijan have inspired the founding of new female chamber ensembles.
Whilst there is gradual progress in gender equality in the classical performing industry (more female musicians appearing in orchestras, programmes inclusive of female composers), there is room to improve parity in various other sectors of the music industry.
Sheet Music and Recordings by Nazrin Rashidova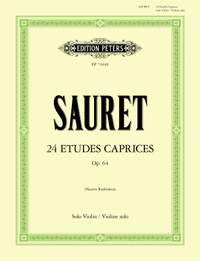 Unavailable since their first publication early in the 20th century, the Etudes Caprices are edited by leading violinist and Sauret specialist, Nazrin Rashidova. Using the original Simrock edition as a basis, this edition supplements Sauret's original bowings and fingerings with Rashidova's own suggestions. An extensive preface gives further insights into performance and contextualizes the life of the composer.
Available Format: Sheet Music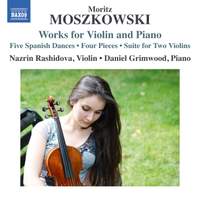 Containing the popular Spanish Dances transformed by French violinist Émile Sauret into virtuoso showpieces filled with all manner of impressive elaborations.
Available Formats: CD, MP3, FLAC