7th June 2021
 Recommended New Release

,

  Squarepusher - Feed Me Weird Things
Electronic music's not something we get to talk a lot about over here at Presto - but if it was going to be anyone, it had to be Squarepusher. Squarepusher is the moniker of Tom Jenkinson, the Essex-hailing musician, producer and bass player - contemporary of similarly trailblazing electronic artists like Aphex Twin and Boards of Canada. Squarepusher's style takes particular inspiration from the former's more aggressive style of music, a genre that would be dubbed 'drill 'n' bass' for its somewhat parodic similarity to drum 'n' bass, with an emphasis on frenzied sampling of drums.
Taking a lot from the sound of 90s techno and IDM (the somewhat self-congratulatory label 'intelligent dance music'), there are tracks like 'Tundra' that are built heavily on icy synthesisers, while others like 'Kodack' (which also features more jazz bass) and 'U.F.O.s' Over Leystone ' employ a more atmospheric edge, the latter of which is undeniably inspired by Boards of Canada. Jenkinson balances melodic moments with the abstract, percussion-led tracks like the incredibly Aphex-inspired 'North Circular' or rhythmic 'Dimotane Co'. Despite this, Jenkinson's full-length debut Feed Me Weird Things opens with the undeniably jazz-inspired 'Squarepusher Theme', with a fusion-style electric bassline playing against the sampled drums and chords. A more tongue-in-cheek reference to the genre comes in the form of 'Smedley's Melody', though the tune still gives Jenkinson a break from the sampler and a chance to show off his bass chops, as well as 'The Swifty' which feels like it'd be equally at home on the dance floor as in a dusty jazz club. Moments like this always feel somewhat playful, the resulting record being one with a surprising sense of humour, taking the edge off some of the rather heady music.
It was this combination of live instrumentation and electronic ingenuity that's led Feed Me Weird Things to retrospectively be labeled an electronic classic, some critics going as far as to laud it as the birth of a subgenre; despite owing much to the sounds of his contemporaries, Squarepusher's debut is still one of the most unique entries into the electronica canon. Originally released on Aphex Twin's label Rephlex Records in 1996, this 25th anniversary edition has been reissued by Warp Records, the new home to Aphex's music as well as a plethora of diverse electronic-leaning artists, and it's even the first time it's ever been released on vinyl. If you're feeling adventurous, Feed Me Weird Things is not only a hallmark of electronica, but a curious left-field jazz record that doesn't take itself too seriously.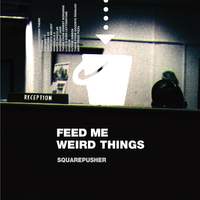 The CD edition of this reissue features a case-bound sleeve and 2 bonus tracks.
Available Format: CD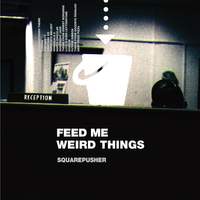 This double-LP reissue also includes a 16-page booklet.
Available Format: 2 Vinyl Records