2nd March 2021
 Classic Recordings

,

  Stan Getz & João Gilberto
Often cited as popularising bossa nova music on a global scale, as well as being one of the best-selling jazz albums of all time, Getz/Gilberto sees American saxophonist Stan Getz and Brazilian guitarist/vocalist João Gilberto crossing their respective disciplines, as well as culminating Getz's own experiments in Latin sounds. Getz's early career would be spent playing alongside some of the big-name cool jazzers like Horace Silver and Oscar Peterson, as well as part of a quintet with Charlie Parker. It was during a U.S. State Department tour of Brazil that his interest in the country's music began; returning home to record 1962's Jazz Samba - which included the tune 'Desafinado', which also appears on Getz/Gilberto - which was released to critical acclaim. He would follow it up with two more bossa-inspired albums - 1962's Big Band Bossa Nova and 1963's Jazz Samba Encore! - before entering the studio for the Getz/Gilberto sessions the same year.
João Gilberto, known worldwide as the 'father of bossa nova' or 'O Mito' ('The Legend') in his home country, was already pioneering bossa nova (lit. 'new trend' or 'new wave') music as early as the 1950s, his earliest recordings mostly reserved to crooner-style 78rpm singles. It wasn't until a return to Rio in 1956 that he reunited with an old friend, Antônio Carlos Jobim, who was working for Odeon Records as a composer and producer. Jobim would turn out to be the mutual friend that brought together Getz and Gilberto, as Jobim would also later contribute songwriting credits to many of Getz's bossa-inspired recordings. Having arranged and written much of Getz's most popular bossa tunes, Jobim also writes the majority of the material on Getz/Gilberto, as well as playing piano during the sessions; his contributions to these sessions were undeniably key to the success of this recording. While tracks like 'Desafinado' and 'Corcovado' are among some of Gilberto and Getz's most popular works, easily the best known cut off this album is 'Garota de Ipanema', better known by its English title of 'The Girl from Ipanema'. Also appearing on this album is Gilberto's then-wife Astrud, who sings the English lyrics on 'Garota de Ipanema' and 'Corcovado', while Gilberto himself sings the Portugese lyrics. Perhaps the more recognisable voice on the record, the familiar English voice to the overseas fans only recently being exposed to the Brazilian sound.
There's little in the way of Stan Getz's cool jazz roots here; on some tracks, Getz gets surprisingly little time in the spotlight, considering his name is on the cover, more or less only popping up for a solo spot. We get a small glimpse of it on the balladic piano opening to 'O Grande Amor', before returning to the now-familiar Brazilian rhythm. At the same time, it's quite ideal that Getz doesn't over-play here, his occasional appearances instead tastefully serving the song. In a similar way, Gilberto's guitar playing is also quite minimal, seldom doing more than keeping that classic bossa rhythm going throughout the songs. There's some light and colourful chord-work, masterful in a kind of understated way. The bright and fun 'Doralice' features some playful vocal lines from Gilberto as he plays a more energetic bossa shuffle, before Getz comes in with some nicely phrased lines on the sax; similarly 'Só Danço Samba' features a neat interplay with Getz and Gilberto alternating their turn in the spotlight. It doesn't overstay its welcome - Getz/Gilberto only clocks in at about 35 minutes - particularly with what could be for some listeners a fairly repetitive set of tunes. While by today's standards it perhaps strays a little close to easy listening music, Getz/Gilberto played a large part in introducing American audiences to the sound of bossa nova. Though Stan Getz's name is on the cover, it's the Brazilian musicians and songwriters that really make this release feel like more than just a mere imitation of this cultural sound.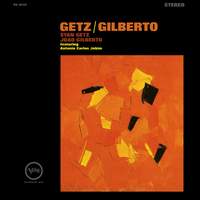 Stan Getz & João Gilberto
Available Formats: CD, MP3, FLAC, Hi-Res FLAC, Hi-Res+ FLAC