5th July 2021
 Classic Recordings

,

  Dizzy Gillespie and Chano Pozo's Cubano-Bop
Some of the most exciting big band music on record is contained within this Dizzy Gillespie collection. After spending the first half of the forties inventing bebop in small groups with the likes of Charlie Parker, Kenny Clarke, Charlie Christain, Thelonious Monk and Bud Powell, Gillespie's trademark beret, goatee, and "bop glasses" helped make him a figurehead for the revolution. In 1946 Gillespie assembled a powerhouse of a big band, in order to broaden the appeal of bebop, still largely limited to hipsters lucky enough to catch the musicians in downtown New York. The lineup included all four original members of what would become the Modern Jazz Quartet - Milt Jackson, John Lewis, Ray Brown, and Kenny Clarke - saxophonists James Moody and Yusef Lateef, trombonist J.J. Johnson, and even a young John Coltrane. Crucial to the direction that the band would take was the Cuban musician, composer and dancer Luciano 'Chano' Pozo, whose bold and innovative Latin rhythms fascinated Gillespie. In many respects the furious Cuban patterns Chano played on conga or bongo were just as innovative rhythmically, as the harmonic explorations being made by beboppers. And thus was born "Cubano-bop".
Cuban rhythms and melodies had steadily made their way to the United States over the preceding 30 years, and in return the sounds of American jazz had traveled across the Caribbean, influencing each other in the process. As early as 1914 the 'habanera' congo rhythm was being integrated into ragtime and jazz pieces, such as W.C. Handy's 'St. Louis Blues', or Jelly Roll Morton's 'New Orleans Blues', which in his own words added a 'Spanish tinge' to the music. In the swing era proto-Latin jazz experiments can be found in Juan Tizol's 'Caravan', written for and performed by the Duke Ellington Band. Things moved up a notch in the forties however, when anthropologist, dancer and choreographer Katherine Dunham brought several Cuban drummers up to New York to accompany her dance troupe, many of whom jammed after-hours with the beboppers in the city's musical hotspots. The first true example of Latin jazz is arguably Mario Bauza's 'Tanga' of 1943, recorded by Machito and his Afro-Cubans in New York of the same year, a piece that Bauza had initially composed as a simple 'descarga' (a Cuban jam). In a short space of time it became a staple, with other groups adding it to their repertoire, and soloists soon learning to find their own flavour in the new syncopations on offer. And it was Bauzá who introduced Gillespie Chano Pozo in 1947, setting the scene for some of the most exciting music of the era.
Chano was a self-taught musician who'd honed his skills as a percussionist performing in carnival "comparsa" (street band) groups in Havana. With a conga drum strung over his shoulder, Chano would dance as he played and sang, tapping out counter-rhythms with his feet. As a dancer Chano was something to behold, wearing striking costumes, so we only imagine the sensation caused when he brought the Cuban carnival vibe to New York City nightclubs in the fall of 1947 with Gillespie's band, leading the charge on tunes like 'Manteca', 'Cubano Be - Cubana Bop'. Surely one of the most dramatic introductions in jazz, 'Manteca' opens with a measure of Chano's solo congas, before the bass jumps in and is soon joined by brass stabs stating the theme, building up to a classic, high-pitched Gillespie trumpet solo. What makes all of these recordings so compelling is the tension between Chano Pozo's stricter Cuban pulse, and the beboppers of the Gillespie band's instinctive urge to syncopate and accelerate. If we compare this with a later recording by Cal Tjader from 1966, which fits more into what we now consider a latin jazz style, Tjader has plenty of energy, but it's less explosive. Chano Pozo's playing and chanting is uninhibited, no doubt as a result of having been honed on the streets of Havana, where he had to play loud to be heard above the hubbub of the crowds and traffic. His personality was similarly tough and confrontational, having a reputation for being brash and temperamental. Always carrying a switchblade, he was known to pick fights with bouncers for the fun of it, which led to his early death in 1948, murdered over a drug deal that went badly wrong.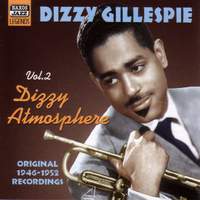 Available Formats: CD, MP3, FLAC