11th August 2020
 Classic Recordings

,

  John Abercrombie - Timeless
By the time he came to record his debut album in 1974, John Abercrombie had been playing in a professional capacity for over five years, having graduated from Berklee College of Music in 1967. Although it took him a while to find his own distinctive style (compared to say John McLaughlin or Bill Connors who seemed to arrive fully formed), Abercrombie made many fine contributions as a session player in the early seventies, working with, amongst others, the likes of Billy Cobham (check out the sequence of searing, Wah-Wah infused solos on the track 'Moon Germs' from the album Total Eclipse), pianist Dave Liebman, and trumpeter Enrico Rava. He'd also made a memorable appearance on Gato Barbieri's Bolivia, a key record in the Argentinian saxophonist's move away from the avant-garde towards a more accessible Latin-infused sound. ECM owner Manfred Eicher signed the guitarist after seeing him appear with the Cobham band at the Montreux Festival, initiating a close relationship that started commenced with Timeless and lasted until he passed away in 2017, Abercrombie's guitar tones becoming one of the most recognizable cornerstones of the classic ECM sound.
For the session Abercrombie was joined by two players who were deeply embedded in the fusion scene - Czech keyboard/organist Jan Hammer, a key member of the classic Mahavishnu Orchestra years with John McLaughlin, and master drummer Jack DeJohnette, who had appeared on the seminal Bitches Brew sessions, as well as being part of Charles Lloyd's incendiary mid-sixties group. The trio's potential is realised right from the first notes of Hammer's 'Lungs', which sees the guitar and organ go through a breathless sequence of runs, powered by DeJohnette's excitable drums. Things don't proceed as expected, however, and a few minutes in the group calms things right down, moving into a quieter, drifting section with eery organ clusters from Hammer, and impressionistic playing from DeJohnette and Abercrombie, before a funk-infused synth bassline emerges (echoes of Headhunters here), shaking the group out of its dreams. The diversity contained within this one track is emblematic of the whole album, able to transition between contrasting passages of virtuosity and tranquillity without being jarring or forced. 'Love Song' follows, a tender duet between Abercrombie and Hammer that stays just the right side of saccharine, before 'Ralph's Piano Waltz' returns us to up-tempo territory, displaying just how exciting a guitarist Abercrombie could be when he put his mind to it (later in his career he tended to tone down the freak-outs). And yet his playing is always thoughtful and fully realised, his youthful admiration of Jim Hall's steady style coming through clearly. Hammer's playing on 'Red and Orange' wouldn't sound out of place on a Yes or Emerson, Lake and Palmer album of the same era, but without the kitsch, and he does an excellent job of balancing his tricky leads whilst maintaining the punchy basslines. Ultimately it's Abercrombie who really stamps his mark on this track, with some of his most exciting electric playing on record.
Appropriately enough it is the closing title track that leaves the deepest impression of Abercrombie's talents as both a composer and performer. Atop a swirling organ drone he enters with a series of mysterious volume swells (a technique whereby the electric guitar's volume knob is turned down whilst the fingers or plectrum strike the strings, so that just the decay of the notes is heard), slowly building up a gorgeous series of solos. DeJohnette's colouristic playing is a treat here, barely repeating a motif for more than a couple of bars before letting it grow organically into something new. The temptation to build up a strident climax must have been hard to resist, but the track is all the more powerful for holding back, maintaining the sense of calm. The production throughout is warm natural, as if group is playing in front of us, and remains an early benchmark ECM recording; as a whole this album makes the ideal starting point for exploring the subtleties of John Abercrombie's music, which almost five decades later still maintains its delicate balance of moods.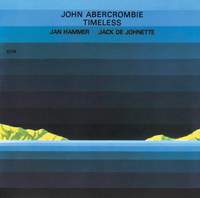 Available Formats: CD, MP3, FLAC, Hi-Res FLAC, Hi-Res+ FLAC
I can also heartily recommend...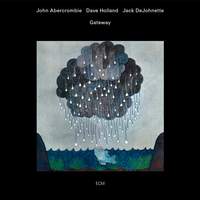 John Abercrombie (guitar), Dave Holland (double bass), Jack DeJohnette (drums)
Recorded less than a year later with DeJohnette and bassist Dave Holland, under the group name of Gateway, this is a must for fans of Abercrombie's earlier, more rock-infused playing.
Available Formats: CD, MP3, FLAC