25th January 2021
 Classic Recordings

,

  Pat Metheny - Bright Size Life
Even on his debut album Bright Size Life, ECM guitarist Pat Metheny was already a force to be reckoned with. Born into a highly musical household in Missouri, some of Metheny's earliest musical experiences were watching a trio of his brother - jazz flugelhornist Mike Metheny - father, and grandfather play together. Pat was taught the trumpet from a young age by Mike, but his interests quickly switched to guitar after watching a televised performance of The Beatles, purchasing his first guitar - a ¾ size Gibson ES-140 - for his twelfth birthday. The pieces started to fall into place for Metheny after hearing Miles Davis's Four & More - a moment which he cites as turning him into "the worst of jazz snobs" - as well as fellow guitar player Wes Montgomery. While Bright Size Life was indeed Metheny's studio debut, his first recorded performance can be heard on the (unofficially titled) live album Jaco alongside pianist Paul Bley, drummer Bruce Ditmas, and of course Jaco Pastorius, who also made his recording debut on this album.
Metheny wrote all the tunes for Bright Size Life during his time teaching at the Berklee College of Music in Boston. The initially lukewarm performance of the album was described by Metheny as 'moderately successful', despite selling only 900 copies. The album itself was recorded and arranged in Ludwigsburg, Germany with the help of vibraphonist - and Metheny's mentor - Gary Burton, though he does not appear in the official credits for the album.Receiving wider acclaim and listenership once Metheny began breaking through to the jazz mainstream around a decade or so later, the album was still a brilliant artistic achievement for a young Metheny, only 21 years old at the time of release.
Metheny's arsenal on Bright Size Life consisted of both 6 and 12-string electric guitars, predating his signature luthier-built 15-string harp guitar. Interestingly, Metheny makes novel use of the 12-string on the tunes 'Sirabhorn' and 'Midwestern Nights Dream'- while a 12-string guitar often has its strings tuned in pairs an octave apart, Metheny instead tunes his a fifth apart, making for some real juicy harmony as a result of his experimentation. Alongside Metheny on his debut recording is Jaco Pastorius and Bob Moses on bass guitar and drums respectively. While Jaco's contributions are a little more understated compared to his solo work, they are nonetheless welcome; slotting in well with Metheny's smooth style of play. It would be the only time the three would play together as a trio; Metheny would later start the Pat Metheny Group, which would have a small rotation of members throughout the years - at times a quartet, sometimes a septet. However, he would also make an appearance on Jaco's self-titled record the same year as Bright Size Life.
Despite sitting comfortably in the fusion category, there's also plenty of inspiration taken from the softer sounds of the ECM roster; even on harder-going tracks like the Ornette Coleman tune 'Round Trip / Broadway Blues' or 'Missouri Uncompromised' (the guitarist's home state) Metheny is hardly razor-sharp in his approach, with a more composed fluidity to his playing rather than erratic shredding. It's interesting to hear, even at the start of his recording career, that Metheny has always had this light touch - you can hear it on the solo piece 'Unity Village' in particular, with Metheny overdubbing a solo over a solo guitar accompaniment. While Metheny's playing definitely has shades of old bebop players like Jim Hall, there's also plentiful influence taken from Americana players in his little inflections and licks. You can still hear a little of the Wes Montgomery influence, too, though Metheny has always been careful not to mimic his idols too much.
At the heart of Metheny's aesthetic approach to the record is his homages to the Midwestern United States; the heartland sunset on the cover, the aforementioned shoutout to his native Missouri, and 'Omaha Celebration' are all tinged with this tranquil Americana, a landscape formed by Metheny's painterly style of writing. As far as debut records go, you can hardly complain with Bright Size Life - I'd be rather proud of myself if I were Pat Metheny back in 1976. With flavours from Americana and jazz fusion blended into the ECM Sound, the now widely-lauded guitarist's debut is certainly a strong opener for his career.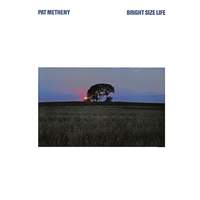 Available Formats: CD, MP3, FLAC, Hi-Res FLAC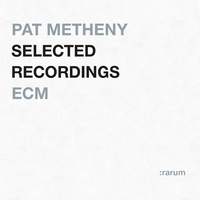 You can check out a handful of Metheny's other music on ECM in this brief snapshot of his work.
Available Formats: MP3, FLAC