US Airmail Charges: As a knock-on effect of COVID-19 airfreight prices around the world have soared. Reluctantly, we have had to pass on some of this increase in our standard airmail prices. We'll bring them down again as soon as we can!
13th March 2020
 Recording of the Week

,

  Shri - The Letter
Shri Sriram is a bassist, composer and producer who has worked in a number of fields, from Indian classical music to jazz, trip-hop, electronica, and also theatre and film. Born into a musical family in Mumbai, trained in classical tabla at Pandit Nikhil Ghosh's school in his home city over a decade. Looking for freedom beyond the strict disciplines of classical music Shri taught himself guitar, flute and his main instrument, the bass, designing himself a fretless bass guitar that could be easily bowed his playing has an incredibly rich range. In the nineties, he moved to London and worked with two of the key artists on London's Asian Underground scene, Talvin Singh and Nitin Sawhney, who were fusing contemporary electronica with Indian classical music. Shri also collaborated with DJ Badmarsh and recorded Dancing Drums, an album that holds up well twenty years later in its blend of drum and bass rhythms with live tabla and Shri's unique approach to bass playing.
The album title refers to a letter Shri received in 1993 from one of his heroes, bassist Eberhard Weber, in response to a demo tape Shri sent him. The letter encouraged Shri to pursue the path he had successfully taken for the past thirty years, and this album is a heartfelt tribute. Drum the Bass kicks things off with a masterclass in the instrument, demonstrating just how versatile Shri can be in a solo context, gradually moving from delicate harmonics and held tones towards a fluid groove that's got a great sense of ebb and flow to it. Recorded at Bugge Wesseltoft's studio in the Norwegian mountains, I thought they had sampled a cow outside for the intro to Boiling Point, but quickly realised it's actually Shri's bowing. An improvisation with Wesseltoft on ring-modulated keys and drummer Paolo Vinaccia (who sadly passed away shortly after these sessions), it builds into a streamlined rush of bobbling bass lines, restless hats and cymbals and Fender Rhodes runs, almost like an improv take on Pink Floyd's On the Run from Dark Side of the Moon. The other track featuring Wesseltoft and Vinaccia, Nasikabhhushani, moves into more identifiable fusion territory, with Shri's bass taking the lead melodic duties without losing the pulse, or sounding like he's showing off.
Each of the guest features has something unique to add, from the atmospheric cuts like Entwined, a duo with Ben Castle on bass clarinet and Shri on tremulous bowed bass, to Bow and Night with double bassist Arild Andersen. Both tracks allow for space between instruments that could easily obscure each other, allowing the ear to appreciate the smallest inflexions. Saxophonist Tore Brunborg contributes to two tracks, with Uvdal focussing on unison lines with Shri playing the bansuri (an Indian flute).The Letter manages to be a varied and often moving listening experience, aided by Wesseltoft's atmospheric production which fully captures the warmth of Shri's fascinating bass explorations.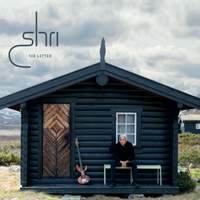 Available Formats: CD, MP3, FLAC, Hi-Res FLAC