28th March 2019
 Classic Recordings

,

  Desmond & Mulligan - Two of a Mind
After wrestling with Dolphy's Out to Lunch last week I decided to "take it easy on myself" (so long Scott Walker) and pulled out Two of a Mind by Paul Desmond and Gerry Mulligan, a debonair jazz classic. Feel free to add Gentleman's Relish…
When these sessions were recorded in the summer of 1962 Paul Desmond had been a member of the Dave Brubeck Quartet for 10 years, penned the biggest-selling jazz single of all time Take Five, and stood alongside Stan Getz as the smoothest saxophonist of the era. 'I think I had it in the back of my mind that I wanted to sound like a dry martini' he once quipped, also noting 'I have won several prizes as the world's slowest alto player, as well as a special award in 1961 for quietness.' Even the critics who dismissed the quartet's music, especially Brubeck's sometimes clunky piano style and incorporation of folk or show tunes and odd time signatures, couldn't deny that Desmond was something special. In their view he was a talent whose wings had been clipped by Brubeck (utter tosh frankly, as anyone with more than a passing knowledge the group will be quick to point out), but Brubeck did stipulate that his star altoist should not appear with other pianists on his solo sessions, and which led Desmond to work with a wide variety of players including a fruitful partnership with guitarist Jim Hall.
Gerry Mulligan was more central to jazz's cutting edge than Desmond, having played a key role in the Birth of the Cool sessions with Miles Davis as both performer and composer (uncredited at the time). In his quartet with Chet Baker, Chico Hamilton and Bob Whitlock, Mulligan solidified his claim to being one of the key West-Coast innovators, his understated baritone blending beautifully with Baker's elegiac trumpet. Ornette Coleman's quartet is often heralded for dropping the piano, allowing single line instruments more freedom away from the stringed beasts chordal nature, but Mulligan and Baker's group had been piano-less since the turn of the fifties.
The discrete joy of Two of a Mind is just how civilised yet energised it is. Most of the tracks are mid to fast tempo, with Desmond and Mulligan contributing a tune a piece and the rest being urbane takes of standards such as All the Things You Are and The way You Look Tonight. Connie Kay was Desmond's drummer of choice for most of his sixties solo sessions, and he always brought the same unshowy support he provided in his day job with the Modern Jazz Quintet (and also memorably on Van Morrison's Astral Weeks in 1968). Although the main focus is the interplay between the soloists, Kay and the various rhythm teams from these sessions rarely opt to merely hold time as closer inspection will reveal.
Desmond's Two of a Mind is instantly recognisable as coming from the composer of Take Five – there's something seductively feline about his themes – beautiful but oddly subjective and somewhat arch. The contrast between Desmond's light alto and Mulligan's more robust kneading of the theme being is one of the record's many highlights. The only slow tempo tune is a gorgeous version of Stardust, with Mulligan's chiaroscuro solo bringing a quiet sense of drama. Note how Desmond chips in with short statements, propping up Mulligan's exposed solo. Throughout the album there is a true sense of dialogue, the inside knowledge the two share of these tunes allowing them to chip in without raining on the other's parade. Where some of Desmond's later solo recordings can verge on the anodyne, the partnership with Mulligan was consistently inspired, the space between baritone and alto providing plenty of room for both to smooch about in.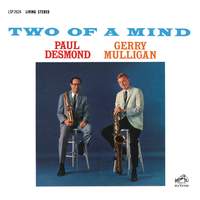 Two of a Mind
This digital version includes alternate takes from the sessions and Blues Waltz with Jim Hall.
Available Formats: MP3, FLAC
Also highly recommended...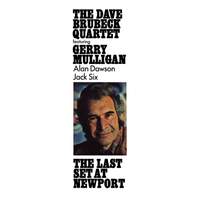 Mulligan live at Newport with Desmond's boss in 1971 (just before an audience riot closed the festival... can't quite imagine a jazz audience rioting today). An exciting set.
Available Formats: MP3, FLAC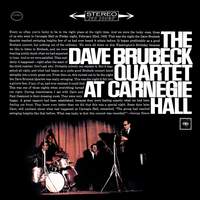 The Brubeck Quartet was on fire for this 1963 Carnegie Hall concert. Marvel at Brubeck's relentless ramping up of the tension towards the end of Blue Rondo à la Turk, plunging without breath into Joe Morello's breakneck intro to Take Five. Brubeck naysayers - listen to this and bow your heads in shame!
Available Formats: 2 CDs, MP3, FLAC