UPDATE: Royal Mail have now resumed shipments on their TRACKED, TRACKED & SIGNED and SIGNED services but delays should be expected, please choose these services if available to you or FEDEX if your order is urgent.
19th January 2021
 Favourites

,

  New Generation Gig Bags from Tom & Will
For the past fifteen years, Tom & Will gig bags have been providing reliable protection for a broad range of instruments from orchestral, concert and brass band as well as folk instruments. Musicians are colourful personalities so why should their instruments be hidden away in plain, black cases? The perfect gig bag should be hard wearing and reasonably priced, but also needs to look good in order to appeal to the modern musician.
The New Generation series feature the best quality HPU high density padding, fabric, clasps, fastenings, and zips. All straps and handles are riveted as well as cross stitched with high tensile threads to ensure that they last a lifetime whilst providing optimum carrying comfort. We spoke to Tom Groves, Commercial Director of Frederick Hyde Ltd (the official distributor for all Tom & Will products), who has kindly selected some highlights below from their high-quality range of bags.
Alternatively, you can browse the entire range of Tom & Will gig bags here.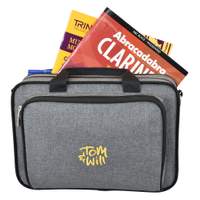 The 36CL clarinet case has a moulded interior which is intended to fit all standard-sized Bb clarinet models including Buffet B12 and Yamaha YCL250 amongst others. The mould is wrapped in luxurious no-scratch velour.
There is a generous accessory pocket with various compartments on the front, and an ample sheet music pocket on the back of the case. You can either carry the case by hand with the wrap-around handles or by using the detachable shoulder strap which features a moveable comfortable pad and attaches to the sturdy D-rings on the case.
The 36BA bassoon bag is a core part of the New Generation line-up. Key design features include the single zip opening allowing full access to the main section of the bag, front-facing accessory pockets and a removeable crook pouch.
The interior is compartmentalised to accommodate the separate sections of the instrument. The bag is fitted with side and top handles as well as a backpack system which can be hidden when not in use. The hideaway system also provides additional back padding making this the most comfortable bassoon bag around!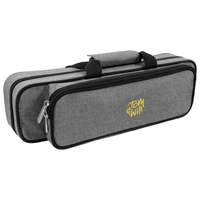 The 36FG flute case is another of the moulded interior models from the New Generation series. It has been carefully designed to suit flute models from Yamaha, Jupiter, Trevor James and Pearl to name but a few. Both C and B foot joint instruments will enjoy every comfort. Ample space has been provided for keywork to avoid any chance of rods being affected while the instrument is in the case.
The front-facing pocket is deep enough to hold a standard piccolo case - good news for doublers! The case can be carried either by hand or with the detachable shoulder strap.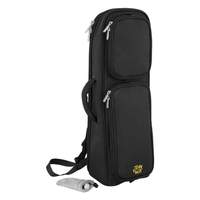 The 26TP trumpet bag continues the long-standing relationship that Tom & Will bags have built up with the concert and brass band communities. The brass range extends from cornet to euphonium with full opening zips to allow quick and easy access to the instrument and an efficient pack-down process. All brass instrument bags are supplied with a separate mouthpiece pouch to match the interior lining of the bag.
This model is equipped with two accessory pockets on the front to hold pencils, metronome, practice notebook, smart phone, and any other musicians' essentials. High-density padding and a deep bell pad protect the trumpet from any knocks however you choose to transport your instrument.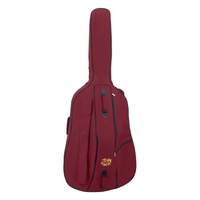 The 46BS34 double bass bag has been designed to accommodate ¾ size double basses in the traditional viol shape as well as contemporary body shapes with rounder shoulders. Features unique to this model include an internal protection pad around the bridge area which serves to protect both this vulnerable part of the instrument as well as the bag itself, and a padded bow pocket with hook and loop fastening.
Padded backpack straps, a waist strap and a thick lumbar roll provide carrying comfort; please take care when walking through doorways as the bass will be taller than the person carrying it and most door frames.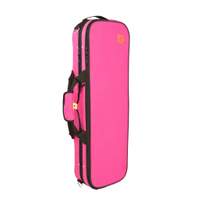 The 43VL classic violin case provides a much-needed splash of colour in the orchestral strings department. You will easily find your violin in the music department or be able to locate your case after the gig!
The moulded interior has cut-outs for the body and scroll sections of the instrument with another designed to fit shoulder rests. Also provided is a self-closing internal pocket suitable for rosin, strings and other accessories. Sheet music can be stored in the full length front zip-up compartment, so there's no excuse for forgetting your dots!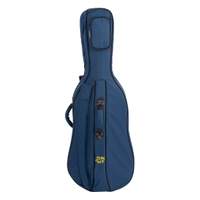 The 46VC full-size cello gig bag arrived in 2020 as the latest addition to the New Generation range. Instruments will often outlive the case they are originally supplied in, which can be especially true of orchestral strings where higher quality instruments are known to improve with age.
These bags offer a more convenient alternative to rigid hard cases whilst providing vastly more protection than a basic cover. Additional internal padding protects both the vulnerable bridge section and the bag itself, and when using the backpack straps you will benefit from the added lumbar support roll.