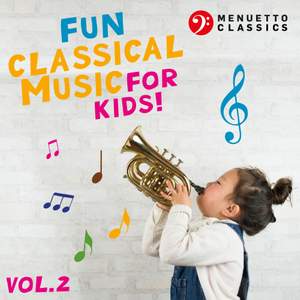 Fun Classical Music for Kids! (Vol. 2)
Cyro Baptista (percussion), Paula Robison (flute), Romero Lubambo (guitar), Sergio Brandão (guitar), Tiberio Nascimento (guitar), 101 Strings Orchestra, Edward Pleasant (baritone), Steven Page (baritone), Rainer Kußmaul (violin), Martin Sieghart (harpsichord)
London Philharmonia Orchestra,...
Contents
Rossini: Guillaume Tell Overture
London Philharmonia Orchestra
Alfred Scholz
Copland: Rodeo: IV. Hoe Down
Orlando Pops Orchestra
Andrew Lane
Offenbach: Gaîté Parisienne: Can-Can No. 4, from "Orphée aux enfers"
Ballet Français Orchestre
Pierre Montiel
Jose Gomes de Abreu: Tico-Tico no fubá
Cyro Baptista (percussion), Paula Robison (flute), Romero Lubambo (guitar), Sergio Brandão (guitar), Tiberio Nascimento (guitar)
Fucik: Entry of the Gladiators
Cincinnati Pops Orchestra
Erich Kunzel
Strauss, J, II: Eljen a Magyar Schnell-Polka, Op. 332
Vienna Opera Orchestra
Carl Michalski
Dimitri Kabelevsky: The Comedians, Op. 26: Prolog & Galop
Berliner Symphoniker, Berlin Symphonic Orchestra
Gerhard Becker
Anderson, Leroy: The Typewriter
Tchaikovsky: The Nutcracker Ballet Suite, Op. 71a: IV. Russian Dance (Trepak)
North German Symphony Orchestra
Wilhelm Rohr
Edmund Angerer: Toy Symphony "Berchtoldsgaden Musik": III. Presto
Württembergisches Kammerorchester Heilbronn
Jörg Faerber
Saint-Saëns: Carnival of the Animals, R. 125: V. The Elephant
Pro Musica Orchestra Vienna
Ferdinand Roth
Mozart: Die Zauberflöte, K. 620, Act I: "Der Vogelfänger"
Edward Pleasant (baritone)
Bulgarian National Radio Symphony Orchestra
John Landor
Offenbach: Gaité Parisienne: No. 7, Entrée du Brésilien (from "La vie parisienne")
Ballet Français Orchestre
Pierre Montiel
Rossini: The Barber of Seville, Act I: "Largo al factotum"
Steven Page (baritone)
Czech Symphony Orchestra, Prague Philharmonic Choir
Julian Bigg
Grieg: In the Hall of the Mountain King (from Peer Gynt)
Slovak Philharmonic Orchestra
Libor Pešek
Strauss, J, II: Der Zigeunerbaron, Act I: Entry March
Vienna Opera Orchestra
Carl Michalski
Benjamin, A: Jamaican Rumba
Berlin Symphonic Orchestra
Gerhard Becker
Iain Sutherland Concert Orchestra
Iain Sutherland
Brahms: Hungarian Dances, WoO 1: No. 19 in B Minor
Bamberger Symphoniker
Jonel Perlea
Bizet: Carmen Suite No. 1: VI. Les toreadors
Budapest Philharmonic Orchestra
János Sándor
Tchaikovsky: The Nutcracker Ballet Suite, Op. 71a: VII. Dance of the Reed Pipes
North German Symphony Orchestra
Wilhelm Rohr
Grieg: From Holberg's Time, Op. 40: V. Rigaudon
Slovak Philharmonic Orchestra
Libor Pešek
Saint-Saëns: Carnival of the Animals, R. 125: X. Birds
Pro Musica Orchestra Vienna
Ferdinand Roth
Vivaldi: Violin Concerto in E Major, RV 269, "Spring" from "The Four Seasons": I. Allegro
Rainer Kußmaul (violin), Martin Sieghart (harpsichord)
Stuttgart Chamber Orchestra
Martin Sieghart