UPDATE: Royal Mail have now resumed shipments on their TRACKED & SIGNED and SIGNED services but delays should be expected, please choose these services if available to you or FEDEX if your order is urgent.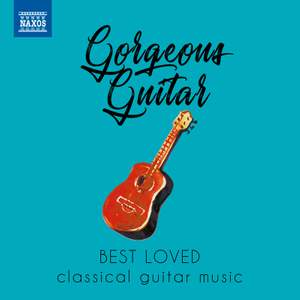 Gorgeous Guitar
Best Loved Classical Guitar Music
Victor Villadangos (guitar), Norbert Kraft (guitar), Celil Refik Kaya (guitar), Ana Vidović (guitar), Andrea Bissoli (guitar), Dale Kavanagh (guitar), Antigoni Goni (guitar), Mats Bergström (guitar), Elena Papandreou (guitar), Pepe Romero (guitar), Adam Holzman (guitar), Irina Kulikova (guitar), Volker...
Contents
Piazzólla: Libertango (Arr. for Guitar)
Victor Villadangos (guitar)
Albéniz: Suite española No. 1, Op. 47 (Arr. N. Kraft for Guitar)
Morel, Jorge: Dansa brasilera
Celil Refik Kaya (guitar)
Myers: Cavatina (From "The Deer Hunter") [Arr. J. Williams]
Villa-Lobos: Chôros No. 1 in E Minor, W161 "Chôro típico"
 Excerpt,  Rodrigo: Tres piezas españolas
Barrios Mangoré: Un sueño en la floresta (Souvenir d'un reve)
 Excerpt,  Domeniconi: Koyunbaba, Op. 19
Celil Refik Kaya (guitar)
Brouwer, L: El decamerón negro
Elena Papandreou (guitar)
II. La huida de los amantes
 Excerpt,  Sor: Progressive Lessons (24), Op. 31
Torroba: Aires De La Mancha
Falla: El amor brujo (Arr. C. Gruber & P. Maklar for 2 Guitars)
No. 8, Danza ritual del fuego
Ponce, M: 2 Canciones mexicanas (Version for Guitar)
Tárrega: Recuerdos de la Alhambra
Bach, J S: Violin Partita No. 1 in B Minor, BWV 1002 (Arr. V. Hoh for Guitar)
Barrios Mangoré: La Catedral
Paganini: 24 Caprices for Solo Violin, Op. 1, MS 25 (Arr. for Guitar)