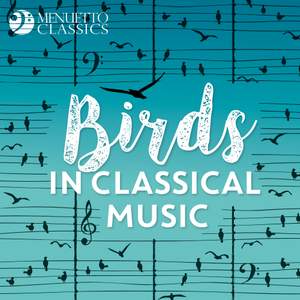 Birds in Classical Music
Hans Gösser (flute), Margaret Lion (piano), Carlos Bonell (guitar), Peter Schmalfuss (piano), Simon Turnill (baritone vocals), Thomas Guthrie (tenor vocals), Rupert Jennings (tenor vocals), Rachel Elliott (soprano vocals), David Halls (organ), Henschel Quartet (string quartet), Alfred Deller (counter-tenor...
Contents
Australian Chamber Orchestra
Christopher Lyndon-Gee
Respighi: The Pines of Rome, P. 141: III. The Pines of the Janiculum
London Symphony Orchestra
Sir Malcolm Sargent
Janequin: Le Chant des oiseaux
The Deller Consort
Alfred Deller
Vivaldi: Flute Concerto No. 3 in D Major, RV 428, "Il Gardellino"
Hans Gösser (flute)
South German Philharmonic Orchestra
Henry Adolph
Rossini: La gazza ladra Overture
Philharmonia Slavonica
Henry Adolph
Richards, H B: Warblings at Eve, Op. 71
Jonasson, J E: Cuckoo Waltz
Berlin Symphonic Orchestra
Gerhard Becker
Rodrigo: Fantasia para un Gentilhombre: IV. Canario
Carlos Bonell (guitar)
English Chamber Orchestra
Steuart Bedford
Liszt: Legende S.175 No. 1, St Francis of Assisi preaching to the birds
Gibbons, O: The Silver Swan
Trinity Baroque
Julian Podger
Delius: On Hearing the First Cuckoo in Spring
Haydn: String Quartet, Op. 33 No. 3 in C major 'The Bird'
Henschel Quartet (string quartet)
39 "The Bird": I. Allegro moderato
39 "The Bird": II. Scherzo. Allegretto. Trio
39 "The Bird": III. Adagio ma non troppo
39 "The Bird": IV. Rondo. Presto
The Deller Consort
Alfred Deller
Tchaikovsky: The Sleeping Beauty, Ballet Suite, Op. 66: VII. The Blue Bird and Florisse
Hamburg State Opera Orchestra
Wilhelm Brückner-Rüggeberg
Schumann: Forest Scenes, Op. 82: VII. The Prophetic Bird
Vivaldi: Violin Concerto in E Major, RV 269, "Spring" from "The Four Seasons": I. Allegro
Rainer Kußmaul (violin), Martin Sieghart (harpsichord)
Stuttgart Chamber Orchestra
Martin Sieghart
Haydn: String Quartet, Op. 64 No. 5 in D major 'The Lark'
Henschel Quartet (string quartet)
III. Menuetto. Allegretto -Trio
Tchaikovsky: Swan Lake, Ballet Suite, Op. 20a: III. Dance of the Swans
Symphonie-Orchester des Bayerischen Rundfunks
Hans Vonk
Prokofiev: Peter and the Wolf, Op. 67
Luxemburg Radio Symphony Orchestra
Louis de Froment
II. The Bird (Instrumental Version)
III. The Duck - Dialogue with the Bird - Attack of the Cat (Instrumental Version)
IX. The Bird Diverts the Wolf (Instrumental Version)
Excerpt, Mussorgsky: Pictures at an Exhibition
North German Symphony Orchestra
Wilhelm Schüchter
IX. Ballet Of The Chicks In Their Shells (Arr. for Orchestra)
XIV. The Hut On Fowl's Legs (Arr. for Orchestra)
Gade, N: Idyllen, Op. 34: III. Traekfugle
Alfred Deller (vocals), Desmond Dupré (lute)
Strauss, J, II: Village Swallows from Austria "Dorfschwalben aus Österreich", Waltz, Op. 164
Vienna Opera Orchestra
Peter Falk