US Airmail Charges: As a knock-on effect of COVID-19 airfreight prices around the world have soared. Reluctantly, we have had to pass on some of this increase in our standard airmail prices. We'll bring them down again as soon as we can!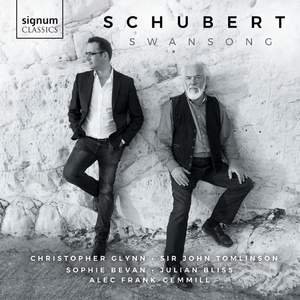 Schubert: Swansong
all works sung in English translations by Jeremy Sams
Christopher Glynn (piano), Sir John Tomlinson, Sophie Bevan (soprano), Alec Frank-Gemmill (horn), Julian Bliss (clarinet)
These songs of love, foreboding, longing and anguish hit you with raw force. This is the voice of a more mature lover, true, but Tomlinson's dedication to text and nuance is vigorous as ever.

— More…
Contents
Schubert: Schwanengesang, D957
52:29
John Tomlinson, Christopher Glynn
I. Liesbesbotschaft "Love Message"
2:58
II. Kreigers Ahnung "The Warrior's Foreboding"
5:30
III. Frühlingssehnsucht "Longing For Spring"
3:46
VI. In der Ferne "Far Away"
5:20
VII. Abschied "Leave Taking"
4:30
IX. Ihr Bild "Her Picture"
3:01
X. Das Fischermädchen "The Fisher Maiden"
2:11
XII. Am Meer "By the Sea"
4:29
XIII. Der Doppelgänger "Doppelgänger"
4:08
XIV. Die Taubenpost "Pigeon Post"
3:53
Schubert: Auf dem Strom, D943, Op. post. 119
8:58
Alec Frank-Gemmill, Sophie Bevan, Julian Bliss, Christopher Glynn
Schubert: Der Hirt auf dem Felsen, D965 (Von Chezy / Muller)
11:07
Alec Frank-Gemmill, Sophie Bevan, Julian Bliss, Christopher Glynn