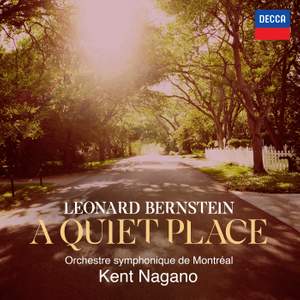 Bernstein: A Quiet Place
Orchestre symphonique de Montréal, Kent Nagano
Conducted with missionary fervour by Kent Nagano, who had worked with Bernstein on the 1986 premiere, the latest revision seems to bring A Quiet Place into sharper focus than its baggy predecessor...this...

— More…
Contents
John Tessier (tenor), Maija Skille (mezzo-soprano), Claudia Boyle (soprano), Steven Humes (bass), Gordon Bintner (baritone), Annie Rosen (mezzo-soprano), Lucas Meachem (baritone), Joseph Kaiser (tenor), Daniel Belcher (baritone), Rupert Charlesworth (tenor)
Choeur de l'Orchestre Symphonique de Montréal, Montreal Symphony Orchestra
Kent Nagano
Recorded: 2017-05-17
Recording Venue: La Maison Symphonique de Montréal
Prologue..."The path of truth is plain and safe"
Dialogue 1. "I am sorry, ma'am"
Dialogue 2. "She wasn't exactly what you would call a beautiful woman"
Dialogue 3. "Dede! Darlin how've you been?" & Arietta "Fantastic, great!"
Dialogue 4. "You're so like her"
Dialogue 5. "Uh, Susie - You must be François"
Dialogue 6. "Oh François, come."
Dialogue 7. "Welcome to the Family."
Dialogue 8. "Say, who's that character with…"
Dialogue 9. "Dede, where's your brother
Readings "Who can find a virtuous woman?" & Choral "God has his ways"
Trio "Dear Daddy, Daddy dear"
Finale "Merry Christmas to you too, asshole"
Aria "I wish I could sleep"
Scene "What are you doing?"
"First, I would like to sing you a little song"
Aria "Morning. Good Morning"
Scene "The one and only cereal"
Tag #1 "Ha! Absence makes the heart grow fonder! & Trio "Oh! Bon anniversaire"
Tag #2 "Watch it! Watch out!"
Aria "Oh, François, please. Somehow it's meant for you"
Aria "Dear loved ones" & Laughing Chorus
Scene "I like it here! You mean, maybe you would…"
Aria "Stop. You will not take another step!"
Aria "You see, Daddy, that death does bring some relief"