UPDATE: Royal Mail have now resumed shipments on their TRACKED, TRACKED & SIGNED and SIGNED services but delays should be expected, please choose these services if available to you or FEDEX if your order is urgent.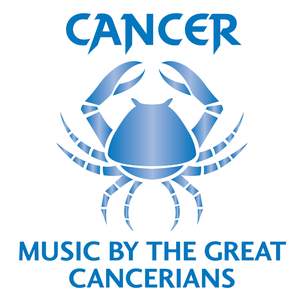 Cancer: Music By The Great Cancerians
Genevieve Lacey (recorder), David Hobson (tenor), Michael Dudman (organ), Sharolyn Kimmorley (piano), Teddy Tahu Rhodes (baritone), Sally-Anne Russell (mezzo-soprano), Anna Goldsworthy (piano)
Tasmanian Symphony Orchestra, South Australian Symphony Orchestra, Australian Brandenburg Orchestra,...
Contents
Genevieve Lacey (recorder)
Recorded: 2008
 Excerpt,  Bononcini, G B: Griselda
David Hobson (tenor)
Tasmanian Symphony Orchestra
Marco Guidarini
Recorded: 2012
"Per la gloria d'adorarvi"
Butterworth, G: A Shropshire Lad - Rhapsody
South Australian Symphony Orchestra
Bernard Heinze
Recorded: 1995
Abaco, E: Concerto a più istrumenti in D Major, Op. 5, No. 6
Australian Brandenburg Orchestra
Paul Dyer
Recorded: 2004
3. Ciaconna. Allegro e spiccato - Rondeau. Allegro
Daquin: Nouveau livre de noëls, Op. 2
Michael Dudman (organ)
Recorded: 2000
Noël, Grand-jeu et Duo 'Quand Dieu naquit a Noël
Finzi: Let Us Garlands Bring, Op. 18
Teddy Tahu Rhodes (baritone), Sharolyn Kimmorley (piano)
Recorded: 2005
Gluck: Orfeo ed Euridice, Wq. 30 / Act 3
Sally-Anne Russell (mezzo-soprano)
Adelaide Symphony Orchestra
Nicholas Milton
Recorded: 2008
trad.: Irish Tune from County Derry (Arr. Percy Grainger)
Sydney Symphony Orchestra
Stuart Challender
Recorded: 1989
Janáček: On an Overgrown Path, JW 8 / 17 / Book 1
Anna Goldsworthy (piano)
Recorded: 2008
1. Our Evenings (Moderato)
 Excerpt,  Mahler: Symphony No. 2 'Resurrection'
Sydney Symphony Orchestra
Stuart Challender
Recorded: 1992
Orff: Carmina Burana / Blanziflor et Helena
Sydney Philharmonia Symphonic Choir, Sydney Philharmonia Motet Choir, Sydney Philharmonia Orchestra
Antony Walker
Recorded: 2001
 Excerpt,  Respighi: Pines of Rome
West Australian Symphony Orchestra
Jorge Mester
Recorded: 1994
The Pines Of The Janiculum
Rodgers, R: Carousel: You'll Never Walk Alone
David Hobson (tenor), Teddy Tahu Rhodes (baritone)
Sinfonia Australis
Guy Noble
Recorded: 2009