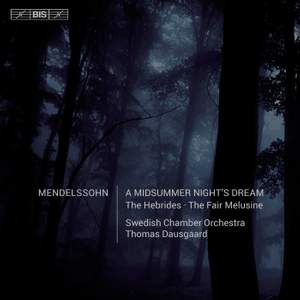 Mendelssohn: A Midsummer Night's Dream
Magdalena Risberg (soprano) & Camilla Tilling (soprano)
Swedish Chamber Orchestra & Swedish Radio Choir, Thomas Dausgaard
[In] subtle parody and deadpan wit, Dausgaard has a kinship with Klemperer's particular approach to [A Midsummer Night's Dream]…like Masur, and few others, Dausgaard finds a true andante rather...

— More…
Contents
Mendelssohn: The Fair Melusine Overture, Op. 32
Swedish Chamber Orchestra
Thomas Dausgaard
Recorded: September 2014
Recording Venue: Concert Hall of the School of Music, Theatre and Art, Orebro, Sweden
Mendelssohn: A Midsummer Night's Dream - incidental music, Op. 61
Camilla Tilling (soprano), Magdalena Risberg (soprano)
Swedish Chamber Orchestra, Swedish Radio Chorus
Thomas Dausgaard
Recorded: September 2014
Recording Venue: Concert Hall of the School of Music, Theatre and Art, Orebro, Sweden
Act II: Melodrama: He, Geist! Wo geht die Reise hin?
Act II: Kommt! einen Ringel, einen Feensang! - Lied: Bunte Schlangen, zweigezungt
Act V: Allegro comodo - Marcia funebre
Act V: Ein Tanz von Rupeln: Die Mitternacht zwolf mit ehrner Zunge
Act V: Allegro vivace come I
Mendelssohn: Hebrides Overture, Op. 26
Recorded: September 2014
Recording Venue: Concert Hall of the School of Music, Theatre and Art, Orebro, Sweden
The Hebrides in D Major, Op. 26, MWV P7, "Fingal's Cave"