US deliveries: Unfortunately we are receiving reports that some US orders are taking longer than usual to arrive. Find out more >>
Latest update: Changes to international postage charges. Find out more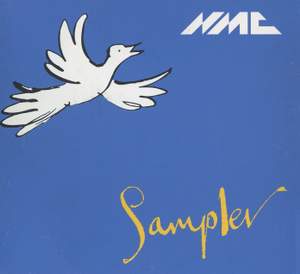 Sampler
Michael Finnissy (piano), Giles Swayne (electronics), Fiona Kimm (mezzo-soprano), Roy Carter (oboe), Jane Manning (soprano), Antony Pay (clarinet), Helen Tunstall (harp), Mary Wiegold (soprano), Alison Wells (soprano)
BBC Symphony Orchestra, Spectrum, BBC Singers, Nash Ensemble, London Symphony...
Contents
BBC Symphony Orchestra
Mark Wigglesworth
Recorded: 9 August 1991
Recording Venue: Royal Albert Hall, London
Spectrum
Guy Protheroe
Recorded: 23 July 1984
Finnissy: Freighttrain Bruise
2:48
Giles Swayne (electronics)
BBC Singers
John Poole
Cry, Op. 27: I. Void - Light - Darkness (excerpt)
5:00
BBC Symphony Orchestra
Richard Bernas
Pulses: Moments Nos. 1-5 (excerpt)
4:43
Fiona Kimm (mezzo-soprano)
The Nash Ensemble
Lionel Friend
Canciones: No. 3. Death in the Rose Bush
5:06
Dominic Muldowney: Oboe Concerto
4:17
Roy Carter (oboe)
London Symphony Orchestra
Michael Tilson Thomas
Lumsdaine: Aria for Edward John Eyre
4:11
Jane Manning (soprano)
Gemini
Elgar Howarth
Aria for Edward John Eyre (excerpt)
4:11
Butler, M: Songs & Dances from a Haunted Place
6:55
Songs and Dances from a Haunted Place: II.
6:55
Antony Pay (clarinet), Helen Tunstall (harp)
London Sinfonietta
Oliver Knussen
Recorded: 20 November 1991
Recording Venue: St. Augustine's Church, Kilburn
Weir: The Romance of Count Arnaldos
2:49
Mary Wiegold (soprano)
Composers Ensemble
Dominic Muldowney
City of London Sinfonia
Richard Hickox
After the Rain: I. Refrain
3:10
Alison Wells (soprano)
Music Projects London
Richard Bernas
2 Pomes: No. 1. She Weeps Over Rahoon
4:43
Music Projects London
Richard Bernas
East 11th St. NY 10003 (excerpt)
4:48
Jane Manning (soprano)
Jane's Minstrels
Roger Montgomery
Goehr: Symphony in One Movement, Op. 29
5:14
BBC Scottish Symphony Orchestra
Richard Bernas
Symphony in One Movement, Op. 29 (excerpt)
5:14
Woolrich: The Turkish Mouse
1:27
Mary Wiegold (soprano)
Composers Ensemble
Dominic Muldowney