US deliveries: Unfortunately we are receiving reports that some US orders are taking longer than usual to arrive. Find out more >>
Latest update: Changes to international postage charges. Find out more
NMC
NMC Recordings is a registered charity and record label devoted to the promotion of contemporary classical music from the British Isles. The first organisation to be heralded with the Royal Philharmonic Society's Leslie Boosey Award for "its outstanding contribution to the furthering of contemporary music in Britain". NMC is a member of Arts Council England's National Portfolio and has catalogue of over 250 albums encompassing established composers and emerging talent.
'The quality of releases is proof of how central NMC has become to the UK's contemporary music infrastructure' Gramophone
Further Reading:
NMC
16th May 2019
The English composer looks back over 30 years at the helm of Britain's cutting-edge contemporary music label NMC.
21st April 2017
Katherine very much enjoys baritone Roderick Williams in a new work by Howard Skempton: a setting of Coleridge's poem, The Rime of the Ancient Mariner.
New Releases:
NMC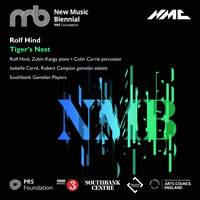 Series & Collections:
NMC