UPDATE: Royal Mail have now resumed shipments on ALL International services but delays should be expected, please choose FEDEX if your order is urgent.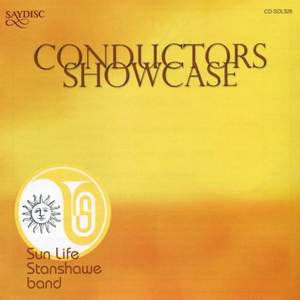 Conductors Showcase
Sun Life Stanshawe Band
Derek Bourgeois, Cliff Sayers, Laurie Hinchley, Brian Howard, David Williams
Contents
Gershwin: Promenade (Walking the Dog)
Ravel: Miroirs, M. 43: No. 4, Alborado del Gracioso
Bach, J S: Fugue in E flat major, BWV552 / 2 'St Anne'
Sousa: The Stars & Stripes Forever in E-Flat Major
Kermit Leslie: Night Flight to Madrid
trad.: When the Boat Comes In
Mozart: Ave verum corpus, K618
Kleine, Juliane: Cranberry Corner USA
Goff Richards: The Shepherd's Song
Langford, G: Leviathan "Concert March"
Messager: Hungarian Dance