UPDATE: Royal Mail have now resumed shipments on ALL International services but delays should be expected, please choose FEDEX if your order is urgent.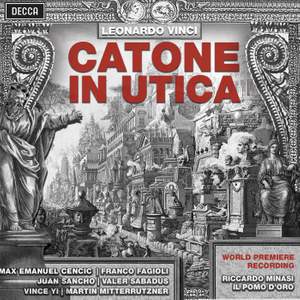 Vinci, Leonardo: Catone in Utica
Max Emanuel Cencic (Arbace), Franco Fagioli (Cesare), Valer Sabadus (Marzia), Martin Mitterutzner (Fulvio), Vince Yi (Emilia), Juan Sancho (Catone)
Il Pomo D'oro, Riccardo Minasi
Director Riccardo Minaso heats up [the] sense of rivalry - the variations get wilder, the yearning more palpable. All three countertenors are virtuosos, but Fagioli takes the laurels…the band...

— More…
Contents
Vinci, Leonardo: Catone in Utica
Juan Sancho (tenor), Max Emanuel Cenčić (counter-tenor), Vince Yi (counter-tenor), Valer Barna-Sabadus (counter-tenor), Martin Mitterrutzner (tenor), Franco Fagioli (counter-tenor)
Il Pomo d'Oro
Riccardo Minasi
Recorded: 2014-02-27
Recording Venue: Villa San Fermo Lonigo
"Perché sì mesto o padre? "
"Con sì bel nome in fronte"
"Non ti minaccio sdegno "
"Che giurai! Che promisi!"
"Si sgomenti alle sue pene"
"Nell'ardire che il seno t'accende"
"Piangendo ancora rincecer suole"
"Se gli altrui folli amori"
"O nel sen di qualche stella"
"Giunse dunque a tentarti"
"Pur ti reveggo, o Marzia"
"Chi un dolceamor condanna"
"E' in ogni core diverso amore"
"Va', ritorna al tuo tiranno"
"A tanto eccesso arriva l'orgoglio di Catone?"
"Lode agli dei La fuggitiva speme"
"Si vuole ad onta mi ache Cesare s'ascolti?"
"Udisti Arbace? Il credo appena"
"L'ingiustizia, il disprezzo"
"Quanti aspetti la sorte cangia in un giorno!"
"Combattuta da tante vicende"
"Quell'amor che poco accende"
"Pur veggo alfine un raggio d'incerta luce"
"È questo amici il luogo"