Franco Fagioli
Counter-Tenor
Franco Fagioli was born in Tucumán, Argentina in 1981 and studied in Buenos Aires before winning the Bertelsmann 'Neue Stimmen' competition in 2003, which launched his career. He came to international prominence in 2013, when the release of his Arias for Caffarelli on Naïve and an astonishing performance as Arbace in Leonardo Vinci's Artaserse (released on CD and DVD by Warner) revealed a voice of remarkable power, agility and above all prodigious range which extends to a D above soprano top C and down into baritone register. Fagioli's stage repertoire includes various roles which have been unperformed by male altos since the death of the castrato due to their high tessitura, such as Handel's Ariodante and Piacere in his Il Trionfo del Tempo, Idamante in Mozart's Idomeneo, and Cecilio in his Lucio Silla. In 2015 he became the first countertenor to sign an exclusive contract with Deutsche Grammophon, for whom his recordings have included Gluck's Orfeo and albums of Rossini and Handel arias, and he also sings major roles on the world premiere recordings of Hasse's Siroe and Vinci's Catone in Utica (both for Decca).
Further Reading:
Franco Fagioli
31st January 2020
The American mezzo sings the title role of the scheming Roman matriarch in a starrily-cast recording of Handel's early opera with Il Pomo d'Oro, conducted by Maxim Emelyanychev.
1st February 2018
Katherine talks to the Argentinian countertenor about his new album of arias from operas including Serse, Rinaldo and Ariodante - the latter previously unrecorded by this voice-type.
Recent Best Sellers:
Franco Fagioli
New Releases:
Franco Fagioli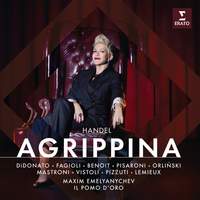 Recommended
Future Releases:
Franco Fagioli