Latest update: COVID-19 Shipping Delays. Presto is committed to the health and well-being of our staff. Our warehouse team are currently working hard to ensure your order is despatched as quickly as possible. Unfortunately you may experience slight delays as some deliveries are taking longer than usual. Thank you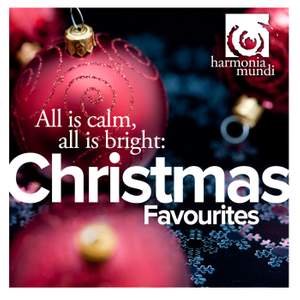 All is calm, all is bright: Christmas Favourites
Theatre of Voices and The Choir of Magdalen College, Oxford, Paul Hillier and Theatre of Voices, Bill Ives and The Choir of the Magdalen College, Ars Nova Copenhagen, Bill Ives, Robert L. Pearsall and The Choir of the Magdalen College, Chamber Choir Ireland and Paul Hillier, Choir of Clare College,...
Contents
Holst: In the Bleak Mid-winter (Cranham)
3:56
Stainer: How beautiful upon the mountains
2:26
trad.: O come, o come, Emmanuel
3:20
Vaughan Williams: The blessed Son of God
2:41
trad.: The Cherry Tree Carol
4:30
Ives, G: Sweet was the song
3:26
anon.: O Come, All Ye Faithful
3:32
Ives, C: A Christmas Carol
3:00
Hopkins, J H: We three Kings of Orient are
3:58
Arbeau: Ding! Dong! Merrily on High
3:30
Handel: Joy to the World!
1:42
trad.: The Holly and the Ivy
2:50
trad.: We wish you a merry Christmas
1:35
trad.: Wassail Song (Here We Come A-Wassailing)
2:04