US Airmail Charges: As a knock-on effect of COVID-19 airfreight prices around the world have soared. Reluctantly, we have had to pass on some of this increase in our standard airmail prices. We'll bring them down again as soon as we can!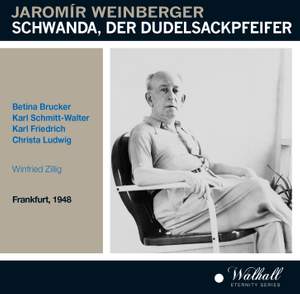 Offer

,

 Weinberger, J: Schwanda the Bagpiper
Karl Schmitt-Walter (Schwanda), Betina Brucker (Dorota), Karl Friedrich (Babinsky), Christa Ludwig (Die Königin), Josef Lindlar (Der Magier), Eugen Willmann (Der Richter), Oskar Wittazscheck (Der Scharfrichter), Wolf Heide (Der Teufel), Willy Hoffmann (Der Teufels Famulus) & Hans Kasperzyk (Der...
Contents
Weinberger, J: Svanda dudak (Schwanda, the Bagpiper) (Sung in German)
2:09:39
Wolf Heide (bass), Hans Kasperzyk (baritone), Willy Hofmann (tenor), Betina Brucker (soprano), Herbert Hess (tenor), August Heimpel (bass), Karl Friedrich (tenor), Karl Schmitt-Walter (baritone), Christa Ludwig (mezzo-soprano), Josef Lindlar (bass), Eugen Willmann (tenor), Oskar Wittazscheck (tenor)
Frankfurt Radio Symphony Orchestra, Frankfurt Radio Symphony Chorus
Winfried Zillig
Recorded: 1948
Recording Venue: Frankfurt, Germany
Act I: Offnet! Offnet! (Soldiers, Dorota)
1:17
Act I: Kuckuck! … Ist jemand da? (Babinsky, Dorota)
3:52
Act I: Endlich bist du gekommen (Dorota, Schwanda, Babinsky)
4:21
Act I: Ballade: Es geht von Mund zu Mund (Babinsky)
3:33
Act I: Ach, das muss schon sein! (Schwanda, Babinsky, Dorota)
5:06
Act I: Schwanda! Schwanda! (Dorota)
1:58
Act I: Gib mir mein Herz (Queen, Magician)
5:24
Act I: Fremder, wer bist du? (Queen, Schwanda, Choir)
7:33
Act I: Schwanda! … Da - hor' sie an! (Dorota, Magician, Queen, Schwanda)
7:29
Act I: Armer Schwanda (Choir, Magician, Queen, Dorota)
3:16
Act I: Schwanda, den man den Pfeifer (Judge, Schwanda, Magician, Dorota, Choir, Executioner)
4:02
Act I: Mein Freund, nichts ist verloren (Babinsky, Queen, Dorota, Schwanda, Executioner)
3:02
Act I: Siehst du, was du für ein ungetreuer (Dorota, Schwanda, Babinsky)
1:14
Act I: Schaust du auch trotzig (Schwanda, Dorota, Babinsky)
2:19
Act I: Aber Dorota, was schimpfst du so? (Schwanda, Dorota, Babinsky)
2:02
Act I: Dorota, weine nicht! (Babinsky)
5:08
Act II: Ja, ja, kein Wunder (Devil, Schwanda)
6:18
Act II: Genug. Aber bist du ein Musikus! (Schwanda, Devil)
2:33
Act II: Wie kann ich denn vergessen (Schwanda)
2:32
Act II: Wart' nur, du dummer harter Schadel (Devil, Schwanda, Babinsky, Choir, Captain)
2:49
Act II: Der Hauptmann der Hollengarde (Captain, Devil, Babinsky, Schwanda)
3:18
Act II: Was seh' ich? Karten? (Babinsky, Devil, Schwanda)
5:12
Act II: Also fertig, abgemacht! (Devil, Babinsky, Schwanda, Famulus, Choir)
2:49
Act II: Ja, beim Spiel lernt man viel (Babinsky, Devil, Famulus, Schwanda, Choir)
4:30
Act II: Mein edler Ritter (Devil, Babinsky, Choir, Schwanda)
2:26
Act II: Nicht zu viel ward dein Spiel (Choir)
6:21
Act II: Alles gelingt mir (Babinsky, Dorota, Schwanda)
2:43
Act II: Auf unsrem Hof daheim (Dorota, Schwanda, Choir)
1:48
Weinberger, J: Svanda dudak (Schwanda, the Bagpiper) (Sung in Italian)
14:58
Leyla Gencer (soprano), Aldo Bertocci (tenor), Scipio Colombo (baritone), Melchiorre Luise (bass)
RAI Symphony Orchestra, Milan, RAI Chorus, Milan
Nicola Rescigno
Recorded: 10 August 1958
Recording Venue: Milan, Italy
Chi parla qui? (Dorota, Babinsky, Schwanda)
5:48
Schwanda! … Aspro quel cammino (Dorota, Magician)
2:48
Iniquo al rito, infedele sei (Dorota, Schwanda, Babinsky)
5:17
In questo paese (Dorota, Schwanda, Choir)
1:05