US Airmail Charges: As a knock-on effect of COVID-19 airfreight prices around the world have soared. Reluctantly, we have had to pass on some of this increase in our standard airmail prices. We'll bring them down again as soon as we can!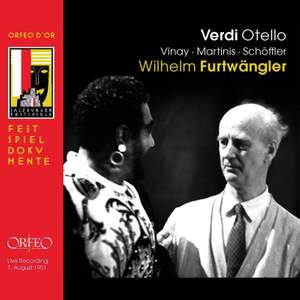 Offer

,

 Verdi: Otello
Ramón Vinay (Otello), Dragica Carla Martinis (Desdemona), Paul Schöffler (Jago), Anton Dermota (Cassio), August Jaresch (Roderigo), Josef Greindl (Lodovico), Georg Monthy (Montano), Un Araldo Franz Bierbach (Herald), Sieglinde Wagner (Emilia)
Chor der Wiener Staatsoper & Wiener Philharmoniker,...
Contents
Anton Dermota (tenor), Georg Monthy (bass), Paul Schöffler (baritone), August Jaresch (tenor), Ramon Vinay (tenor), Carla Martinis (soprano)
Chor der Wiener Staatsoper, Wiener Philharmoniker
Wilhelm Furtwängler
Recorded: 7 August 1951
Recording Venue: Großes Festspielhaus, Salzburg, Austria
Otello, Act I: Una vela! (Live)
4:14
Otello, Act I: Esultate! (Live)
2:19
Otello, Act I: Roderigo, ebben che pensi? (Live)
2:14
Otello, Act I: Fuoco di gioia! (Live)
2:54
Otello, Act I: Roderigo, beviam! (Live)
1:28
Otello, Act I: Inaffia l'ugola! (Live)
4:06
Otello, Act I: Capitano, v'attende (Live)
4:11
Otello, Act I: Già nella notte (Live)
12:07
Sieglinde Wagner (alto)
Recorded: 7 August 1951
Recording Venue: Großes Festspielhaus, Salzburg, Austria
Otello, Act II: Non ti crucciar (Live)
2:31
Otello, Act II: Vanne! La tua meta già vedo! (Live)
5:06
Otello, Act II: Eccola! (Live)
1:20
Otello, Act II: Ciò m'accora (Live)
5:27
Otello, Act II: Dove guardi splendono (Live)
4:14
Otello, Act II: D'un uom che geme (Live)
2:13
Otello, Act II: Se inconscia contro te, sposo... (Live)
3:59
Otello, Act II: Desdemona rea! (Live)
0:46
Otello, Act II: Non pensateci più (Live)
5:01
Otello, Act II: Era la notte (Live)
2:47
Otello, Act II: Oh! Mastruosa colpa! (Live)
1:44
Otello, Act II: Si, pel ciel (Live)
3:29
Franz Bierbach (bass), Josef Greindl (bass)
Recorded: 7 August 1951
Recording Venue: Großes Festspielhaus, Salzburg, Austria
Otello, Act III: La vedetta del porto (Live)
2:30
Otello, Act III: Dio ti giocondi, o sposo (Live)
5:18
Otello, Act III: Esterrefatta fisso (Live)
5:46
Otello, Act III: Dio! Mi potevi scagliar (Live)
4:27
Otello, Act III: Vieni, l'aula è deserta (Live)
5:12
Otello, Act III: Bada! Quest'è il segnale che annunzia (Live)
2:09
Otello, Act III: Viva! Evviva! (Live)
6:05
Otello, Act III: A terra!... Sì... Nel livido fango (Live)
10:15
Recorded: 7 August 1951
Recording Venue: Großes Festspielhaus, Salzburg, Austria
Otello, Act IV: Era più calmo? (Live)
4:17
Otello, Act IV: Mia madre aveva una povera ancella "Willow Song" (Live)
9:12
Otello, Act IV: Ave Maria (Live)
5:30
Otello, Act IV: Chi è là? (Live)
3:06
Otello, Act IV: Diceste questa sera le vostre preci? (Live)
6:57
Otello, Act IV: Niun mi tema (Live)
6:08