UPDATE: Royal Mail have now resumed shipments on ALL International services but delays should be expected, please choose FEDEX if your order is urgent.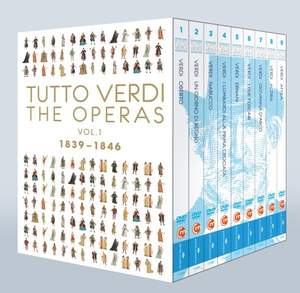 Verdi: The Operas Vol. 1, 1839-1846
Mariana Pentcheva (Cuniza), Fabio Sartori (Riccardo), Giovanni Battista Parodi (Oberto), Francesca Sassu (Leonora), Giorgia Bertagni (Imelda), Guido Loconsolo (Il Cavaliere di Belfiore), Andrea Porta (Il Barone di Kelbar), Anna Caterina Antonacci (La Marchesa del Poggio), Alessandra Marianelli (Giulietta...
Contents
Mariana Pentcheva (Cuniza), Fabio Sartori (Riccardo), Giovanni Battista Parodi (Oberto), Francesca Sassu (Leonora), Giorgia Bertagni (Imelda)
Teatro Regio di Parma
Antonello Allemandi
Verdi: Un giorno di regno
Guido Loconsolo (Il Cavaliere di Belfiore), Andrea Porta (Il Barone di Kelbar), Anna Caterina Antonacci (La Marchesa del Poggio), Alessandra Marianelli (Giulietta di Kelbar), Ivan Magri (Edoardo di Sanval), Paolo Bordogna (Il Signore la Rocca), Ricardo Mirabelli (Il Conte Ivrea), Seung Hwa Paek (Delmonte/Un servo)
Teatro Regio di Parma
Donato Renzetti
Leo Nucci (Nabucco), Bruno Ribiero (Ismale), Riccardo Zanellato (Zaccaria), Dimitra Theodossiou (Abigaille), Anna Maria Chiuri (Fenena), Alessandro Spina (Il Gran Sacerdote di Belo), Mauro Buffoli (Abdallo), Cristina Giannelli (Anna)
Teatro Regio di Parma
Michele Marioti
Verdi: I Lombardi alla prima crociata
Roberto de Biasio (Arvino), Michele Pertusi (Pagano), Cristina Giannelli (Viclinda), Dimitra Theodossiou (Giselda), Roberto Tagliavini (Pirro), Gregory Bondatti (Un priore), Jansons Valdis (Acciano), Francesco Meli (Oronte), Daniela Pini (Sofia)
Teatro Regio di Parma
Daniele Callegari
Marco Berti (Ernani), Carlo Guelfi (Don Carlo), Giacomo Prestia (Don Ruy Gomez de Silva), Susan Neves (Elvira), Nicoletta Zanini (Giovanna), Samuele Simoncini (Don Riccardo), Alessandro Svab (Jago)
Teatro Regio di Parma
Antonello Allemandi
Leo Nucci (Francesco Foscari), Roberto de Biasio (Jacopo Foscari), Tatiana Serjan (Lucrezia Contarini), Gregory Bonfatti (Barbarigo), Marcella Buffoli (Fante), Alessandro Bianchini (Servo del Doge)
Teatro Regio di Parma
Donato Renzetti
Evan Bowers (Carlo VII), Renato Bruson (Giacomo), Svetla Vassileva (Giovanna), Luigi Petroni (Delil), Maurizio lo Piccolo (Talbot)
Teatro Regio di Parma
Bruno Bartoletti
Junko Saito (Alzira), Francesco Facini (Alvaro), Thomas Gazheli (Gusmano), Joshua Lindsay (Ovando), Ferdinand von Bothmer (Zamoro), Yasushi Hirano (Ataliba), Anna Lucia Nardi (Zuma), Joe Tsuchizaki (Otumbo)
Orchestra di Bolzano e Trento, Istituto Corale ed Orchestrale di Dobbiaco
Gustav Kuhn
Giovanni Battista Parodi (Attila), Sebastian Catana (Ezio), Susanna Branchini (Odabella), Roberto de Biasio (Foresto), Cristiano Cremonini (Aldino), Zyian Atfeh (Leone)
Teatro Regio di Parma
Pierfrancesco Maestrini