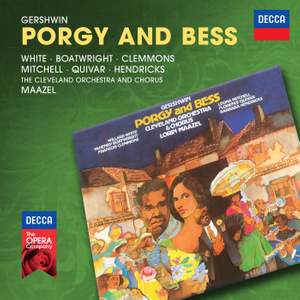 Gershwin: Porgy and Bess
Willard White (Porgy), Leona Mitchell (Bess), McHenry Boatwright (Crown), Florence Quivar (Serena), Barbara Hendricks (Clara), Barbara Conrad (Maria), Arthur Thompson (Jake), François Clemmons (Sporting Life)
The Cleveland Orchestra and Chorus, Lorin Maazel
The first essentially complete Porgy remains one of the finest, with maximally polished orchestral playing and arguably the strong vocal line-up yet assembled. Maazel is at his most committed.

— More…
Contents
William Brown (tenor), Robert Snook (singer), Christopher Deane (baritone), Willard White (bass), Barbara Hendricks (soprano), Ralph Neally (singer), Alpha Floyd (mezzo-soprano), Samuel Hagan (tenor), Alan Leatherman (singer), Barbara Conrad (mezzo-soprano), Florence Quivar (contralto), Isola Jones (mezzo-soprano), Leona Mitchell (soprano), Francois Clemmons (tenor), McHenry Boatwright (baritone), John Buck (singer), James Vincent Pickens (tenor), Arthur Thompson (baritone), Donald Zucca (singer)
Cleveland Orchestra, The Cleveland Orchestra Chorus, Cleveland Orchestra Children's Chorus
Lorin Maazel
Recorded: 1975-08-18
Recording Venue: Masonic Auditorium, Cleveland
Introduction - Jazzbo Brown Blues
"A Woman Is a Sometime Thing"
"Here Come De Honey Man ... Here's the Ol' Crap Shark"
"They Pass By Singin'...Here Comes Big Boy!...Don't You Ever Let a Woman Grieve You"
"O, Little Stars...Touch That Money an' Meet Yo' Gawd!"
"Wake Up An' Hit It Out!...That You, Sportin'Life?"
"Overflow, Overflow ... Gawd Got Plenty Of Money For De Saucer"
"Um! A Saucer-Burial Setup, I See"
"Headin' For the Promis' Lan'"
"It Takes a Long Pull To Get There"
"I Got Plenty O' Nuttin'"
"I Hates Yo' Struttin'...Mornin, Lawyer..Dey's a Buckra"
"Bess, You Is My Woman Now"
"It Ain't Necessarily So"
"Oh! What You Want Wid Bess?"
"Honey, Dat's All De Breakfast...Take You' Hands Off Me"
"Oh, Dey's So Fresh ... I'm Talkin' About Devil Crabs"
"Porgy, Porgy, Dat You There"
"Why You Been Out On That Wharf?"
"Oh, Doctor Jesus, Look Down On Me Wit' Pity"
"Oh, De Lawd Shake De Heavens...One Of Dese Mornings"
"Oh Dere's Somebody Knockin' At De Do'"
"A Red-Headed Woman..Jake's Boat....Oh Doctor Jesus"
"Clara, Clara...Crown, Crown...Summertime"
Interlude (Death Of Crown)
Introduction..."Wait For Us...What Is Your Name?"
"You've Got To Go...Oh Gawd! They Goin' To Make Him Look"
"There's a Boat Dat's Leavin'"
"Good Mornin' Sistuh...Thank Gawd I's Home Again!"
"Dem White Folks Sure Ain't Put Nuthin'"
"Oh, Bess, Oh Where's My Bess"