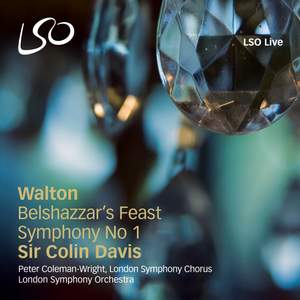 Walton: Belshazzar's Feast & Symphony No. 1
Peter Coleman-Wright (baritone)
London Symphony Orchestra, London Symphony Chorus, Sir Colin Davis
If you like your Walton unleashed at full and scalding voltage, look no further. The [LSO's] trademark virtuosity and panache are so great, and the players' unravelling of Walton's demanding...

— More…
Contents
Walton: Belshazzar's Feast
Sir Colin Davis, London Symphony Orchestra, Peter Coleman-Wright, London Symphony Chorus
II. A Tempo - "If I Forget Thee"
III. "By the Waters of Babylon"
IV. "Babylon Was a Great City"
V. "Praise Ye the God of Gold!"
VI. Allegro Molto - "Thus in Babylon"
VII. "Thou, O King, Art King of Kings"
VIII. "And in That Same Hour"
IX. "The Trumpeters and Pipers"
X. Allegro - "Then Sing Aloud to God Our Strength"
Walton: Symphony No. 1 in B flat minor
Sir Colin Davis, London Symphony Orchestra
II. Scherzo - Presto, con malizia
III. Andante con malincolia
IV. Maestoso - Brioso ed ardentemente - Vivacissimo - Maestoso