UPDATE: Royal Mail have now resumed shipments on ALL International services but delays should be expected, please choose FEDEX if your order is urgent.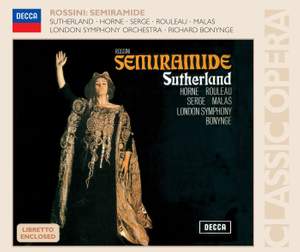 Rossini: Semiramide
Joan Sutherland (Semiramide), Marilyn Horne (Arsace), John Serge, Joseph Rouleau, Spiro Malas, Patricia Clark, Leslie Fyson & Michael Langdon
London Symphony Orchestra, Richard Bonynge
This is simply one of the great opera recordings in the catalogue...In Sutherland's interpretation, Semiramide is not so much a Lady Macbeth as a passionate, sympathetic woman...Horne is well...

— More…
Contents
Marilyn Horne (mezzo-soprano), Spiro Malas (bass), John Serge (tenor), Patricia Clarke (soprano), Joseph Rouleau (bass), Dame Joan Sutherland (soprano), Leslie Fyson (baritone), Michael Langdon (bass)
London Symphony Orchestra, Ambrosian Singers
Richard Bonynge
Recorded: 1965-12-28
Recording Venue: Walthamstow Assembly Hall, London
Là dal Gange a te primiero
Ah! già il sacro foco è spento
Eccomi al fine in Babilonia
"Ah! Quel giorno ognor rammento"
Ergi omai la fronte altera
Ah! Sconvolta nell'ordine eterno
Se la vita ancor t'è cara
Sì, sperar voglio contento