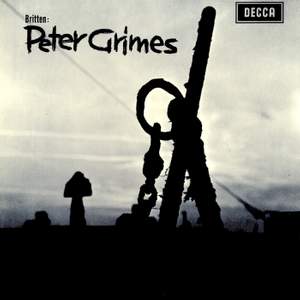 Britten: Peter Grimes
Peter Pears (Grimes), Claire Watson (Ellen Orford), James Pease (Balstrode), Jean Watson (Auntie), Geraint Evans (Ned Keene), Lauris Elms (Mrs Sedley), David Kelly (Hobson), Owen Brannigan (Swallow), Raymond Nilsson (Bob Boles), Marion Studholme, Iris Kells (Nieces)
Orchestra and Chorus of the...
Almost 50 years on, Britten's own recording is still fresh. His conducting has great naturalness and the sound is amazing for 1958.

—
Contents
Geraint Evans (baritone), David Kelly (bass), Peter Pears (tenor), Claire Watson (soprano), Owen Brannigan (bass), Jean Watson (mezzo-soprano), Lauris Elms (mezzo-soprano), Raymond Nilsson (tenor), Iris Kells (soprano), James Pease (baritone), John Lanigan (tenor), Marion Studholme (soprano)
Royal Opera House Covent Garden, Chorus of the Royal Opera House, Covent Garden
Benjamin Britten
Recorded: 1958-12-02
Recording Venue: Walthamstow Assembly Hall, London
"Peter Grimes, I Here Advise You!"
"The Truth...the Pity..."
Interlude I: On the beach
"I Have To Go From Pub To Pub"
"And Do You Prefer the Storm"
"What Harbour Shelters Peace"
"Now the Great Bear and Pleiades"
"Old Joe Has Gone Fishing"
"The Bridge Is Down, We Half Swam Over"
Interlude III: Sunday Morning By the Beach
"Fool To Let It Come To This!"
"People!...No! I Will Speak!"
"We Planned That Their Lives"
"Now Is Gossip Put On Trial"
Interlude IV: Passacaglia
"Peter Grimes! Nobody Here?"
"Assign Your Prettiness To Me"
"Embroidery In Childhood"
"Who Holds Himself Apart"
"Peter, We've Come To Take You Home"
"To Those Who Pass The Borough"