UPDATE: Royal Mail have now resumed shipments on their TRACKED & SIGNED and SIGNED services but delays should be expected, please choose these services if available to you or FEDEX if your order is urgent.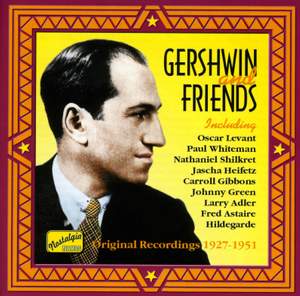 Gershwin and Friends
(1927-1951)
George Gershwin (piano), Oscar Levant (piano), Samuel Dushkin (violin), Larry Adler (harmonica), Hildegarde (vocal), Emmanuel Bay (piano), Jascha Heifetz (violin)
Victor Symphony Orchestra, Frank Black Orchestra, Carroll Gibbons Orchestra, Paul Whiteman Orchestra, Hollywood Bowl Symphony Orchestra,...
Contents
Gershwin: An American in Paris, tone poem
George Gershwin (piano)
Victor Symphony Orchestra
Nathaniel Shilkret
Recorded: 4 February 1929
Recording Venue: New York
Gershwin: Rhapsody in Blue
Oscar Levant (piano)
Frank Black Orchestra
Frank Black
Recorded: 2 December 1927
Recording Venue: Brunswick New York Studios
Samuel Dushkin (violin)
Recorded: February 1928
Recording Venue: London
Gershwin: The Man I love - Do Do Do - My One and Only - Isn't it wonderful - The Half of it, Dearie, Blues - Fascinating Rhythm - RC[11]' …
Hildegarde (vocals)
Carroll Gibbons Orchestra
Carroll Gibbons
Recorded: 20 July 1937
Recording Venue: London
The Man I Love-Do Do Do-My One And Only-'S Wonderful-Half Of It Dearie Blues-Fascinating Rhythm-...
 Excerpt,  Gershwin: Piano Concerto in F major
Oscar Levant (piano)
Paul Whiteman Orchestra
Paul Whiteman
Recorded: 1943
Recording Venue: Hollywood
Emmanuel Bay (piano), Jascha Heifetz (violin)
Recorded: 28 November 1945
Recording Venue: New York
#1 (Allegro ben ritmato e deciso)
#2 (Andante con moto e poco rubato)
#3 (Allegro ben ritmato e deciso)
Paul Whiteman Orchestra
Paul Whiteman
Recorded: 1943
Recording Venue: Hollywood
Gershwin: Porgy And Bess: A Symphonic Picture (arr. R.R. Bennett)
Hollywood Bowl Symphony Orchestra
Johnny Green
Recorded: 4 August 1951
Recording Venue: Los Angeles
Porgy And Bess: A Symphonic Picture