UPDATE: Royal Mail have now resumed shipments on their TRACKED, TRACKED & SIGNED and SIGNED services but delays should be expected, please choose these services if available to you or FEDEX if your order is urgent.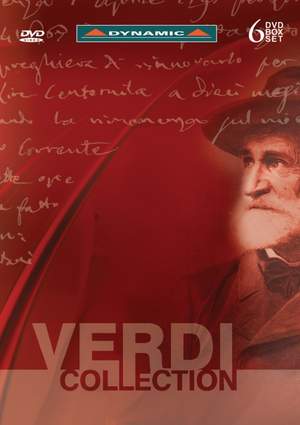 Offer

,

 Verdi Collection Vol. 1
Alberto Gazale, Susan Neves, Orlin Anastassov & Yasuharu Nakajima, Marco Berti, Giacomo Prestia & Carlo Guelfi, Zvetan Michailov, Renato Bruson, Michela Sburlati & Adriana Damato, Amarilli Nizza, Vladimir Stoyanov, Renzo Zulian & Orlin Anastassov, Susanna Branchini, Renzo Zulian, Marco...
Contents
Live recorded at Teatro Carlo Felice of Genoa in June 2004. Subtitles: IT/EN/FR/DE/ES/JP/ZH - 140 min.
Alberto Gazale, Susan Neves, Orlin Anastassov & Yasuharu Nakajima
Orchestra and Chorus of Teatro Carlo Felice di Genova
Riccardo Frizza (conductor) & Jonathan Miller (director)
Live recorded at Teatro Regio of Parma in May 2005. Subtitles: IT/EN/FR/DE/ES - 126 min.
Marco Berti, Susan Neves, Giacomo Prestia & Carlo Guelfi
Teatro Regio di Parma
Antonello Allemandi (conductor) & Pier'Alli (director)
Live recorded at Teatro Regio of Parma in June 2004. Subtitles: IT/EN/FR/DE/ES/JP/ZH - 107 min.
Zvetan Michailov, Renato Bruson, Michela Sburlati & Adriana Damato
Teatro Regio di Parma
Renato Palumbo (conductor) & Lamberto Puggelli (director)
Verdi: I Vespri Siciliani
Live recorded at Teatro Verdi of Busseto in February 2003. Subtitles: IT/EN/FR/DE/ES - 159 min.
Amarilli Nizza, Vladimir Stoyanov, Renzo Zulian & Orlin Anastassov
Orchestra and Chorus of Fondazione Arturo Toscanini - Balletto del Teatro di Torino
Stefano Ranzani (conductor) & Pier Luigi Pizzi (director)
Verdi: La forza del destino
Live recorded at Teatro Comunale of Modena in January 2006. Subtitles: IT/EN/FR/DE/ES - 181 min.
Susanna Branchini, Renzo Zulian, Marco Di Felice, Paolo Battaglia Tiziana Carraro & Paolo Rumetz
Orchestra Filarmonia Veneta "G. F. Malipiero" Chorus of Teatro Sociale di Rovigo
Lukas Karytinos (conductor) & Pier Francesco Maestrini (director)