UPDATE: Royal Mail have now resumed shipments on their TRACKED, TRACKED & SIGNED and SIGNED services but delays should be expected, please choose these services if available to you or FEDEX if your order is urgent.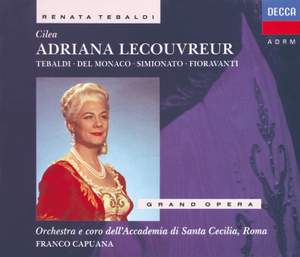 Cilea: Adriana Lecouvreur
Renata Tebaldi, Mario del Monaco, Giulietta Simionato, Giulio Fioravanti
Orchestra e Coro dell'Accademia Nazionale di Santa Cecilia, Franco Capuana
Contents
Cilea: Adriana Lecouvreur
Franco Ricciardi (tenor), Giulietta Simionato (mezzo-soprano), Dora Carral (soprano), Silvio Maionica (bass), Giovanni Foiani (bass), Mario del Monaco (tenor), Fernanda Cadoni (mezzo-soprano), Renata Tebaldi (soprano), Giulio Fioravanti (baritone), Angelo Mercuriali (tenor)
Orchestra dell'Accademia Nazionale di Santa Cecilia, Coro dell'Accademia Nazionale Di Santa Cecilia
Franco Capuana
Recorded: 1961-07-10
Recording Venue: Santa Cecilia, Roma
Michonnet, su! Michonnet, giù!
Madamigella, come vi chiamerem stasera?
"Del sultano Amuratte..." - Io son l'umile ancella
La dolcissima effigie sorridente
Dov'è dunque i biglietto di Zatima?
Acerba voluttà, dolve tortura
Principessa ... - Finalmente!
Con la Regina a lungo favella!
L'anima ho stanca, e la meta è lontana
Vi cogliam, Conte, sul fatto
Dico: che a cena l'alma sirena con noi verrà
Sia! Non rispondete...Eccolo, aperto!
Madamigella Lecouvreur! Venite
Il russo Menchikoff riceve l'ordine
Dormi, dormi, o pastorello!
Giusto cielo! che feci in tal giorno?
"Una volta c'era un principe..."
I fiori offerti in un'ora d'oblio...Soffoco
Poveri fiori, gemme de'prati