UPDATE: Royal Mail have now resumed shipments on their TRACKED, TRACKED & SIGNED and SIGNED services but delays should be expected, please choose these services if available to you or FEDEX if your order is urgent.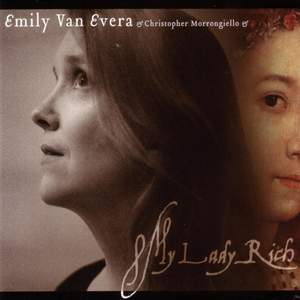 Offer

,

 My Lady Rich
Music inspired and written for Lady Penelope Rich. Works by Byrd, Coprario and Dowland
Emily Van Evera (soprano), Christopher Morrongiello (lute), Susanna Pell (viol), Caroline Trevor (contralto), John Potter (tenors), Michael Dore (bass), Emily Van Evera (recorder), Susanne Heinrich (viola da gamba), Lynda Sayce (bass lute), Jacob Heringman (cittern), Asako Morikawa (viols), Lucy Carolan...
CD
Original price
($16.00)
Reduced price
$12.75
Contents
anon.: How should I your true love know
Jones, Robert: Oh he is gone
Emily van Evera, Christopher Morrongiello
Jones, Robert: And is it night?
Christopher Morrongiello, Emily van Evera
Dowland: Mr Dowland's Midnight
Emily van Evera, Christopher Morrongiello
Dowland: My Lady Rich's galliard
anon.: Hampton Court Masque
Emily van Evera, Christopher Morrongiello
Dowland: Come when I call
Christopher Morrongiello, Emily van Evera
Tessier: Casche toy, celeste soleil
Emily van Evera, Christopher Morrongiello
Emily van Evera, Christopher Morrongiello
Emily van Evera, Christopher Morrongiello
Tessier: Reveillez vous, belle Cattin
Emily van Evera, Christopher Morrongiello
anon.: Corranto Lady Riche
Emily van Evera, Christopher Morrongiello
Emily van Evera, Christopher Morrongiello
anon.: My little sweet darling
Emily van Evera, Christopher Morrongiello
anon.: A la volta Mistress Lettice Rich
Emily van Evera, Christopher Morrongiello
Bartlet: Surcharged with discontent
Emily van Evera, Christopher Morrongiello
Bartlet: The thrush did pipe full clear
Emily van Evera, Christopher Morrongiello
Bartlet: The Hesperus on high
Emily van Evera, Christopher Morrongiello
Emily van Evera, Christopher Morrongiello
Shakespeare: He is dead and gone, lady
Emily van Evera, Christopher Morrongiello
Emily van Evera, Christopher Morrongiello