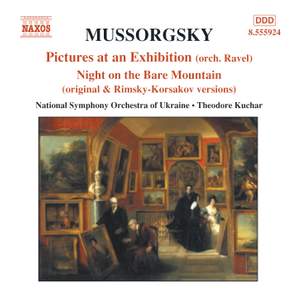 Mussorgsky: Pictures at an Exhibition
and other Orchestral Works
National Symphony Orchestra of Ukraine, Theodore Kuchar
Ravel's orchestration of Pictures at an Exhibition was commissioned by Koussevitzky as a showpiece for his superb Boston orchestra, and it proves just as impressive here to demonstrate the excellence...

— More…
Contents
Mussorgsky: A Night on the Bare Mountain
National Symphony Orchestra of Ukraine
Theodore Kuchar
Recorded: 15 - 18th August 2001
Recording Venue: Grand Concert Studio of the National Radio Company of Ukraine, Kiev
 Excerpt,  Mussorgsky: Sorochintsy Fair
National Symphony Orchestra of Ukraine
Theodore Kuchar
Recorded: 15-18 august 2001
Recording Venue: Grand Concert Studio of the National Radio Company of Ukraine, Kiev
Sorochintsy Fair: Gopak (Hopak)
 Excerpt,  Mussorgsky: Khovanshchina
National Symphony Orchestra of Ukraine
Theodore Kuchar
Recorded: 15-18 August 2001
Recording Venue: Grand Concert Studio of the National Radio Company of Ukraine, Kiev
Khovanshchina, Act V: Golitsin's Exile (arr. N. Rimsky-Korsakov)
Mussorgsky: A Night on the Bare Mountain
National Symphony Orchestra of Ukraine
Theodore Kuchar
Recorded: 15-18 August 2001
Recording Venue: Grand Concert Studio of the National Radio Company of Ukraine, Kiev
St. John's Night on Bald Mountain, "A Night on the Bare Mountain"
Mussorgsky: Pictures at an Exhibition
National Symphony Orchestra of Ukraine
Theodore Kuchar
Recorded: 15-18 August 2001
Recording Venue: Grand Concert Studio of the National Radio Company of Ukraine, Kiev
V. Ballet of the Chickens in their Shells
VI. Samuel Goldenberg and Schmuyle
VII. Limoges - The Market Place
Cum mortius in Lingua morta
IX. The Hut on Fowls' Legs, "Baba Yaga"
X. The Great Gate of Kiev