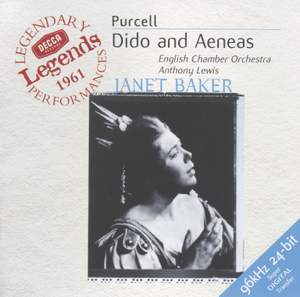 Purcell: Dido and Aeneas
Janet Baker (Dido), Raimund Herincx (Aeneas), Patricia Clark (Belinda), Monica Sinclair (Sorceress)
English Chamber Orchestra, Anthony Singers, Anthony Lewis
listening to Janet Baker as Dido in her celebrated recording made at the dawn of her career, in 1962, still leaves one breathless with admiration and moved to the core by her combination of glorious...

— More…
Contents
Thurston Dart (continuo), Eileen Poulter (soprano), Raimund Herincx (baritone), Rhianon James (soprano), Dorothy Dorow (soprano), John Mitchinson (tenor), Patricia Clarke (soprano), Catherine Wilson (soprano), Dame Janet Baker (mezzo-soprano), Monica Sinclair (mezzo-soprano)
English Chamber Orchestra, The St. Anthony Singers
Anthony Lewis
"Shake the clouds from off your brow"
1:02
"Ah! Belinda, I am prest"
4:40
"Whence could so much virtue spring?"
2:00
"See, your Royal Guest appears"
4:46
"Ruin'd ere the set of sun!"
4:55
Ritornelle - "Thanks to these lonesome vales"
3:33
"Behold, upon my bending spear"
1:21
"Stay, Prince" - "Jove's commands shall be obey'd"
2:40
Prelude - "Come away, fellow sailors" - Sailors' dance
2:30
"See the flags"-"Destruction's our delight-The Witches'
3:24
"Your counsel all is urged in vain"
3:26
"But Death alas!".."When I am laid in earth"
6:27