Business update: Our website remains open for orders. However, delays in postal and courier services mean that deliveries are currently taking longer than usual
ECM
Founded in Munich by producer Manfred Eicher in 1969, ECM has recorded more than 1000 albums spanning many idioms. Establishing an early reputation with standard-setting jazz and improvised music albums – by Keith Jarrett, Paul Bley, Jan Garbarek, Chick Corea, Pat Metheny, the Art Ensemble of Chicago and others – ECM began to include contemporary composition in its programme in the late 1970s. In 1984 a sister label, ECM New Series, was launched to introduce the music of Arvo Pärt with the aptly-titled "Tabula rasa". Other featured composers include György Kurtág, Valentin Silvestrov, Tigran Mansurian, Erkki-Sven Tüür, Heinz Holliger, Giya Kancheli, Meredith Monk, and Heiner Goebbels.
Further Reading:
ECM
7th May 2019
The Hungarian-born British pianist talks to Katherine about late Schubert, and 'falling in love at first sight' with the Brodmann fortepiano which he plays on his recent recordings of sonatas and impromptus on ECM.
12th April 2019
The Hungarian-born pianist brings introspective poetry to two late sonatas, the Four Impromptus D899 and the Drei Klavierstücke D946, recorded on his Franz Brodmann fortepiano from 1820.
New Releases:
ECM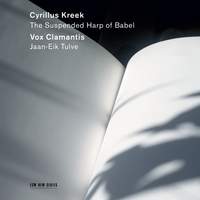 Series & Collections:
ECM