23rd October 2023
Favourites

,

The Academy of Ancient Music at 50
Trailblazing early-music ensemble the Academy of Ancient Music turns 50 this year (at least, in its reincarnation as reimagined by the visionary Christopher Hogwood - the initial group founded in the 1720s fizzled out by the turn of the century, in many ways a victim of its own success).
To say the AAM has exerted an influence on the course of the historically-informed movement's development would be an understatement; its performances have defied the skepticism of record label executives, wowed audiences, breathed new life into centuries of repertoire, and set the benchmark for other groups' activities.

To mark the occasion, Music Director Laurence Cummings reminisces about some of his own favourite recordings from the Academy's long and illustrious history on record.
Why not listen to our 'AAM at 50' playlist, featuring a selected track from each of Laurence's chosen recordings. Find it under 'playlists' in the Presto Music app.
Judith Nelson (soprano), Emma Kirkby (soprano), Carolyn Watkinson (alto), Paul Elliott (tenor), David Thomas (bass), Choir of Christ Church Cathedral, Oxford & The Academy of Ancient Music, Christopher Hogwood
I remember this recording being released so clearly when I was still at school. It was the early eighties and the hype for this release was immense. Performed on original instruments, following the composer's intentions to the letter, using specialist singers who had studied historical vocal techniques and all this centred around probably the best known choral work in the English-speaking world. I also loved the LP booklet, full of learned articles and listing the provenance of all the instruments. A fascinating seam of social history. Listening to this LP for the first time quite literally changed the course of my life. Hearing Emma Kirby sing the 'Refiner's fire' section of 'But who may abide' with its sizzling strings and Emma's eloquently passionate delivery showed me what period performance could achieve and I was hooked.
Available Formats: MP3, FLAC, Hi-Res FLAC
Emma Kirkby (soprano), Judith Nelson (soprano), Carolyn Watkinson (alto), Paul Elliot (tenor), David Thomas (bass), James Bowman (countertenor), Academy of Ancient Music, Choir of Christ Church Cathedral Oxford, Simon Preston, Christopher Hogwood
On the back of my teenage purchase of AAM's Messiah I bought the recording of the Eb major version of J.S. Bach's Magnificat. Once again, I was intoxicated by all the information printed on the record sleeve and was fascinated by the inclusion of the Christmas incipits. I had already heard the D major version and to discover that there was 'new' music associated with the piece made it feel as if the listener was doing the discovering. Simon Preston was conducting the recording with Christopher Hogwood playing continuo. I'd love to have been a fly on the wall to see how much back seat driving was going on! Christ Church Choir was on fire and with impeccable soloists and pioneering orchestral playing the recording has more than stood the test of time.
Available Formats: Presto CD, MP3, FLAC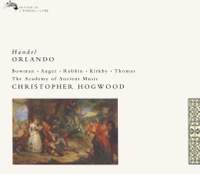 James Bowman (Orlando), Arleen Augér (Angelica), Catherine Robbin (Medoro), Emma Kirkby (Dorinda), David Thomas (Zoroastro), Academy of Ancient Music, Christopher Hogwood
Orlando was, I believe, AAM's first recording of a complete opera. Chris Hogwood and the orchestra were making recordings at a pace that seems unimaginable to us now and huge swathes of repertoire were being recorded for the first time. To date, they had tackled English theatre music, oratorio and ecclesiastical choral music and now it was the turn of the most popular musical form in early 18th-century London, Italian opera seria. It seems unremarkable to us now to have a counter-tenor in a lead role of a Handel opera but this was ground-breaking stuff!
Available Formats: MP3, FLAC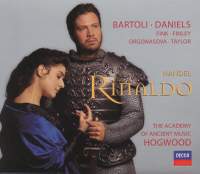 Cecilia Bartoli (Almirena), David Daniels (Rinaldo), Bernarda Fink (Goffredo), Gerald Finley (Argante), Luba Orgonasova (Armida), Daniel Taylor (Eustazio), Bejun Mehta (A Christian Magician), Academy of Ancient Music, Christopher Hogwood
Christopher Hogwood and the AAM had a long collaboration with Cecilia Bartoli and in many ways it reached an artistic and triumphant peak in this recording. Whilst she is not the eponymous heroine, Bartoli's character of Almirena does get to sing 'Lascia ch'io pianga' and witness the downfall and subsequent transformation of her nemesis, Armida. The opera is packed full of fantastically dramatic arias and duets and brings together a starry cast that still manages to be more than the sun of its parts. When Catherine Bott and Ana Maria Rincon are your duetting sirens you know you are in the presence of greatness.
Available Formats: MP3, FLAC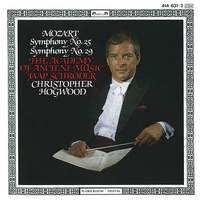 The Academy of Ancient Music, Christopher Hogwood, Jaap Schröder
The 1980s were a very exciting time in Mozart scholarship. With some justification the recording companies made claims that the listener could hear the music as the composer had intended. Certainly the same precision and care in performance practice details were applied to the core classical repertoire that had been applied to Baroque music. The Historically Informed Performance movement was taking on the mainstream musical establishment. This was the period where Jaap Schröder became concertmaster and even co-director of AAM and shone a light on Mozart's symphonic repertoire. This music had been played through the lens of the 19th century for 180 years and it took Hogwood and Schröder to strip away the unnecessary vibrato, anachronistic phrasing and fingerings and general romantic spirit. This recording exemplifies the eloquence and clarity that this reveals and allows a transcendent purity that is surely in keeping with the spirit that Mozart intended.
Available Format: Presto CD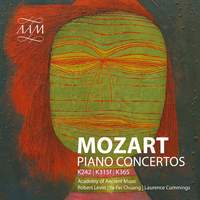 Robert Levin (early keyboard instruments), Ya-Fei Chuang (early keyboard instruments), Bojan Čičić (violin), Academy of Ancient Music (early music ensemble), Laurence Cummings
After a twenty-year hiatus, Robert Levin has recently accomplished a complete cycle of Mozart piano concertos. Originally commissioned by Decca in the 1990s the series was abruptly shortly after the millennium and was only recently taken up again by AAM on their own label. Levin brings his inimitable Mozartian flare, with immaculate ornamentation, spontaneously improvised cadenzas and considerable care in choosing instruments upon which to perform the concertos. This forthcoming release includes the concerto for 3 keyboards in F Major, K242 where Bob has chosen three contrasting instruments, namely a Stein copy (the instrument we know Mozart played on early in his concerto career), a tangent piano (the key has a metal tangent that hits the string, making a very decisive percussive effect with a glowing surrounding resonance) and a harpsichord. The result is extraordinary. The different articulating styles allow the ear to differentiate the individual solo lines much more clearly than would three identical instruments. This recording is a rarity and and features Ya-Fei Chuang's stunning piano playing on the Stein, Robert Levin on the tangent piano and me playing the part written for the youngest daughter of the commissioning family on the humble harpsichord.
Available Formats: CD, MP3, FLAC, Hi-Res FLAC, Hi-Res+ FLAC