1st November 2022
Presto Editor's Choices

,

Presto Editor's Choices - October 2022
Personal favourites from October's plentiful crop of new releases include an atmospheric Rachmaninov triptych from John Wilson and Sinfonia of London, thrillingly-sung Verdi from Jonas Kaufmann and Ludovic Tézier with Antonio Pappano and the Orchestra dell'Accademia Nazionale di Santa Cecilia, a celebration of the Francœur brothers in all their inventive glory from violinist Théotime Langlois de Swarte and harpsichordist Justin Taylor, and Hélène de Montgeroult's rich and varied études from pianist Clare Hammond.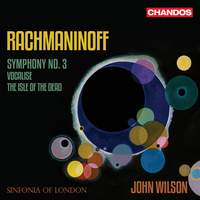 Though I initially thought it sounded like a bit of a non sequitur, it was a typically canny move of Wilson to follow his splendid Hollywood Soundstage with Rachmaninoff's Symphony No. 3, premiered in Philadelphia just a couple of years before the earliest films featured on that album: the SoL's distinctive, swooning vintage string sound pays equally rich dividends here, though in what has to be one of the creepiest accounts of Isle of the Dead on record the same players summon such other-worldly glassiness that you'd swear theremins and/or Novachords were involved!
Available Formats: SACD, MP3, FLAC, Hi-Res FLAC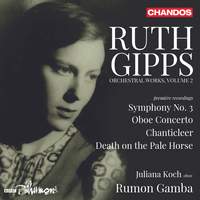 Juliana Koch (oboe), BBC Philharmonic, Rumon Gamba
Also inspired by a macabre painting (William Blake this time), Gipps's 1943 tone-poem Death on the Pale Horse is scarcely less atmospheric than Rachmaninoff's response to Arnold Böcklin's Die Toteninsel, with the BBC Philharmonic brass revelling in the near-Mahlerian bugle-calls. The characterful Chanticleer Overture, with its arresting opening cock-crow, makes one regret that Gipps never completed the projected opera, whilst the pastoral Oboe Concerto testifies to the composer's own mastery of the instrument and her affection for her friend and colleague Marion Brough (who premiered the work in 1942).
Available Formats: CD, MP3, FLAC, Hi-Res FLAC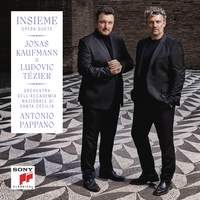 Jonas Kaufmann (tenor), Ludovic Tézier (baritone), Orchestra dell'Accademia Nazionale di Santa Cecilia, Antonio Pappano
From the good-natured but broken-hearted sparring of Rodolfo and Marcello in the opening duet from La Bohème (where these two mature voices sound rather more hard-bitten than many of their rivals on disc) to a properly chilling account of the great confrontation from Otello, this recital is a superb testament to one of today's most electrifying operatic partnerships - with Pappano's Santa Cecilia orchestra providing a wealth of subtle detail and bags of dramatic impetus. Unmissable stuff.
Available Formats: CD, MP3, FLAC, Hi-Res FLAC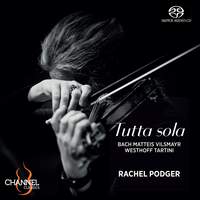 Chad Kelly's nifty transcription of Bach's Toccata and Fugue in D minor (or rather A minor here) gets this recital of baroque works for unaccompanied violin off to a flying start, with Podger taking full advantage of the new textures and transparencies which become available when the work's transferred to the violin. But it's the less familiar fare which makes this album irresistible, not least Johann Joseph Vilsmayr's inventive and richly varied Artificiosus Concentus and the short but sweet Prelude by Gasparini - which seems to tip its jaunty cap to Bach's Partita in E major.
Available Formats: SACD, MP3, FLAC, Hi-Res FLAC, Hi-Res+ FLAC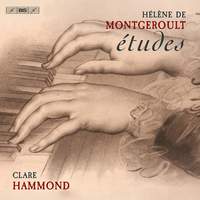 Hammond describes Montgeroult as 'one of the most exploratory pianistic personalities of our time', and on the basis of this stylistically wide-ranging selection of 29 études (composed between 1788 and 1812) it's difficult to disagree with her assessment: much of the music here sounds as if it was written in the mid-nineteenth century, with distinct foreshadowings of Schumann, Liszt and particularly mature Chopin playing out in harmonic language as well as the keyboard writing itself.
Available Formats: SACD, MP3, FLAC, Hi-Res FLAC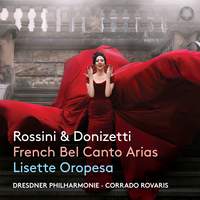 Lisette Oropesa (soprano), Dresdner Philharmonie, Sachsischer Staatsopernchor, Corrado Rovaris
Oropesa's full but eminently flexible soprano is eminently suited to everything here, from the coloratura fireworks of Comtesse Adèle in Rossini's Le comte Ory to the grand style of the same composer's final opera Guillaume Tell. As well as relishing the expressive possibilities of the French language, she's a nuanced vocal actress, attuned to the pathos as well as the perkiness of Marie in Donizetti's La fille du régiment and capturing Lucie de Lammermoor's vulnerability and isolation (even more pronounced in this French version of the opera than in the usual Italian) quite beautifully.
Available Formats: SACD, MP3, FLAC, Hi-Res FLAC, Hi-Res+ FLAC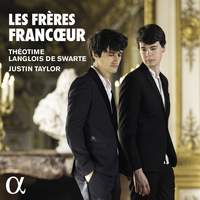 Justin Taylor (harpsichord), Théotime Langlois de Swarte (violin)
Listen to this blind and you'd swear there were at least a couple more players involved in several of works on this terrific survey of music by the Francœur brothers and friends (Jean-Jacques-Baptiste Anet, Jean Durocher and François Rebel, to be precise): the two musicians literally conjure up a storm in an excerpt from Les Augustales which yields nothing to Vivaldi's Four Seasons, and there are moments in the Anet where Langlois de Swarte imitates a theorbo with uncanny accuracy.
Available Formats: CD, MP3, FLAC, Hi-Res FLAC, Hi-Res+ FLAC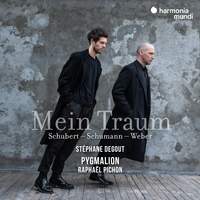 Stéphane Degout (baritone), Pygmalion, Raphaël Pichon
On paper, this 'vast Romantic fresco' (taking its cue from a disturbed and disturbing note which Schubert penned in 1822) looks like a fanciful collage of oddments, interweaving the two movements of the Unfinished Symphony with orchestrated Lieder, music for a cappella female voices, and opera arias by Schumann, Weber and Schubert. In practice it's mesmerising, with the segue from Liszt's orchestration of Der Doppelgänger into the first movement of the Symphony casting a particularly effective spell. Degout's on top form throughout - especially in the Gothic hunting-aria from Alfonso und Estrella, which wouldn't have sounded out of place on René Jacobs's recent recording of Der Freischütz.
Available Formats: CD, MP3, FLAC, Hi-Res FLAC