9th September 2022
 New Release Round-up

,

  New Release Round-Up - 9th September 2022
Today's new releases include a thought-provoking Tristan-inspired album from Igor Levit, Sheku Kanneh-Mason's boundary-blurring Song, with folk-song arrangements from the British Isles sitting alongside jazz standards and new music from Edmund Finnis, a celebratory album marking the two hundredth anniversary of Brazilian independence, and Jordi Savall's new L'Orfeo from the Paris Opéra Comique.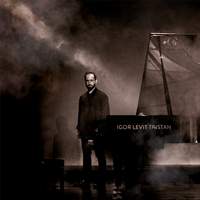 Igor Levit (piano), Gewandhausorchester Leipzig, Franz Welser-Möst
The central work on Levit's programme exploring the themes of love, death and redemption is Hans Werner Henze's Tristan: premiered in 1974 and scored for piano, tape and orchestra, the piece draws on Brahms's Symphony No. 1 and Chopin's Marche funèbre as well as Wagner's opera. The recital is bookended by Liszt's Liebestraum No. 3 and 'Harmonies du soir', and also features Ronald Stevenson's arrangement of the Adagio from Mahler's Symphony No. 10 and Zoltán Kocsis's transcription of the Act 1 Prelude to Tristan und Isolde.
Available Formats: 2 CDs, MP3, FLAC, Hi-Res FLAC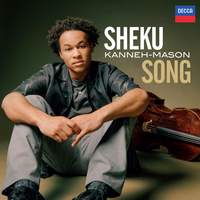 Sheku Kanneh-Mason (cello)
Encompassing folk-tunes, jazz standards and classical repertoire, the cellist's new album features his own arrangements of 'Myfanwy', 'I Say a Little Prayer' and JS Bach's Komm süsser Tod, Edmund Finnis's Five Preludes, Beethoven's Variations on 'Ein Mädchen oder Weibchen', and Villa-Lobos's Bachianas Brasileiras No. 1. Guest artists include South African soprano Pumeza Matshikiza, jazz pianist Harry Baker and Isata Kanneh-Mason, who joins her brother for the Beethoven variations and pieces by Stravinsky and Mendelssohn.
Available Formats: CD, MP3, FLAC, Hi-Res FLAC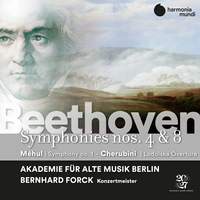 Akademie für Alte Musik Berlin, Bernhard Forck
Bernhard Forck's Beethoven cycle continues to juxtapose the symphonies with less-heard contemporary works that prefigure or illuminate them - with Méhul's Symphony No.1 highlighting the distinctions between the German and French musical mindsets of the time.
Available Formats: 2 CDs, MP3, FLAC, Hi-Res FLAC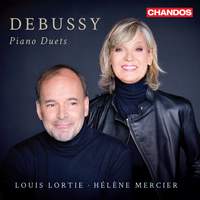 Louis Lortie (piano), Hélène Mercier (piano)
Established duo Louis Lortie and Hélène Mercier bring their near-telepathic musical empathy to an all-Debussy album, featuring arrangements of solo piano works, pieces originally written for piano duet and André Caplet's arrangement of La Mer - which, despite the absence of Debussy's inimitably lush orchestration, nevertheless emerges with a clarity that reveals new facets of its harmonic language.
Available Formats: CD, MP3, FLAC, Hi-Res FLAC
English Chamber Orchestra, Neil Thomson
Marking the bicentenary of Brazilian independence, this album showcases the work of Brazilian composers of the last two hundred years - many of whom initially studied in Europe as a foundation for shaping their own national school of composition. Works by Gomez and Miguez also highlight the popular taste for suites of "antique dances" that inspired many composers from this period, both in Brazil and elsewhere.
Available Formats: CD, MP3, FLAC, Hi-Res FLAC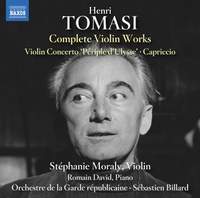 Stéphanie Moraly (violin), Romain David (piano), Orchestre de La Garde Républicaine, Sébastien Billard
The lyrical, Debussy- and Ravel-inspired music of French composer Henri Tomasi receives a much-needed outing on this album, which also shows the composer's penchant for adopting the "exotic" in his music, be it Hebrew melodies or the imagery and folk music of Corsica, where his family had originated and where he spent much of his youth.
Available Formats: CD, MP3, FLAC, Hi-Res FLAC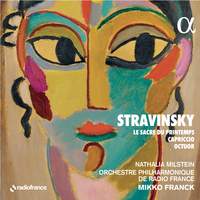 Nathalia Milstein (piano), Orchestre Philharmonique de Radio France, Mikko Franck
Alongside the ever-popular Rite of Spring, which surely needs no introduction, Mikko Franck and the Orchestra Philharmonique de Radio France present two of Stravinsky's more "neoclassical" works. The Capriccio and Octet contain some of his most bracing music and are every bit as ferociously energetic as the Rite. Nathalia Milstein brings boundless energy to the Capriccio, while the Orchestre's wind and brass players shine in the Octet, tempering its spikier textures with well-judged sensitivity, especially in the opening of its Sinfonia.
Available Formats: CD, MP3, FLAC, Hi-Res FLAC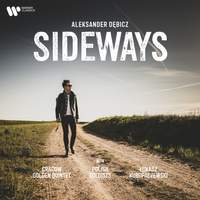 Aleksander Dębicz (piano)
Dębicz juxtaposes his own original compositions, in a musical language best described as "cinematic", with two large-scale works for piano - Bach's Keyboard Concerto No. 5 and an arrangement of Gershwin's Rhapsody in Blue for piano and wind quintet. The latter may be particularly alluring to Gershwin fans who have had their curiosity aroused by Alison Balsom's recent trumpet-centric version of the Rhapsody.
Available Format: CD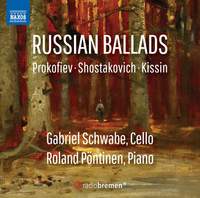 Gabriel Schwabe (cello), Roland Pöntinen (piano)
Evgeny Kissin has acquired near-legendary status as a pianist, but in recent years has also explored composition himself. One of the fruits of his efforts, his Cello Sonata No. 2, occupies pride of place on this album alongside works for cello and piano from Prokofiev and Shostakovich that make full use of the cello's uniquely broad expressive range.
Available Formats: CD, MP3, FLAC, Hi-Res FLAC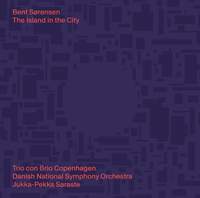 Trio con Brio Copenhagen, Danish National Symphony Orchestra, Jukka-Pekka Saraste
Sørensen's understated, often fragmentary musical language can sometimes defy categorisation - shades of Pärt, of Vasks, perhaps of Górecki? - but it never fails to make an impact. The Trio con Brio Copenhagen take the lead in the 2015 triple concerto L'isola della città, a work that is by turns reflective, chilling and abrasive, while Sørensen's Symphony No. 2 draws on the full forces of the Danish National Symphony Orchestra for a dazzling tapestry of sonic textures.
Available Formats: CD, MP3, FLAC, Hi-Res FLAC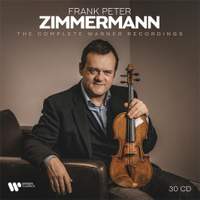 Frank Peter Zimmermann (violin)
Zimmermann's prodigious output for EMI and Teldec over the decades would be the envy of any living violinist - a truly impressive catalogue ranging from Baroque and Classical sonatas and concertos, via French and Russian Romantic repertoire, to Kurt Weill and Ligeti. Auric's violin sonata and Françaix's Sonatine, both relatively rarely recorded and both fizzing with dynamism, are particular delights.
Available Format: 30 CDs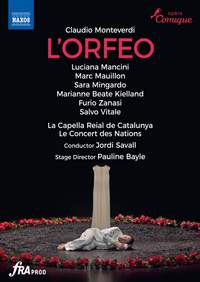 Luciana Mancini, Marianne Beate Kielland, Sara Mingardo, Salvo Vitale, Marc Mauillon, Furio Zanasi, La Capella Reial de Catalunya, Le Concert des Nations, Pauline Bayle, Jordi Savall
Monteverdi's immortal re-telling of the Greek legend is in safe, expert hands in this performance from Paris's Opéra Comique - Jordi Savall is among the finest living interpreters of this repertoire, and the combined forces of the Capella Reial de Catalunya and Concert des Nations truly do justice to the music. The staging is unfussy but effective - striking a balance that is neither oppressively spartan nor distractingly over-complicated - allowing the music and drama to speak for themselves.
Available Format: DVD Video