2nd September 2022
 Recording of the Week

,

  Fatma Said's Kaleidoscope
'A dancer's blood runs in my veins' announces the heroine of Léhar's Giuditta in the beguiling bolero-cum-waltz 'Meine Lippen, sie küssen so heiß!' which blazes into life around fifteen minutes into today's Recording of the Week from Egyptian soprano Fatma Said, the Orchestre Philharmonique de Monte-Carlo and special guests including lutenist David Bergmüller, Quinteto Ángel and the vision string quartet.
Giuditta's proud declaration certainly rings true for Said, whose passion for ballroom was ignited when her parents (themselves keen amateur dancers) introduced her to the art via the Arthur Murray Franchise during her teens in Cairo. This early grounding in waltzes, foxtrots and quicksteps subsequently led her to explore Latin American dance – as a promotional video for the album amply demonstrates, she's a pretty mean tanguera – and Kaleidoscope draws together all of these influences and more, taking in music by Gounod, Offenbach, Irving Berlin, Kurt Weill and Piazzolla along the way.
As with Barbara Hannigan's similarly diverse Dance With Me (released earlier this year), it's evident that the singer's love and affinity for all this music is grounded in real-life experience on the dance-floor: the rhythmic impetus and ebb and flow of each number is clearly born of something beyond the notes on the page, whether she's elongating the phrases of a Viennese waltz to delicious effect or tapping into the raw energy of Piazzolla's María de Buenos Aires. And despite the dizzying range of musical styles and genres on her dance-card, she sounds absolutely at home in everything on the programme: as she told me in our interview last week, Said grew up listening to pop, jazz and traditional Arabic music rather than opera, and there's never any sense that she's 'crossing over' into territory she wouldn't normally explore.
Linguistically, too, she's quite the chameleon, singing in six languages (Spanish, English, French, German, Italian and Arabic) with immaculate diction and obvious deep understanding of every line and phrase. We open with Joaquín Nin's gorgeous little Minué Cantado (a favourite of the great Spanish soprano Victoria de los Ángeles), the harpsichord of the original replaced here by David Bergmüller's lute to ravishing effect; its spare beauty proves the perfect curtain-raiser for a sequence of dance-inspired arias from opera and operetta, with the Monte Carlo strings providing lush, swooning support.
First up is the gavotte from Massenet's Manon, one of many tracks which see Said tapping into the introspective melancholy at the heart of music that's often interpreted as a straightforward expression of joie de vivre. Waltzes from Strauss's Wiener Blut and Gounod's Roméo et Juliette also come off beautifully, the crystalline high notes and coloratura emerging seamlessly from an almost mezzo-ish middle register which blends perfectly with Marianne Crebassa in the evergreen Barcarolle from Offenbach's Les contes d'Hoffmann.
We get to hear Said's formidable chest-voice in all its glory in the second half of the programme, where the tango becomes the dominant presence: in Kurt Weill's Youkali and Piazzolla's Yo soy María in particular, it's hard to believe that we're hearing the same singer who despatched Juliette's 'Je veux vivre' with such girlish clarity just a couple of tracks earlier. Other highlights include an unusually sensual 'I could have danced all night' (where the erotic frisson generated by Eliza's turn around the Embassy ballroom with Higgins registers loud and clear), and a manic tarantella from Gerónimo Giménez's zarzuela La Tempránica which flies by in under two minutes, Said despatching the rapid-fire patter with gleeful aplomb.
The biggest surprise, though, comes with the closing track, which like the opener pays homage to a singer who had a profound impact on Said in her youth. Written by George Merrill and Shannon Rubicam, 'I Wanna Dance with Somebody (Who Loves Me)' is indelibly associated with the late, great Whitney Houston, whose powerhouse recording on her second studio album in 1987 won a Grammy and made the song one of the most popular and beloved anthems of the decade. But Said's interpretation is no mere cover version: in this pared-down arrangement for voice, piano and strings, the upbeat ebullience of the original is stripped away to reveal the wistful melancholy that was hiding in plain sight in the text and vocal line all along.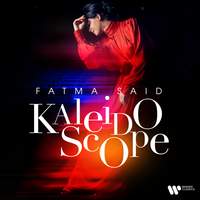 Fatma Said (soprano), Orchestre Philharmonique de Monte-Carlo, Sascha Goetzel
With David Bergmüller (lute), Marianne Crebassa (mezzo), Quinteto Ángel, vision string quartet
Available Formats: CD, MP3, FLAC, Hi-Res FLAC