3rd March 2022
 Video Interview

,

  Coco Tomita on Origins
Following a win in the Strings category of the BBC Young Musician competition in 2020, Japanese violinist Coco Tomita was invited to record a debut album with Orchid Classics. Released on 4 March 2022, Origins is that debut – a selection of works both well-known and rarely-heard, ranging from sonatas by Poulenc and Ravel to works by Jenő Hubay and Lili Boulanger. Among the threads binding it together is Tomita's admiration for some of the female violinists who inspired these works - France's Ginette Neveu and the Hungarian Jelly d'Arányi.
Coco shared some of her thoughts on this album with us in a video interview; a transcript is below.
Transcript
Why did you end up calling this album 'Origins'?
This name kind of popped up as I was piecing together the programme for the CD, and luckily enough I had the chance to have complete freedom over what I wanted to feature in this album. On this journey I started to discover very close and intertwined connections between the certain pieces, the composers and influential figures of the time such as twentieth-century artists. Two that stood out were Ginette Neveu and Jelly d'Arányi, who had huge influences on some of the works that I've chosen, and as a female violinist I had some aspects where I related to them and looked up to them. Eventually all these ties led down, fascinatingly, to my roots and my education as a musician. I was lucky enough to study at the Yehudi Menuhin for nine years, so Menuhin is a very important figure in my musical education. All these interesting things took on almost a musical "tree" aspect in this album, and I thought "Origins" was quite a fitting name for that.
Do you have any pre-performance routines that you find help you get into the right frame of mind?
Yes. Over the years of performing, I've definitely come up with some things that I can always turn to. One thing that I've learned is that there's a lot that you can't control in a performance situation, such as venue, even how much time you have to prepare before the concert. It varies from time to time, and so for me, having something consistent in that, and having a little routine is important. One example is food - I'm not the biggest meal-eater before performing, but I like to carry with me something that boosts my energy right before my performance. That might be a banana or a piece of chocolate, something sweet that will give me a boost. And then I'll usually have a massive meal after the performance!
Another thing I can think of is stepping into a bit of breathing work beforehand. I sometimes do this simultaneously while looking at the score and mentally preparing - rather than actually physically playing the violin before. I think it's really important to save that energy for when you go onto the stage. And it actually helps me focus a lot more, and kind of ground myself, get into the zone, since it can be quite chaotic backstage, for example. So that has helped me a lot.
A lot of your training took place at the Menuhin School - what was daily life like at the School?
First of all it was a boarding school, so the nature of the schedule we had would be quite different to other schools. I was a day pupil, but I would have to turn up to school as early as 7.45, which is when the day would begin with an hour of practice. Then everyone's schedule would kind of depend on each person. We would have practice sessions scheduled in, and between those we would either have academic lessons, a lesson with a professor, chamber music lessons, an orchestral rehearsal - there was just a lot of variety in everyone's day, which was really important since it was a long day, so it's good to keep the students on their toes.
Weekly we would have lunchtime concerts on Tuesday and Thursday, and this offered an opportunity for us students to step on the Menuhin stage and perform in front of our peers, which I think is so much harder than performing in front of strangers, so this was key, personally, to strengthening our performance skills and controlling nerves and things like that.
You end the album with an arrangement of Debussy's 'Beau soir' by the famous Jascha Heifetz. Are there any performers who have been especially influential on your musical development?
Yes, absolutely. I discovered this piece through my great idol Janine Jansen - she'd recorded it on one of her albums and ever since then I fell head over heels in love with this piece, and used it for encores. It was a staple in my repertoire cycle; I even selected it as one of my works of choice for the BBC semifinal. It has huge sentiment for me. Janine's recording was a prime source of inspiration; the way she expresses, and uses nuance and colour, and timing, is just phenomenal. Like nothing I've heard before. So I really wanted to challenge myself and see how much I could express. It's really not a long piece, but in every phrase there's so much to say - it's very much about speaking, which makes sense because it's originally a piece for voice.
Can you tell us anything about your future plans?
I will say it's quite difficult to see so far into the future, especially with the pandemic going on, but I've actually just finished up an incredible and successful tour in Japan. It's my very first time coming here and performing, so that's been very special - and it's been a miracle to have actually had these concerts take place. It's not easy, with everything that's going on, so I'm eternally grateful for that. And it's actually opened up certain other concerts, perhaps later in the year, which has given me the opportunity to return back here - so that's been really exciting.
Next month, in March, I'll be returning to the UK for a couple of performances, which will be nice because I will return to certain venues. I'm extremely excited for the release of the album on 4th March, and it will be available on all streaming platforms. I can't wait for that; it's been a huge step in my career. I look forward to all the upcoming events and concerts, and I'm really looking forward to 2022.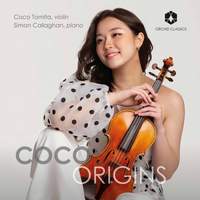 George Enescu; Francis Poulenc; Lili Boulanger; Jenö Hubay; Maurice Ravel; Claude Debussy
Coco Tomita (violin), Simon Callaghan (piano)
Available Formats: CD, MP3, FLAC, Hi-Res FLAC, Hi-Res+ FLAC