7th February 2022
 Interview

,

  John Wilson on Ravel
Since their highly-acclaimed debut recording of Korngold's Symphony back in 2019, the newly-reformed Sinfonia of London under conductor John Wilson have received near-unanimous praise for their accounts of music by Respighi and Dutilleux alongside collections of French orchestral showpieces and music for string orchestra by English composers. For their latest release they have returned to France with another stylish album of pieces by Maurice Ravel.
I spoke to John recently about the influence that Ravel has had on subsequent composers not just in terms of his orchestration but also with his harmonic palette, how Ravel's Basque origins led him to have a natural affinity for the musical language of Spain, and the special qualities that the virtuoso players of the Sinfonia bring even to music as familiar as pieces such as Ma Mère L'oye and Boléro.
Both this and your earlier album, Escales, contain several pieces that demonstrate clear Spanish influence on many French composers. What do you think it was about Spain (other than the fact that the two countries are neighbours!) that fascinated these composers and caused Ravel to declare Spain as his second musical home?
There's an obvious Spanish musical culture which is ancient, very well established and which has marked characteristics that were easily importable, so it was easy to find a Spanish flavour because it was such a prevalent kind of folk music. Remember of course that Ravel was Basque so it was in his system, it was in his blood. It wasn't just the French who were influenced by it (there were Russian composers, for instance), but I think the fact that they were near-neighbours made it all the more obvious a choice: it wasn't necessarily something that was difficult to avoid but it was on your doorstep and it was so rich, so why not?
Something else in terms of Ravel's interests that comes across is dance forms, and particularly the waltz. Why was that such a fruitful avenue of exploration for him, do you think?
I think dancing is a primary human impulse and it's difficult to find a composer who hasn't at some stage flirted seriously with that extension of music. In terms of the waltz specifically, first of all I think it's important not to overlook the fact that the waltz was still very much in vogue. After the invention of the waltz by the Viennese as a sort of mass pastime, it was adapted by everybody from Glazunov to Ravel to Eric Coates. The concert waltz became one of the absolute staples of light music. I think the capacity for invention within the waltz is almost limitless, and it was a vehicle that was absolutely suited to what Ravel had to say.
The waltz is always a test of any composer because you have to be as inventive in the subsequent tunes as you are in the initial statement, and I think with the Valses nobles et sentimentales Ravel was so up to the task of saying "here is my set of waltzes; I can do this too and I can do this extremely well". La valse is a different proposition in that, if the Valses nobles et sentimentales are beautifully artificial, La valse is a terrifyingly real depiction of social disintegration; it devours itself. The one thing I wanted to try and capture was just the sheer terror of the end of that piece.
When we spoke about Escales you mentioned that nobody escaped the influence of Debussy and that he is owed an enormous debt by composers of the twentieth century. Do you feel the same way about Ravel and his impact on subsequent composers?
I think you'd be hard-pressed to find a composer who's been more widespread in his influence: not only has Ravel influenced what we would call serious composers in terms of technique, but his harmonic palette provided the basis for so much pop music of the golden age of the 20s up to the 50s. Gershwin, Cole Porter, Noël Coward, you name it, they were vocal in their admiration, and of course Gershwin famously wanted to study with him. I think Ravel's harmonic language is incredibly inventive, and this was adopted by the popular song composers of the time, and as far as his orchestral imagination is concerned I honestly think there couldn't have been a Hollywood movie made with a soundtrack if Ravel hadn't lived, because his orchestral technique was the most widely imitated of any composer after him. His orchestral imagination, his skill, his invention, and his dexterity really have been the handbook for orchestration ever since.
In a way, though, it's a shame that so much focus is often placed only on his skills as an orchestrator because it sometimes takes away from his sheer level of invention. It's a really important point to make that everything that Ravel wrote gets played, and you can't say that about many other composers: Ravel is one of those composers where everything he wrote is in the repertory because there is no rubbish.
Speaking of orchestral colours, one of the things that impressed me so much about your new album in particular is the quality of the string sound, not just the glorious sheen that they bring to several passages in La valse but also some breathtakingly quiet playing during the Apotheosis of Mother Goose, for instance. Is that something that you spend a lot of time on in rehearsal getting just right?
I'm so glad you noticed that because it's the hardest thing to achieve. It's the single thing we work on the most: interesting quiet playing. It's very easy to just play it quietly and empty but to play pianissimo with fortissimo intensity and an interesting sound is the most difficult thing to do. We work incredibly hard at that, and I'm lucky to have the best players in the land.
And presumably your regular recording venue of St Augustine's, Kilburn must go a long way towards helping you achieve the sound that you're after?
You know sometimes you find a marriage made in heaven? Well my orchestra and that church are inseparable now. The partnership of that room, the Chandos team, and the orchestra is just a joy. Honestly if that room isn't available then we won't make the record.
Your album presents the original versions of both Mother Goose and Boléro. Could you talk about the differences between these and the "standard" versions?
Mother Goose has quite a complicated history in that it was written as a piano duet and then he wrote the suite, and then in 1912 he expanded it for the ballet. That ballet wasn't published until 1970, and what Durand did was to take the engraved plates of the suite and just insert new pages with the extra music. Now what actually happened was that Ravel changed the original five pieces before he inserted the new music, so for years the complete ballet has just been the original five-movement suite with extra bits. We've gone back to the manuscripts and incorporated all of the changes that Ravel made to the original suite, so people will notice things which are distinctly different. There's some extra doubling of instruments in places, a repeat in the Sleeping Beauty section, bars missing in the Empress of the Pagodas, and some tempo changes.
Boléro was written in 1928 as a ballet for Ida Rubinstein before it became a concert piece, and the differences are: in the original ballet there are a couple of accompaniment figures that are different, and at the end there are castanets and triangle which join in, but the crucial difference is that it alternates antiphonal side drums so that it isn't one drum all the way through, it's left, right, left, right. Every time a new instrument takes up the tune the drum switches sides, which was how it was originally written. It's a major difference for a piece that famous.
With a work like Boléro that contains such extreme amounts of repetition, how do you approach that in terms of the way you rehearse and record it?
It comes down to good old-fashioned conducting! You can't talk about it but you have to show your intent when you're there, and that recording we did is basically the run - we ran it, then we ran it again, then we ran it again! It's not the kind of piece you can do in sections or edits, you have to do the whole thing. The other point I'd like to make is that you have to showcase the personalities of every single soloist and let them be themselves, so I discourage anybody from trying to imitate what's come before. Of course they have to play the right notes and in the right style, but they can shine as individuals and I think that comes across in that it certainly didn't sound uniform.
Finally, of your six albums with the Sinfonia so far, three of them have been devoted to French music. Does that suggest what repertoire might be coming from you in the future? You've hinted, for instance, that there might be a Daphnis et Chloé from you at some point?
Actually I think we've got eight more records in the can now: there's a lot of English music, a lot of Russian music, and we've also got some American music, so there's a lot more variety to come. We've been working really hard, and considering we've had almost two years of being closed down, we've really caught up since lockdown.
We haven't recorded Daphnis et Chloé yet because it's got chorus in it and of course with Covid choruses have been an absolute impossibility. We've got some provisional dates for it at the end of this year: we just hope that restrictions no longer exist and that we can get some more records made. Pandemic permitting, we're going to do it!
It's a dream for an orchestra like this to get their teeth stuck into music that is so detailed and so exacting, because we thrive on that detail. I mean honestly we sweated to get everything done, and the score is the bible. All my life I've said the only thing that matters is the composer and the audience, and that's been our creed when we've been making these discs.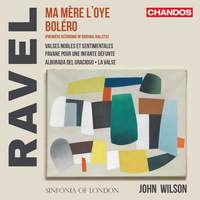 Sinfonia of London, John Wilson
Available Formats: SACD, MP3, FLAC, Hi-Res FLAC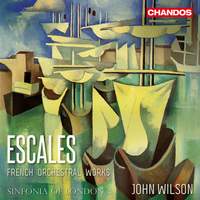 Sinfonia of London, John Wilson
Available Formats: SACD, MP3, FLAC, Hi-Res FLAC