14th January 2022
 New Release Round-up

,

  New Release Round-Up - 14th January 2022
Today's new releases include a gallery of Handelian heroines and anti-heroines from Sandrine Piau and Les Paladins, a programme of Mendelssohn, Shaw, Marsh and Golijov from United Strings of Europe, Morricone film-scores reworked for violin and orchestra, and the physical release of Florence Price's Symphonies No. 1 & 3 from Yannick Nézet-Séguin and the Philadelphia Orchestra.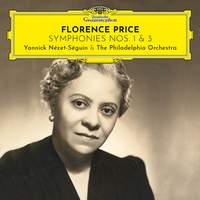 Philadelphia Orchestra, Yannick Nézet-Séguin
Released digitally last autumn and now available on CD, these Philadelphia recordings of two of Price's four symphonies have already been nominated for a Grammy Award and featured in Record Review's 2021 Records of the Year round-up. The album was also Recording of the Month in the November 2021 issue of Gramophone, with Edward Seckerson applauding the 'fire, spontaneity and poetry' of the performances and the 'honesty, emotional truth and exuberance' of the music itself.
Available Formats: CD, MP3, FLAC, Hi-Res FLAC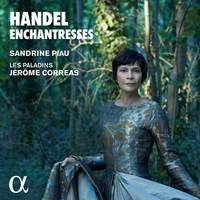 Sandrine Piau (soprano), Les Paladins, Jérôme Correas
Described by the French soprano as 'a portrait of powerful, often wounded women...queens, sorceresses, and sirens', Enchantresses features arias from Alcina, Amadigi di Gaulo, Giulio Cesare, Rinaldo, Lotario and the solo cantata La Lucrezia, interspersed with individual movements from concerti grossi. Piau's previous album of Handelian heroines (released on Naive in 2004) prompted The Gramophone Classical Music Guide to declare that 'this is may be the finest recital of Handel arias ever recorded'.
Available Formats: CD, MP3, FLAC, Hi-Res FLAC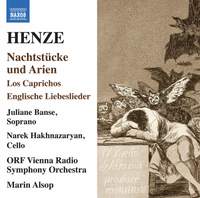 Juliane Banse (soprano), Narek Hakhnazaryan (cello), ORF Vienna Radio Symphony Orchestra Marin Alsop
In addition to the title-work for soprano and orchestra (which was premiered in 1957 and sets poems by Ingeborg Bachmann), this Hans Werner Henze triptych features the 1963 fantasia for orchestra Los caprichos and the Englische Liebeslieder (or Canzoni d'Amore Inglese) for cello and orchestra, composed for Heinrich Schiff and the WDR Symphony Orchestra in the mid-1980s and inspired by texts by Shakespeare, James Joyce, Robert Graves, and John Wilmot, Earl of Rochester.
Available Formats: CD, MP3, FLAC, Hi-Res FLAC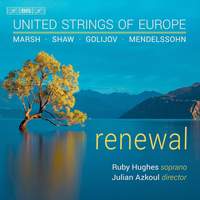 A year on from their debut album In Motion (described by BBC Music Magazine as 'virtuosic performances and a compelling programme'), USE return with a project centring on the ideas of grieving and rebirth, featuring Mendelssohn's String Quartet No. 3 (composed in the wake of his sister's death), three songs by Osvaldo Golijov, and leader Julian Azkoul's own arrangements of Joanna Marsh's In Winter's House and Caroline Shaw's And the Swallow.
Available Formats: SACD, MP3, FLAC, Hi-Res FLAC, Hi-Res+ FLAC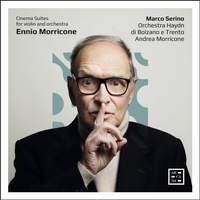 Marco Serino (violin), Orchestra Haydn di Bolzano e Trento, Andrea Morricone
The Italian violinist Marco Serino worked closely with Morricone for two decades, and appeared as soloist on his soundtracks from the year 2000 onwards; the composer completed these arrangements of music from his film-scores for violin and orchestra in the final year of his life, with Serino's input. The album includes the Sergio Leone Suite (on themes from Once Upon a Time in America, Once Upon a Time in the West and The Good, the Bad and the Ugly) and the Giuseppe Tornatore Suite (on themes from The Legend of 1900, Malena and Cinema Paradiso).
Available Formats: CD, MP3, FLAC, Hi-Res FLAC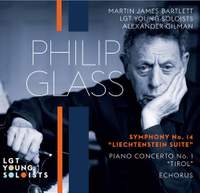 Martin James Bartlett (piano), LGT Young Soloists, Alexander Gilman
Orange Mountain presents the world premiere recording of Philip Glass's Symphony No. 14 (scored for fourteen strings), which received its first performance from the LGT Young Soloists in London last September; it's preceded here by the Piano Concerto No. 1 (subtitled 'Tirol Concerto') from 2000, and followed by Echorus for two violins and strings, which was written for Yehudi Menuhin and Edna Mitchell in 1994.
Available Format: CD
Royal Danish Orchestra, Danish Radio Symphony Orchestra, Thomas Jensen
This sixth instalment in Danacord's celebration of the Danish conductor (1898-1963) features archive recordings of Nielsen's Helios Overture and Symphonies Nos. 3 & 4, Sibelius's Symphony No. 3, and Niels Viggo Bentzon's Mutations and Symphony No. 4 Metamorphosen; Jensen studied with Nielsen and (as a cellist) took part in the premiere of his Symphony No. 4 in 1912.
Available Formats: 2 CDs, MP3, FLAC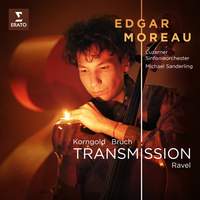 Edgar Moreau (cello), Luzerner Sinfonieorchester, Michael Sanderling
For his fifth solo recording on Erato, the young French cellist (whose mother is Jewish and works as a French-Hebrew translator) presents five works inspired by different aspects of Jewish religion and culture: Bloch's From Jewish Life and Schelomo, Korngold's Cello Concerto No. 1, Bruch's Kol Nidrei, and Ravel's Deux mélodies hébraïques.
Available Formats: CD, MP3, FLAC, Hi-Res FLAC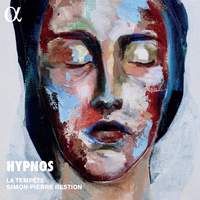 La Tempête, Simon-Pierre Bestion
Drawing on music from the Middle Ages through the Renaissance to the twentieth century, Bestion's composite Requiem incorporates intonations from Byzantine chantworks and works by composers including Pierre de Manchicourt, Giacinto Scelsi, Heinrich Isaac, John Tavener, Olivier Greif, Ludwig Senfl, Pedro de Escobar, and Marcel Pérès.
Available Formats: CD, MP3, FLAC, Hi-Res FLAC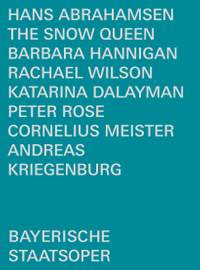 Barbara Hannigan (Gerda), Rachael Wilson (Kay, Katarina Dalayman (Grandmother / Old Lady / Finn Woman), Peter Rose (Snow Queen / Reindeer / Clock); Bayerisches Staatsorchester, Chor der Bayerischen Staatsoper, Cornelius Meister, Andreas Kriegenburg
Commissioned by the Royal Danish Opera, Abrahamsen's setting of Hans Christian Andersen's dark winter fairy-tale (the composer's first opera) was premiered in Danish in October 2019; this DVD was filmed during the first run of the English-language version (produced in collaboration with the late Amanda Holden) in Munich a few months later. In the wake of a preview, The New York Times observed that 'there is no metaphor more apt to describe Mr. Abrahamsen's music than a snowflake: pleasantly soft and simple from a distance, mathematically precise and complex under a microscope'.
Available Format: DVD Video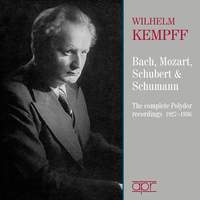 Opening with a complete performance of Bach's French Suite No. 5 from 1935, this collection of Kempff's non-Beethoven recordings from the late 1920s and early 30s also features Mozart's Sonata alla turca, Schumann's Aufschwung and Träumerei, four of the pianist's own Bach transcriptions, and his even more virtuosic elaboration of Liszt's transcription of Schubert's 'Horch! Horch! Die Lerch'.
Available Formats: CD, MP3, FLAC